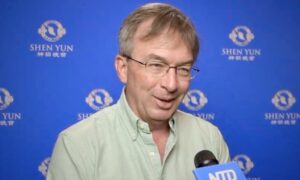 LONG BEACH, Calif.—Jeffrey Umland, a chief mechanical engineer at NASA, attended Shen Yun's evening performance at the Terrace Theater on March 18.
It was Mr. Umland's first time watching Shen Yun, and there was a surprise for him in every program.
"So far, it's fantastic!" Mr. Umland said during the intermission. "I'm amazed by the special effects with the video screen and how the dancers jump and bounce into the screen. It's really pretty cool. I've never seen that before."
"The colors and costumes, they're incredibly vibrant. It worked really well with both the lighting and the [3D backdrop.] It's vibrant—an explosion of colors."
According to its website, Shen Yun's patented 3D digital backdrop works together with the performers to "extend the stage to infinite realms" and brings to its audience "storytelling without limits."
Based in New York, Shen Yun is the world's top classical Chinese dance and music company. To the delight of its audience worldwide, the company can be expected to return with a brand-new set of programs every year.
Mr. Umland loved that Shen Yun not only told legends from Chinese history but also gave its audience a taste of the beauty of China's various regions and ethnic groups.
More than anything, however, Mr. Umland appreciated the spiritual elements of Shen Yun.
"I'm very glad to see that! I don't normally equate China with being very spiritually focused. So, I'm actually very glad to see that it's also a part of the country and its heritage," he said.
For five millenniums, China filled its history with breathtaking legends and rich traditions rooted in spirituality. However, following the 1949 communist takeover, traditional Chinese culture went through a period of mass destruction.
The spread of atheism quickly eradicated people's belief in the divine, and the cherished teachings of Buddhism, Daoism, and Confucianism disappeared overnight.
Since Shen Yun's establishment in 2006, these artists have made it their mission to revive this lost culture.
Referring to the artists' portrayal and adherence to the principles of truthfulness, compassion, and tolerance, Mr. Umland said, "that's a wonderful message."
"It's a set of values we can all embrace. I think we should all be embracing those kinds of values."
He also thought the dancers' skills were absolutely amazing.
"The men were very, very powerful and active. The women were just very, very graceful—that's really neat. It gave a dramatic touch to the dancing," he expressed.
"I'm amazed at their activeness on stage and how well choreographed [the dances] are. It's all coming together very beautifully."
Mr. Umland said he will definitely be recommending Shen Yun to others as a great date night or something to take the whole family to.
"Bravo! What [Shen Yun] is doing is just absolutely fantastic."
Reporting by NTD and Jennifer Tseng.
The Epoch Times is a proud sponsor of Shen Yun Performing Arts. We have covered audience reactions since Shen Yun's inception in 2006.