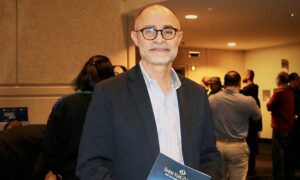 FAIRFAX, Va.—Marwan Ahmad, executive director of a nonprofit, only knew of China from what he saw on the news.
"But on the cultural side of it, I think China obviously has a lot to offer to the world. It's a beautiful culture," he said after seeing Shen Yun Performing Arts at the George Mason University Center for the Arts on Jan. 21, on the eve of Chinese New Year, in Fairfax, Virginia.
Like many first-time Shen Yun theatergoers, he was intrigued by Shen Yun's mission to display "China before communism" through music and dance.
The New York-based classical Chinese dance company has since 2006 taken the world by storm in its mission to revive the 5,000 years of China's divinely inspired civilization.
"I like the stories and the culture. It's a very rich culture," Mr. Ahmad said. "I learned that China is diverse—not just one thing. There's a lot of cultures, a lot of dances, different regions. I think it's very rich, very rich."
"I learned Chinese, like anybody else, like to live and enjoy life. They like to take care of their family, they have faith, and it's a very powerful message that we all saw today," he said.
Through classical Chinese dance, a comprehensive art form with roots thousands of years deep, the artists tell stories from ancient Chinese classics like "The Romance of the Three Kingdoms," "Outlaws of the Marsh," and "Journey to the West." Historical scenes span thousands of years on stage. Ethnic and folk dances from China's 50-some minority groups are present in each year's all-new production as well.
Also in the audience, that evening, with an appreciation for Shen Yun's breadth and depth was Joseph Madison, who attended the performance with his wife.
"I think it's a hope and appreciation of the past and also realization of our mortality. And that we have to look at it more than just our individual selves, but across humanity and celebrate the potential of our future so that we can fulfill what we have started," said Mr. Madison, a dentist, who also spent some years performing bass with various orchestras.
Shen Yun's performance inspired reflection on Mr. Madison's part, on the role of humanity.
"The past was always celebrating humanity and, and realizing as the show was saying that we are all mortal, but we are all hopefully more spiritual beings, that will present ourselves and as we finish this, and move to the next," he said.
"I feel certain emotional moments, and it certainly feels that I am part of that. And it brings me to that spirit which I have deep inside of me. You know, and understanding humanity and our mortality and looking forward to our future selves."
Mr. Madison pointed out that Shen Yun's story-based dances that show modern-day China also show the Chinese Communist Party, which has been brutal to the Chinese people. But Shen Yun's telling of these stories was done in a way that presented a lasting impression of hope and light.
"Not the brutality, celebrating the spirit that still lies [in the people]," he said. Though they are"oppressed, they are still trying to celebrate what they hope will happen, and still not forget their past."
"I feel like they are saying what I feel, and I feel like they are demonstrating how my spirit is," he said. "And it gives me hope that we can continue to work against, what I saw, the darkness, and move to the light."
Right now, times are dark, Mr. Madison said, but he had hope and he felt he was not alone in thinking this way. He was "cautiously optimistic  that we as a people, as a humanity, can move forward beyond the darkness."
"Many, many, I believe, feel that the light is the path. And I think that the darkness is the weaker selves that we can overcome that even though they portray strength but in reality, I think the majority are against them. It's just hard to fight it," he said.
Shen Yun showed him that on the other side of the globe, people share his hope.
"It's showing me is that there's still spirit alive and in China," he said. "I believe what's going on now in China, but elsewhere, in Ukraine in the United States also, in Peru right now, that we are all fighting oppression."
"[Shen Yun's art] really just bring that comfort sensation that there is that spirit alive and that they are portraying what many are hopeful for," he said.
Reporting by Jenny Jing and Terri Wu. 
The Epoch Times is a proud sponsor of Shen Yun Performing Arts. We have covered audience reactions since Shen Yun's inception in 2006.