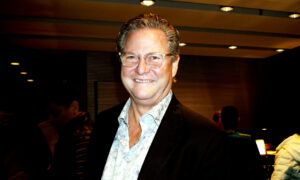 DALLAS—Vic Domhoff, architectural design consultant, attended Shen Yun Performing Arts because he wanted to "see historical China before the CCP (Chinese Communist Party) took control."
"I respect the culture, the history of China, and I'm particularly concerned about the persecution of the Falun Gong and other minorities in China," Mr. Domhoff said at the Winspear Opera House on the evening of Jan. 14, during intermission of the sold-out Shen Yun performance in Dallas.
"Coming here achieves both for me," he said. "I can learn more about the rich Chinese culture, but at the same time I can pay tribute to those people that are being persecuted under the present regime."
Shen Yun's mission is indeed to show audiences a "China before communism" through music and dance. The New York-based company is the world's top classical Chinese dance company, and was formed in 2006 by artists of faith who fled the oppressive communist regime of China.
Today, Shen Yun cannot perform in China, where the atheist CCP has the arts company blacklisted. Many of Shen Yun's members still have family in mainland China, and some face persecution by the regime for their faith.
Mr. Domhoff expressed gratitude and encouragement after seeing Shen Yun.
"We [can] all learn from this. It's a very rich heritage, and the Chinese people should be proud of this heritage," he said. "They're doing a fantastic job, especially for a Western audience that doesn't know about some of these things and this rich heritage."
For 5,000 years, China was deeply spiritual, even dubbed the "Land of the Divine." Spiritual teachings from Taoism, Buddhism, and Confucianism formed the bedrock of civilization, and the cardinal virtues of loyalty, wisdom, propriety, benevolence, and justice were prized.
Only the CCP could call Shen Yun propaganda, Mr. Domhoff said, "but I think that we're smart enough to know the real story, and that's why you have such a wonderful attendance tonight."
"It's because people innately, in their gut, inside, they feel like this is a representation of really the rich heritage of China," he said.
When you see productions like this, you're reminded about where we are grounded, where we started, because it goes back to a values-based beginning.
— Vic Domhoff
"When you see productions like this, you're reminded about where we are grounded, where we started, because it goes back to a values-based beginning," he said. "And I think that people yearn for that. They have an urge for that. And I think it's a wonderful thing."
Also in the audience were Kenny and Shelley Williamson, who were aghast when they realized Shen Yun could not perform in China.
"We loved it," Mrs. Williamson said, and Mr. Williamson echoed her, adding "we loved it very, very, very much."
"I would like for this company and for this group here to continue doing what they're doing in the United States," he said.
"They cannot perform in China. That is unheard of," Mr. Williamson said. "I love these people from New York … They are gracious human beings, and I love them very much."
Reporting by Sally Sun and Sonia Wu.
The Epoch Times is a proud sponsor of Shen Yun Performing Arts. We have covered audience reactions since Shen Yun's inception in 2006.