KYOTO, Japan—Three curtain calls couldn't satisfy audiences in Kyoto, Japan on Jan. 11. They told The Epoch Times how entertaining the show was and how much they liked it after attending the Shen Yun Performing Arts at the ROHM Theatre on the evening of Jan. 11.
"Shen Yun has brought these beautiful cultures and arts to the world, which is really amazing. I am both grateful and satisfied," said Mr. Sawada Satoshi, vice-chairman of Kansai Medical University and honorary president of the hospital affiliated with the university.
Mr. Sawada said Shen Yun's dances were stunning, but more than that, he appreciated Shen Yun's reviving the traditional cultures and values.
"The current society is money-driven, which teaches people to judge things based on their own interests. They bargain for every penny," he said. "But Chinese traditional culture [which Shen Yun presents] doesn't teach people to focus on short-term profits. It encourages people to think long-term, which can positively influence our society. It has long-term strategic values."
Mr. Oshima Hiroki is the vice chairman of the organizing committee of Japan's largest and most famous summer festival—Gion Matsuri. Gion Matsuri has a history of 1,150 years, emphasizing the connection between divine beings and humans.
"From the curtain opening in the beginning to the curtain closing in the end, I experienced a storm of emotion," he said with joy. "The information that Shen Yun delivers resonated with my values. I was deeply touched."
New York-based Shen Yun is the world's top classical Chinese dance company, and has a mission to show the beauty and goodness of "China before communism." For 5,000 years China's civilization was built on values and virtues from the spiritual teachings of Buddhism, Taoism, and Confucianism.
"For me, Shen Yun is not just a spectacular. It tells people how to be a human being," said Mr. Oshima. "If people get rid of our beliefs in gods and deviate from morals, human beings will lose our humanity."
Mr. Oshima's wife is a singer, and she praised Shen Yun's baritone.
"The baritone's voice is like a chord, that resonated with my heart. I was very moved," she said. "His song is invigorating … I couldn't control my tears (when hearing it)."
Each Shen Yun performance consists of nearly 20 vignettes presented through highly-expressive art forms such as classical Chinese dance, original orchestral music performed live, soloists who sing in the bel canto tradition, animated digital backdrops, and more.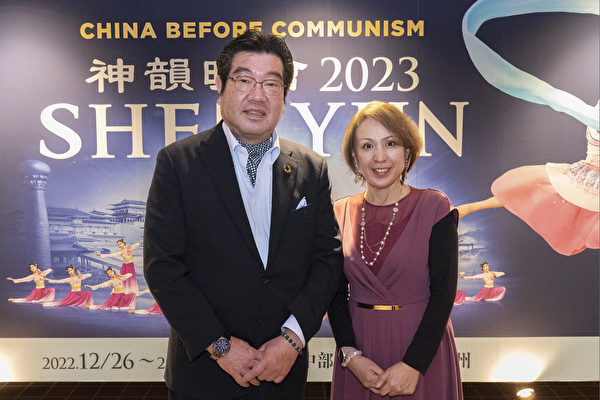 Artists Who Perform With Their Hearts
"The smiles of dancers were able to penetrate my soul," said Mr. Nakatani Tetuya, president of a textile dyeing factory.
Mr. Nakatani said he heard a lot of good comments about Shen Yun, so he had great expectations before attending the show.
"It's absolutely fantastic!" he said after attending Shen Yun. "I like the dances, which are magnificent and 100 percent accurate. The dancers are extraordinary. You cannot see any of them in Japan."
Mr. Nakatani said that Shen Yun artists performed by using both their techniques and hearts, which made the show outstanding.
Mr. Kawashima Yusuke, a dance choreographer, said Shen Yun was beautiful, magical, and legendary.
Watching the dances and listening to the live orchestra, I felt I was inside the show.
— Kawashima Yusuke
"The dancers move in unison. They are full of energy and vitality … The dances are enchanting," said Mr. Kawashima. "Watching the dances and listening to the live orchestra, I felt I was inside the show."
Mr. Kawashima said he learned a lot from Shen Yun's choreography, which he would use in his future career.
"All stories are captivating, and are very easy to understand," said Mr. Uno Naruhiro, president of a construction company. "The male dancers are masculine and valiant, and the female dancers are graceful and beautiful."
Mr. Uno said he planned to introduce all his friends to attend Shen Yun, which he thought was majestic.
"The beauty of Shen Yun can't be found in Japan. It's a presentation of a culture," he said.
Every year, Shen Yun puts on an all-new production, including new choreography, music, costumes, and backdrop sets. Mr. Uno said he looked forward to seeing Shen Yun next year.
Mr. Setoguchi Yasutaka, president of the famous Japanese water company AquqClara, said he has been shocked since the curtain first opened.
"When the curtain opened, I saw a paradise in heaven. The majesty of it can't be described by any human words," he said. "Then, the dancers' movements and power encouraged me."
Mr. Setoguchi said that he had read a lot of nice comments online about Shen Yun. "This is the first time that I attended Shen Yun. It's brilliant!"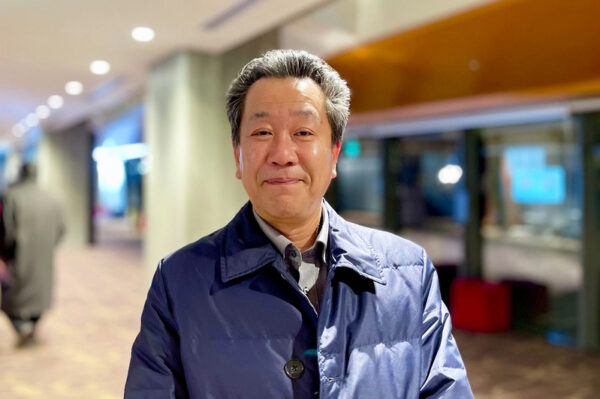 Amazed by Backdrops
Ms. Nakai Keiko owns and operates an architectural firm in Kyoto. She was amazed by Shen Yun's dynamic backdrops.
"The stage and backdrop are one body without any seam. The dancers traveled back and forth between the backdrops and the stage, which is superb," she said. "The performance is excellent and interesting."
Mr. Yabu Shuya, president of a coffee products developer and manufacturer, also commented on Shen Yun's patented backdrop.
"The design of the backdrops is admirable. It integrates a super-large screen with the stage. The characters on stage dance inside and outside the backdrops, which really made me feel that I was there. It's astounding!" he said.
Shen Yun Performing Arts World Company has finished its performances in Kyoto, and will visit Kamakura, Japan from Jan. 13 to 15.
Reporting by Epoch Times Staff in Kyoto, Japan.
The Epoch Times is a proud sponsor of Shen Yun Performing Arts. We have covered audience reactions since Shen Yun's inception in 2006.