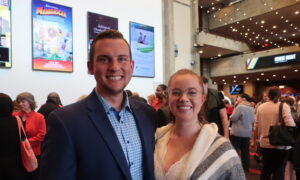 INDIANAPOLIS, Ind.—David Inman, an executive at a software company, watched Shen Yun Performing Arts at the Clowes Memorial Hall, Butler Arts Center on March 4 with his wife.
"Oh, it was gorgeous!" said Mr. Inman. "Everything, from the message that was shared to the costumes, the music, to the movement. Everything was gorgeous.
"My wife and I, over and over again, throughout it, would turn to each other and just comment on how beautiful movements were and how impossible some of the sounds and movements seemed like they should be … it was a beautiful event."
Based in New York, Shen Yun was founded in 2006 and quickly became the world's premier classical Chinese dance and music company. Its mission is to revive traditional Chinese culture and to present the beauty of China before communism.
Mr. Inman said that he and his wife enjoyed the water sleeves dance, in which the dancers' costumes feature long, flowing sleeves, and described it as fun.
"There was so much movement while they were doing it and seeing them catch and throw," he said. "Everything about it was really fun to watch."
Shen Yun's program is made up of a series of vignettes, some of which are story-based dances. Mr. Inman said that he enjoyed the stories, particularly one based on the Chinese classic "Journey to the West."
"That's a story that I was a fan of before I came, so it was really fun to watch it on stage," he said.
Another story-based dance that left a deep impression on Mr. Inman was one that was set in modern-day China and depicted the Chinese Communist Party's persecution of followers of Falun Dafa, a spiritual practice that teaches the principles of truthfulness, compassion, and tolerance.
"I've heard quite a bit about how oppressive it is," said Mr. Inman, referring to the Chinese regime. "Seeing some of the images in the [performance] hit that home a little bit more. It was difficult to see people standing up for their beliefs and losing their lives because of it."
Mr. Inman said that performance tells people that "there's still good people. They're just being quieted right now. The government is covering it up right now."
Mr. Inman said that one of the messages he saw in the performance was a declaration that "we're not ashamed of what we believe in and we're happy to share it with the world."
"That's a personal thing of mine as well, I love seeing that," added Mr. Inman, before sharing the second message he took from the performance. "China's been beautiful for thousands of years and a communist regime's taken a lot of that away, but it's possible to get it back."
Reporting by Stacey Tang and Wandi Zhu.
The Epoch Times is a proud sponsor of Shen Yun Performing Arts. We have covered audience reactions since Shen Yun's inception in 2006.