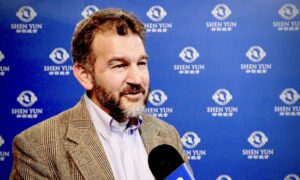 FAIRFAX, Va.—Virginia State Senator J. Chapman Petersen has always been interested in Asian cultures. And on the eve of the Lunar New Year, he was able to celebrate a revival of traditional Chinese culture with his wife and youngest daughter attending Shen Yun Performing Arts at the George Mason University Center for the Arts on Jan. 21.
"I think a lot of people see China as a negative, you know, with communism, and they see the restrictions on freedom, and they see all the restrictions with COVID-19 and the restrictions on Falun Gong. And so they have a negative portrayal of China. But the Chinese people are so creative, they're dynamic, and they've come all over the world. They've come to America and had such an influence on our culture, that I think Shen Yun is an ability to speak, tell the Chinese story, outside of communism—tell the Chinese story about Chinese people," said Mr. Petersen.
New York-based Shen Yun shows the cultures of China that can no longer be openly expressed in China today, under the current communist regime.
Through classical Chinese dance and music, Shen Yun's mission is to present 5,000 years of China's divinely inspired culture. In other words, "China before communism."
"Colorful, dynamic, hopeful—those are the words I'd use," said Mr. Petersen.
"I've always loved music. I've always loved art. And I also love to travel. I love to learn about different cultures. Just like if you want to learn about European culture, maybe watch an opera. Maybe you want to learn about American culture—watch a football game. But to watch Chinese, to learn about Chinese culture, seeing Shen Yun perform, that is how you do it."
"It's just so much activity and athleticism. The dancers are such great athletes, and the women are so beautiful, and the beautiful costumes, and it's very colorful. I love the colors. And the sets are amazing," he said. "[The tenor] was awesome. The way he was singing, it almost brought tears to my eyes. He had so much effort, so much emotion, and it was really wonderful."
"It's very beautiful. It's very inspiring," he said.
Reporting by NTD.
The Epoch Times is a proud sponsor of Shen Yun Performing Arts. We have covered audience reactions since Shen Yun's inception in 2006.