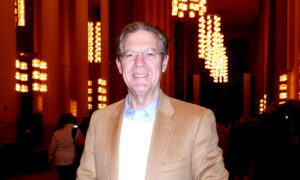 WASHINGTON, D.C.—Sam Brownback, former governor of Kansas and later United States Ambassador at Large for International Religious Freedom from 2018 to 2021, is well aware that the First Amendment rights of the United States aren't shared the world over. In many countries, the right to practice your faith is a hard-won one.
"I've been working on religious persecution cases for many years," said Mr. Brownback.
So, when he saw a scene in Shen Yun Performing Arts that depicted the present-day persecution of Falun Gong practitioners in China, "it just brought a tear to my eye," he said.
New York-based Shen Yun is the world's top classical Chinese dance company and has a mission to revive the 5,000 years of China's divinely inspired civilization. Through music and dance, it tells stories from the origins of China up to the present day.
This includes stories like the one Mr. Brownback referenced. Falun Gong teaches the three principles of truth, compassion, and forbearance. Such spiritual cultivation practices were once not uncommon in China, which was known as the Land of the Divine. But today, under the communist regime, these people of faith are subject to unprecedented human rights abuses, including live organ harvesting.
I'm familiar; tragically, I'm familiar with it.
— Sam Brownback
"[I] have worked with Falun Gong members over 15 years," Mr. Brownback said. "I'm familiar; tragically, I'm familiar with it."
But he was moved to see it portrayed in Shen Yun, which he found "beautiful, elegant, graceful, and told a tremendous story."
"It brings an awareness [to people] that they didn't have," Mr. Brownback added.
This was Mr. Brownback's first experience with Shen Yun, and he said his main takeaway was the separation between the traditional Chinese culture and the Chinese Communist Party.
It reminded me how much I admire Chinese culture.
— Sam Brownback
People around the world are coming to know Shen Yun as a depiction of "China before communism."
"It reminded me how much I admire Chinese culture," Mr. Brownback said. "And that was one of the things that first attracted me to China was the ancient culture and the beauty and the elegance of it, and the family-oriented, educationally driven culture that's been very successful, that's not a part of the Communist Party."
"The Communist Party is a dictatorship and it's a brutal one. And the Chinese Communist Party is the biggest enabler of human rights abuses around the world. Not just in China, but everywhere. And they really have to be stopped," he said. "The Chinese culture is not the Communist Party."
Mr. Brownback felt that Shen Yun was a "great cultural experience" as well as an educational one in a very important way. And while it touched on the important current events in communist China, it did so through truth and beauty, and moved his heart.
"They're doing a great job," he said. "It's getting things into the cultural context and out of the political context."
"That's where you can start to penetrate people's minds and hearts. People move by their heart, and it's got to be knowledge that gets to their heart," he said "This sort of cultural experience is very helpful in doing something like that."
Reporting by Frank Liang.
The Epoch Times is a proud sponsor of Shen Yun Performing Arts. We have covered audience reactions since Shen Yun's inception in 2006.