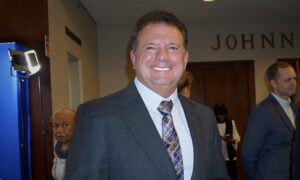 SAVANNAH, Ga.—Shen Yun means "the beauty of divine beings dancing," and former television CEO Bob Brillante saw that the classical Chinese dance and music company lived up to its name when he watched Shen Yun Performing Arts at the Johnny Mercer Theatre at Savannah Civic Center on Jan. 14.
"Each of those dancers up there [are] just so elegant, so graceful," said Mr. Brilliante. "What I find so amazing is you can see them float across the stage; you never even hear them touch the stage. They just seem like they're floating across the stage in their performance. It's just so athletic and so beautiful and elegant and graceful at the same time. It truly is very wonderful."
Based in New York, Shen Yun was founded in 2006 by leading Chinese artists who fled China's oppressive communist government. Their mission is to revive traditional Chinese culture through classical Chinese dance and music, and to show its audiences the beauty of China before communism.
Mr. Brillant was impressed with the scale of the production, which included detailed costumes and Shen Yun's own patented live animation backdrop that allowed performers to travel between the stage and the background.
It's just so creative and that somebody actually thought of doing that, and then someone had to make it happen, that's just an enormous production. Very beautiful and very elegant.
— Bob Brillante
"The whole production is amazing," said Mr. Brillante. "As I watch something like this, being in the entertainment and the television business, I think of how many people it must've taken to compose the music and to have such beautiful costumes. The staging, the transitions from the video screen to the stage with live performers. It's just so creative and that somebody actually thought of doing that, and then someone had to make it happen, that's just an enormous production. Very beautiful and very elegant."
Shen Yun's program comprises of several dance vignettes, some of which are story-based dances. While most dances focus on the essence of ancient China, there are also dances set in modern-day China that depict the Chinese Communist Party's persecution of followers of Falun Gong, a spiritual practice that teaches the principles of truthfulness, compassion, and tolerance.
Mr. Brillant felt that it was very important for Shen Yun to spread the truth of the persecution.
"I think the message of Falun Gong, and what is taking place today, is so very important to get out to the entire world," said Mr. Brillante. "The world needs to know what is happening in China, and this (Shen Yun) is a very elegant way of expressing the atrocities and the tragedies of what's taking place, and the genocide of entire beliefs—faiths of people in China."
"Doing it through art and doing it gracefully, and doing it in a way that touches people where they can feel good about what they're seeing and at the same time, get a message that truly should touch every human around the world. It's not something just for the Chinese, it's just something that the entire world needs to get involved in and understand that this is taking place today as we live our lives; there're people being persecuted around the rest of the world, and that's a tragedy for humanity."
Mr. Brillante said that as a Christian, he resonated with Falun Gong's values, and expressed his belief that those values should be shared with more people.
"The Chinese have such a rich culture," said Mr. Brillante. "I think it has so much influence on the entire world. If you look at every religion, at every faith, at people around the world, they all believe in something that is greater—we all believe in treating people with the basic principles of Falun Gong, the basic principles of truth—compassion. These are things that we all share together, and we need to share together to come together and unite as people, and it goes far beyond the borders of China."
"This is something the entire world needs to share together. Being able to express this through art, being able to express this in such an elegant and graceful way as Shen Yun is doing today here is truly wonderful. Not only is it very entertaining, but it's meaningful, because the message is important, and the message is definitely needed in the world we live in today."
"I think it's very important that everybody see this," said Mr. Brillante. "Particularly the younger generation and the generations today that unfortunately aren't involved in things that are much bigger than themselves. [They] don't have the faith, don't have hope, don't have belief, and there's so many of them around the world. This is a message of hope, this is a message that a lot of people understand … the way that you are able to express that through art [is] very creative."
Reporting by Nancy Ma and Wandi Zhu.
The Epoch Times is a proud sponsor of Shen Yun Performing Arts. We have covered audience reactions since Shen Yun's inception in 2006.