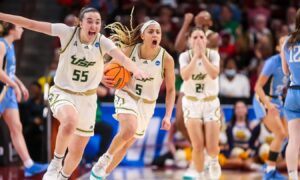 Elena Tsineke's jumper with 31.2 seconds left lifted eighth-seeded South Florida to a 67–65 overtime win over ninth-seeded Marquette in the first round of the NCAA Tournament's Greenville 1 Regional on Friday in Columbia, S.C.
"What a way to start the NCAA Tournament," South Florida coach Jose Fernandez said.
Marquette's Mackenzie Hare missed two 3-point attempts in the final 10 seconds, including one with three seconds left. Marquette (21–11) was led by Chloe Marotta's 25 points and seven rebounds.
Dulcy Fankam Mendjiadeu had 22 points and 16 rebounds for the Bulls (27–6), with Tsineke adding 13 points.
South Florida rallied from an 11-point deficit with 2:40 left in the third quarter to take a 59–55 lead with 31 seconds to play. But Marquette made four free throws, including the final two by Hare with three seconds left, to force overtime.
"This game says we just simply don't give up," Tsineke said.
Greenville Regional 1
No. 1 South Carolina 72, No. 16 Norfolk State 40
The defending national champion Gamecocks (33–0) jumped out to a 20–7 lead and never looked back en route to their 39th straight victory.
Zia Cooke had 11 points and five rebounds, while Laeticia Amihere came off the bench to add 11 points for South Carolina, playing at home in Columbia.
The Spartans (26–7) were led by Kierra Wheeler's 13 points and eight rebounds, with Niya Fields chipping in 10 points and five rebounds.
No. 2 Maryland 93, No. 15 Holy Cross 61
Maryland jumped out to a 14–0 lead and a 23–4 advantage after the first quarter on its way to an easy win over the Crusaders in College Park, Md.
The Terrapins (26–6) were led by Brinae Alexander, who came off the bench to record 18 points and six rebounds. Diamond Miller added 13 points and eight rebounds, with Shyanne Sellers (13 points, 8 assists) and Faith Masonius (10 points) also finishing in double figures in scoring.
Holy Cross (24–9) was led by Simone Foreman and Mary-Elizabeth Donnelly, who each came off the bench to score 13 and 10 points, respectively.
No. 3 Notre Dame 82, No. 14 Southern Utah 56
The Fighting Irish scored the game's first 16 points and led by as many as 33 points in the third quarter to beat the Thunderbirds in South Bend, Ind. Maddy Westbeld led Notre Dame with 20 points and five assists, while Lauren Ebo had 14 points and 10 rebounds.
Sonia Citron finished with 14 points and six assists and Kylee Watson recorded 12 points and seven rebounds for the Fighting Irish (26–5), who outrebounded Southern Utah 53–25. The Thunderbirds (23–10) were led by Megan Jensen's 11 points and five rebounds.
No. 11 Mississippi State 81, No. 6 Creighton 66
Eleventh-seeded Mississippi State (22–10) pounced on No. 6 seed Creighton (22–9) with a 25–16 first quarter and never looked back, rolling to an 81–66 win in the Greenville 1 Region.
The Bulldogs built their lead to as many as 23 points in the fourth quarter behind a balanced scoring effort. Jerkaila Jordan led five Mississippi State scorers in double-figures with 20 points, Jessika Carter went for 14 points and 10 rebounds, Anastasia Hayes scored 12 points, and Ahlana Smith scored seven of her 10 points at the free-throw line.
Mississippi State, which earned its way into Friday's contest with a First Four win over Illinois, plays its third game in five days on Sunday when it faces third-seed Notre Dame in a rematch of the 2018 National Championship Game.
No. 7 Arizona 75, No. 10 West Virginia 62
Cate Reese had 25 points and six rebounds and Shaina Pellington added 18 points as the Wildcats never trailed against the Mountaineers in College Park, Md.
Arizona (22–9) led by as many as 12 in the first quarter and never looked back against West Virginia (19–12), which was led by Ja'Naiya Quinerly's 19 points and eight rebounds.
Greenville Regional 2
No. 2 Utah 103, No. 15 Gardner-Webb 77
Alissa Pili erupted for 33 points on 12-of-17 shooting, Jenna Johnson added 20 points while going 10-of-14 from the floor and the Utes defeated the Runnin' Bulldogs in Salt Lake City.
"We have so many weapons offensively, so I think if the defense takes away one, we can just have another one," Johnson said. "So we're getting a lot of points down low early and then when they try to collapse on us, we can kick it out and hit (3-pointers)."
Utah (26–4) went 7–for–16 from long range as part of its offensive onslaught. The loss snapped a 21-game winning streak for Big South Conference champion Gardner-Webb (29–5).
No. 3 LSU 73, No. 14 Hawaii 50
Angel Reese amassed 34 points, 15 rebounds, three steals and three blocks to guide the Tigers to a rout of the Rainbow Wahine in Baton Rouge, La. Reese became the first Southeastern Conference player with a 30-point, 15-rebound NCAA Tournament game in the 21st century.
LSU (29–2) held Hawaii (18–15) to just 16-of-52 field-goal shooting, 30.8 percent, and forced 21 turnovers. LSU's stifling defense and Reese's dominant play in all phases lands the Tigers in a second-round matchup with sixth-seeded Michigan.
No. 6 Michigan 71, No. 11 UNLV 59
Emily Kiser had 18 points and 10 rebounds and Maddie Nolan scored 18 points as the Wolverines cruised to a win over the Rebels in Baton Rouge, La.
Leigha Brown chipped in 17 points and seven assists for Michigan (23–9). UNLV (31–3) was led by Essence Booker's 16 points, with Justice Ethridge and Desi-Rae Young adding 11 points apiece.
No. 10 Princeton 64, No. 7 North Carolina State 63
Kaitlyn Chen and Grace Stone each scored 22 points, and the Tigers closed the game on a 9–0 run to down the Wolfpack in Salt Lake City.
The Wolfpack (20–12) pulled ahead 63–55 on Aziaha James's basket with 5:44 left. The shot marked North Carolina State's final points for the night.
Stone capped the run coming out of a sideline out-of-bounds play, cutting behind a screen and getting open to sink the game-winning 3-pointer with four seconds remaining.
The Tigers (24–5) carry a 16-game winning streak into their second-round matchup with Utah.
Seattle Regional 4
No. 1 Stanford 92, No. 16 Sacred Heart 49
The Cardinal were without Cameron Brink due to a non-COVID illness but were unhindered in a rout of the Pioneers at Stanford, Calif.
Seven Cardinal players scored at least nine points, led by Haley Jones with 17 points. Francesca Belibi added a double-double of 12 points and 10 rebounds.
Stanford (29–5) outscored Northeast Conference Sacred Heart (19–14) by a 50–19 margin combined in the second and third quarters. Ny'Ceara Pryor topped the Pioneers with 12 points.
No. 2 Iowa 95, No.15 Southeastern Louisiana 43
Caitlin Clark had 26 points, 12 assists and seven rebounds to lead the Hawkeyes' blowout of the Lions in Iowa City.
Monika Czinano added 22 points and eight rebounds and Hannah Stuelke chipped in 13 points for Iowa (27–6). The Lions (21–10) were led by Cierria Cunningham's 15 points, while Chrissy Brown had eight points and eight rebounds.
No. 10 Georgia 66, No. 7 Florida State 54
The Bulldogs opened the fourth quarter on a 12–0 run to take a 57–40 lead with 7:43 left and cruise into the second round for the third straight season behind Diamond Battles' 21 points in Iowa City.
Audrey Warren added 11 points, six rebounds and five assists and Jordan Isaacs chipped in 10 points and six rebounds for the Bulldogs (22–11). The Seminoles (23–10) were paced by Erin Howard's 19 points and nine rebounds, while Taylor O'Brien had 15 points and four rebounds.
No. 8 Ole Miss 71, No. 9 Gonzaga 48
The Rebels dominated the middle periods 47–21 as they cruised past the Bulldogs in Stanford, Calif.
Ole Miss (24–8) held Gonzaga (28–5) to a dismal 1-of-17 shooting from 3-point range and just 17-of-58, 29.3 percent, from the floor overall. Yvonne Ejim was the only Gonzaga scorer in double-figures with 19 points.
Snudda Collins led three Ole Miss scorers in double figures with 15. Angel Baker and Madison Scott each scored 11. Ole Miss advances to face host Stanford on Sunday.