St. Augustine Rich With History, Style and a Robust Dining Scene
By Patti Nickell
From Tribune News Service
St. Augustine–Many agree that the most impressive way to arrive in St. Augustine is by crossing the Intracoastal Waterway on the Bridge of Lions.
Looking toward the city, it's easy to imagine that you are in Valencia or Barcelona as bell towers and colorful buildings with their lacy facades dominate the skyline.
Not surprising, since America's oldest non-indigenous city was settled by Spanish conquistadors in 1565, 52 years after explorer Ponce de Leon first landed here.
As we learn in our elementary school textbooks, he was in search of the Fountain of Youth and believed he had found it here.
It would be unthinkable for the modern explorer — more used to Botox for erasing lines on the forehead — to come to St. Augustine and not sample the fountain's admittedly somewhat metallic-tasting magic elixir.
Another must is a stroll along the ramparts of Castillo de San Marcos, a National Monument and the oldest masonry fort in the continental United States.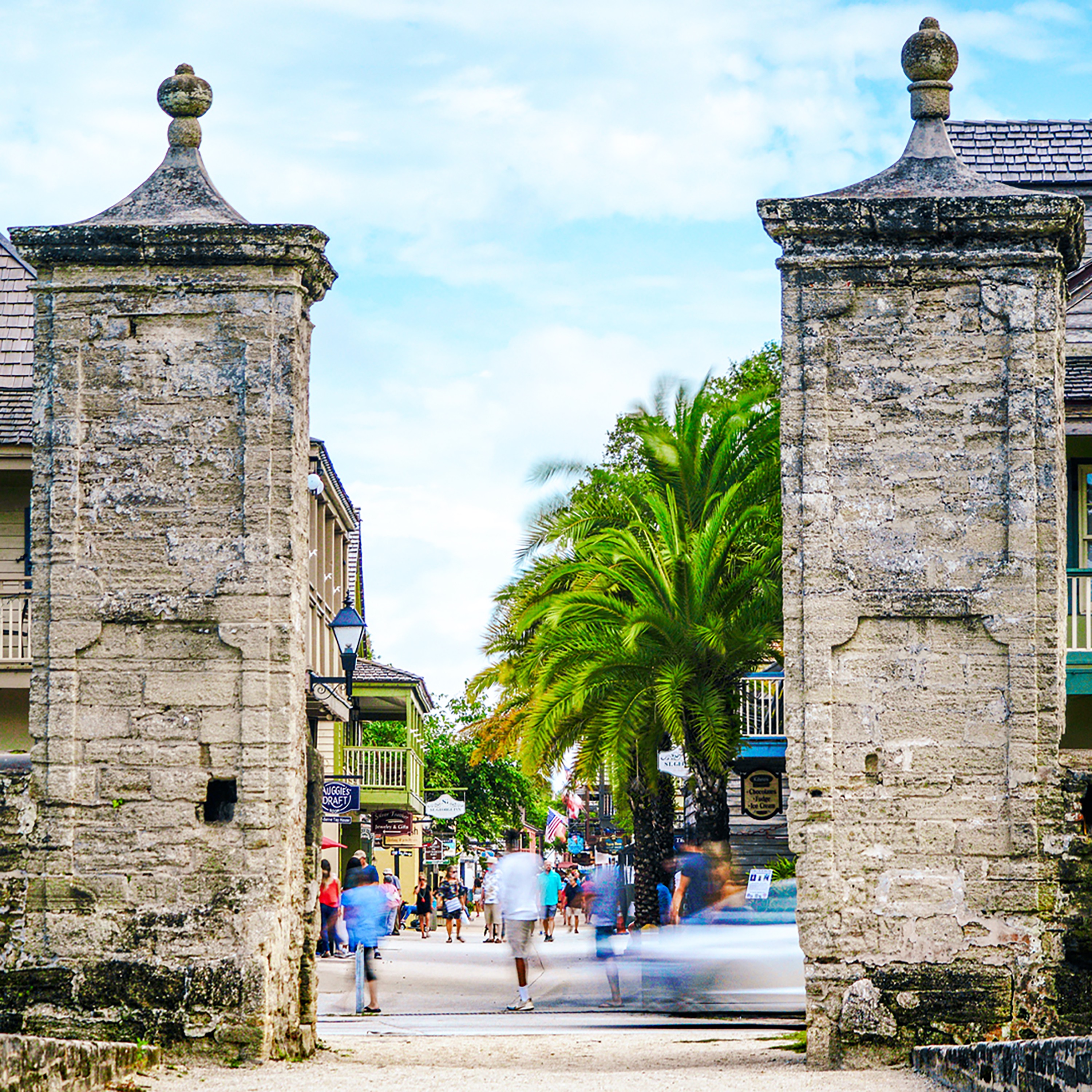 The 327-year-old bastion perches menacingly, overlooking Matanzas Bay, as if still ready to defend against pirates looking to plunder.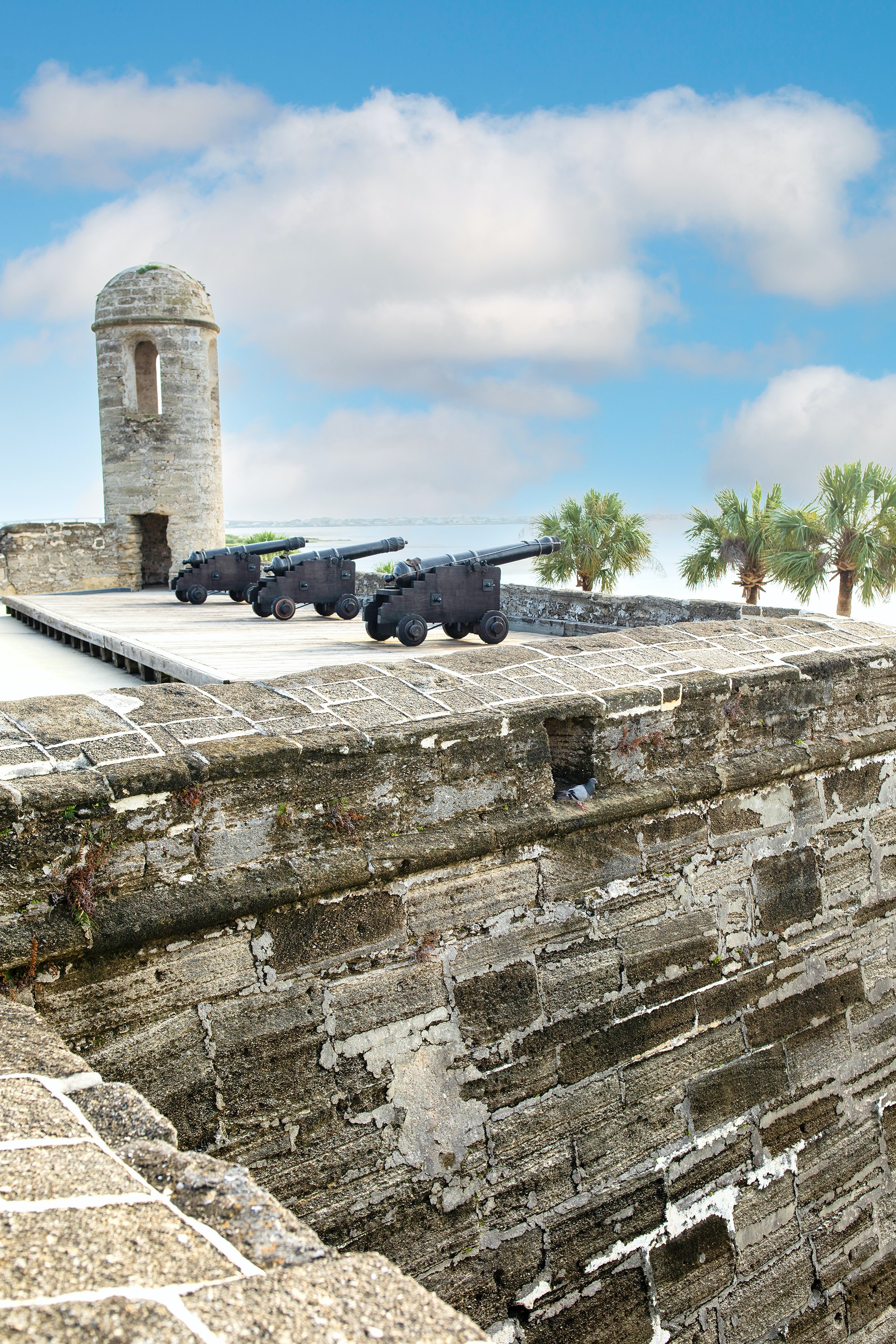 Afterward, head to King Street for a tourist trifecta. Begin with a guided walking tour of Flagler College, a private liberal arts school.
If the ornate exterior and its soaring fountains aren't enough to convince you that maybe you made the wrong college choice, the Austrian crystal chandeliers and elegant friezes in the great hall will have you gaping (wondering just who was tasked with decorating your own alma mater).
That's the effect railroad tycoon and Standard Oil co-founder Henry Flagler intended when he built the Spanish Renaissance style Ponce de Leon Hotel (which now houses the college) in 1888.
Designed to be a Florida retreat for his wealthy friends, Flagler spared no expense. The principal architects also designed the New York Public Library, and George W. Maynard, who painted murals in the Library of Congress, also painted the murals in the rotunda and formal dining room.
Louis Comfort Tiffany provided the dining room's stained glass windows, and Flagler's friend Thomas Edison made it one of the first buildings in America to be wired for electricity.
Considering all this luxury, it's not surprising that when Flagler's guests arrived for the season, they were required to shell out $4,000 ($100,000 today) – in advance!
Next, cross the street to the Villa Zorayda Museum, another Gilded Age marvel created in the Moorish style of architecture seen throughout the city today. Many of the details were replicated from the Alhambra Palace in Granada, Spain.
The museum has a fascinating past, having at various times been an exclusive restaurant and club, gambling casino and private residence.
The museum is just as fascinating, with the highlight of its collection the 2,400-year-old Sacred Cat Rug, made from the hair of ancient cats that roamed the banks of Egypt's Nile River.
Finally, plan to spend a few hours at the Lightner Museum, whose past incarnation was also as a hotel, the Alcazar.
Today, the Lightner has a collection of some 150,000 objects, many of which are unusual to say the least. Among the most unusual are a taxidermied lion once belonging to Winston Churchill and an Egyptian mummy, willed by the Egyptologist who discovered it to his brother. Not impressed with ancient artifacts, his brother used it to pay off a substantial bar tab.
Perhaps the most fascinating feature of the museum is the adjoining Café Alcazar. If you feel like you're eating on the downslope from others in the room, it's probably because you are dining in the deep end of what was once the world's largest indoor swimming pool.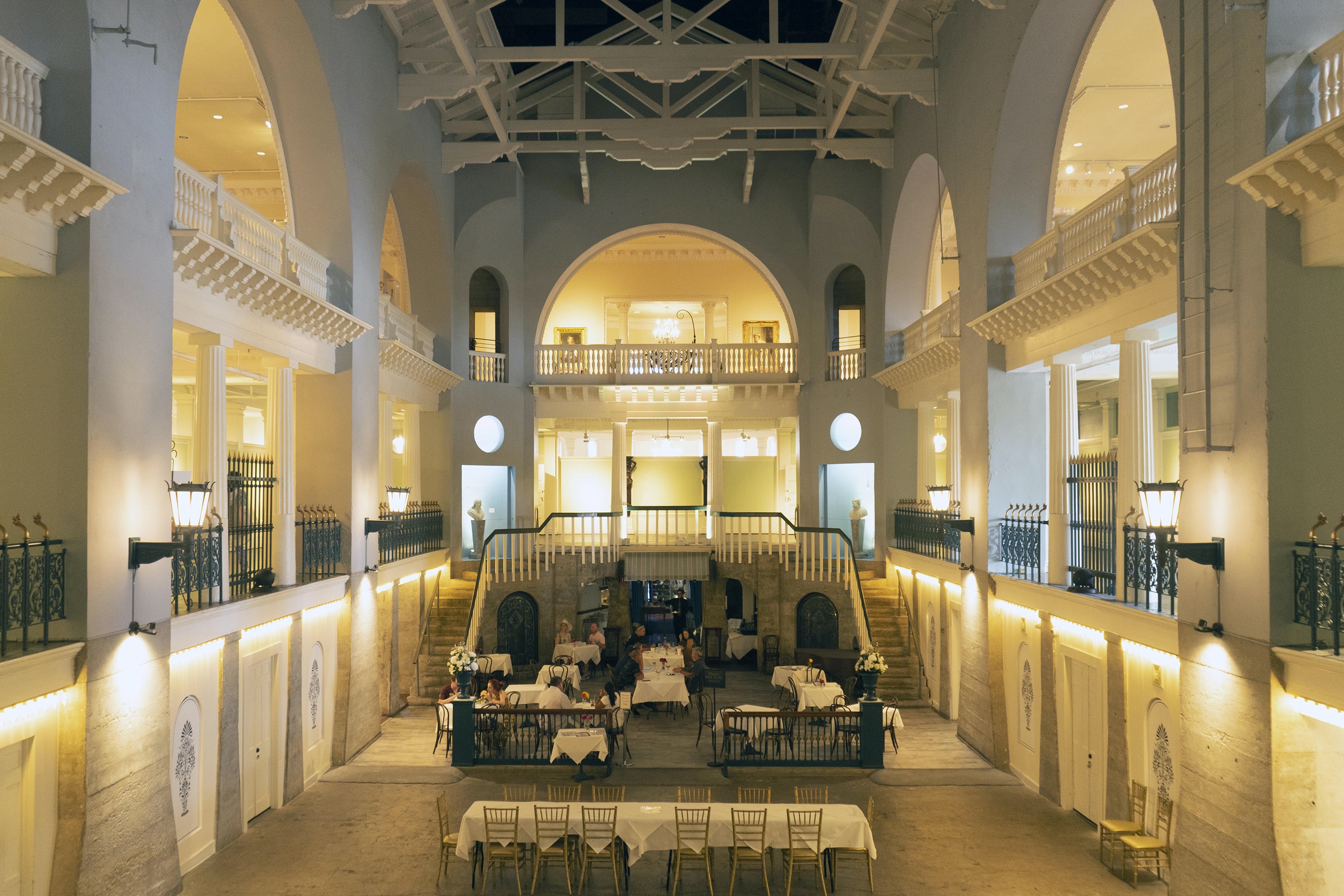 Now seems a good time to talk about the city's robust dining scene. Southern Living Magazine has named St. Augustine one of the Top 10 Dining Spots in the South.
Try Michael's for sizzling steaks and Spanish specialties such as Pulpo a la Plancha, grilled octopus with spicy aioli, wilted greens and garbanzos.
If it's fresh seafood you're looking for (and in Florida who isn't?) book a table at Catch 27, popular with locals and visitors alike, or Preserved, described as having "authentic southern cuisine in a historically preserved location."
If you have a big appetite (and several in your party), go for Preserved's Grand Plateaux (six raw oysters with crème fraiche, caviar and chives, a dozen more "naked" raw oysters, a dozen poached shrimp, a dozen P.E.I. mussels and house cocktail sauces. If you're sharing the platter, share the cost, as it's a hefty $64.
To walk off the calories, book a tour with Alex Drywa, a transplant from Brooklyn who has become a fixture on the city's food scene.
His company, St. Augustine Experiences, offers several tours devoted to food and libations – the Ale Trail, Craft Beer Trail, Not Just a Chocolate Tour and Tour at Twilight (a progressive dinner tour).
However, if you have three-and-a-half hours and $129, sign up for Alex's "Perfect Pairing" voted the No. 1 walking tour on Trip Advisor's Travelers Choice.
You'll start off with a wine tasting in the lush tropical garden at Casa de Vino 57.
Next, it's on to Mojo Old City BBQ, where you'll get a history of 'cue and learn why Southern states are willing to go to war over just which one has the best. Of course, you'll also get to sample the reason for the BBQ wars – luscious brisket and falling-off-the-bone ribs.
The tour concludes on Aviles Street, America's oldest thoroughfare, at Forgotten Tonic, a neighborhood gem in the city's arts district.
If you want a hotel as unique and fascinating as the city, book a room at The Collector Luxury Inn & Gardens. Described as "a modern, sensory immersion in art, history and romance," The Collector rewrites the story of America's oldest city.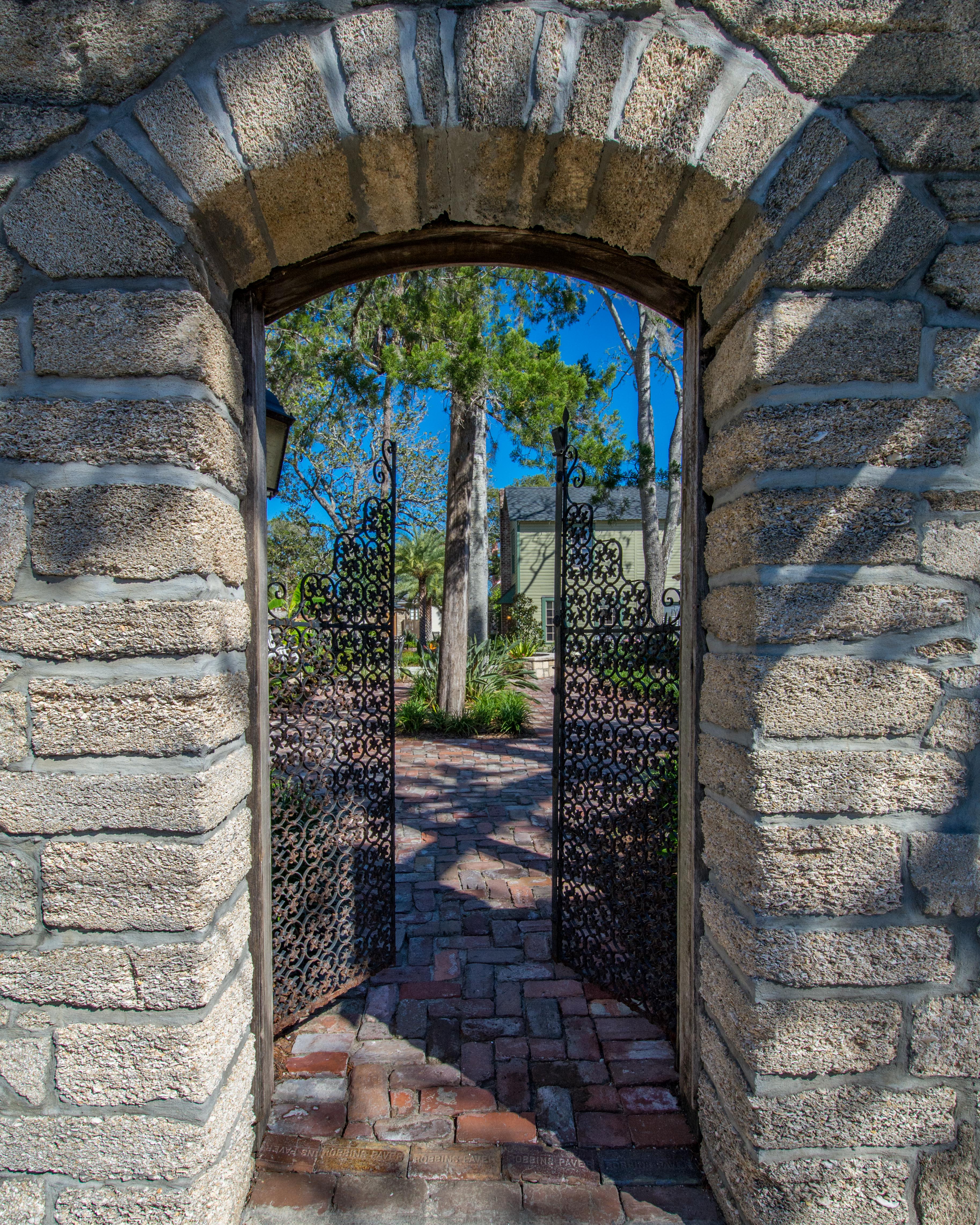 Accommodations (which feature coquina shell walls and original fireplaces) are in bungalows nestled amidst lush gardens and tinkling fountains.
Guests can linger over breakfast on the veranda or a glass of wine around one of the cozy fire pits. They can even test their mixology skills in a class in The Well Bar.
Within walking distance of many of the Old Town attractions, The Collector has been ranked among Travel + Leisure Magazine's World's Best Hotels.
If you're just looking for a good time in America's oldest city, and not eternal youth like Ponce de Leon, St. Augustine is the perfect choice.
For more information on St. Augustine, go to historiccoastculture.com
©2022 Tribune Content Agency, LLC.