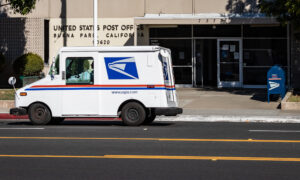 Stamps are about to get more expensive as a price hike proposed several months ago by the U.S. Postal Service (USPS) and recently approved by the Postal Regulatory Commission (PRC) kicks in on Sunday, Jan. 22.
The cost-of-living crunch that's frustrating American households also put a squeeze on USPS, which in October 2022 said it had put forward plans to increase prices to "offset the rise in inflation."
The agency said in an Oct. 7 statement that it had proposed a range of price hikes, including for stamps and raising fees on mail insurance, money orders, and P.O. box rentals.
The new rates, which were approved by the PRC at the end of November 2022 (pdf), include an approximate 4.2 percent price increase for each of First-Class Mail, USPS Marketing Mail, Package Services, and Special Services.
The price for Periodicals is going up by 3.5 percent.
"Nearly all of the rate authority available to the Postal Service in this proceeding (i.e., 4.200 percent for each class) is a result of the increase in inflation," PRC said in its order of price adjustments.
Inflationary Pressures
While U.S. inflation has eased somewhat in recent months, the latest Consumer Price Index (CPI) data shows that prices in December 2022 rose by 6.5 percent in year-over-year terms, and declined by 0.1 percent in month-over-month terms.
An alternative measure of inflation that uses the same methodology that the U.S. government used to measure CPI in the 1980s puts December's inflation figure at a significantly higher 14.5 percent.
The government's CPI inflation reading of 6.5 percent is the slowest annual rate in over a year and this number has been trending downward in recent months.
According to the PRC's price adjustment order, the cost of mailing a 1-ounce letter will go up from 60 cents to 63 cents, while domestic postcards will go up from 44 cents to 48 cents.
In terms of Special Services, Money Order prices are going up 6.7 percent and Post Office Box Service prices are increasing 4.5 percent. The only Special Services product that isn't seeing a price boost is Credit Card Authentication.
A comprehensive list of all the price changes is available as an attachment to the PRC price adjustment order (pdf).
USPS Hit Hard by Inflation
The USPS Office of Inspector General (OIG) has reported that inflation has had a disproportionate impact on the Postal Service due to restrictions on investments, pay increases tied to collective bargaining agreements, limitations on rate increases, and lack of hedging against rising fuel costs.
Two-thirds of the USPS's $82 billion in annual expenses go towards labor costs, with nearly three-quarters of its workforce receiving cost-of-living adjustments twice a year.
Additionally, restrictions on liquid asset investments, fuel costs, and union agreements put the Postal Service at a disadvantage compared to private sector businesses.
These cost-of-living adjustments are part of the USPS's collective bargaining agreements and are separate from annual pay bumps that Postal employees get.
Eligible employees got an adjustment of $1,935 in July 2021, according to the OIG report, an amount around ten times higher than what they received in July 2020.
Businesses that are less constrained by union agreements would face lower cost pressures than the Postal Service.
The OIG report notes that USPS doesn't hedge fuel prices by buying fuel for the future at a predetermined earlier price, which is a way businesses can mitigate the impact of price volatility.