Teachers, Firefighters, Police, Nurses Push Back Against Vaccine Mandates in Australia
Union says teachers have been bullied, coerced into getting vaccinated, and some feel suicidal.
A group of Australian teachers, firefighters, police and ambulance officers, nurses, correctional officers, and military veterans are pushing back against COVID-19 vaccine mandates that are forcing many out of their jobs serving their communities. Meanwhile, a teachers' union in the state of Queensland has said school staff experienced bullying by coworkers for not getting vaccinated.
The group, whose spokesperson said it represented around 7,000 public service professionals, gathered at King George Square in Brisbane on Feb. 2 to march towards the state Parliament, vowing to return in two weeks to let those in power know the Queensland state government's vaccine mandates are hurting not just themselves but the communities they serve.
"We are here to serve the community. It's not like we're a little corporate business who's going to lose profit and shareholders. The roles that we take serve the community. So it's not just us that are impacted it's the community as well," Helena, from the United Services Front movement, told The Epoch Times.
"That's the whole point of the United Services [Front movement] getting together, is to bring this message forward that, actually, these mandates, whilst they might be taking people's employment, they actually are taking people who serve the community out of the community.
"So who's going to be there to serve the community when these people cannot work despite being healthy and willing and ready and able and wanting to go back to the jobs that they love?" she said.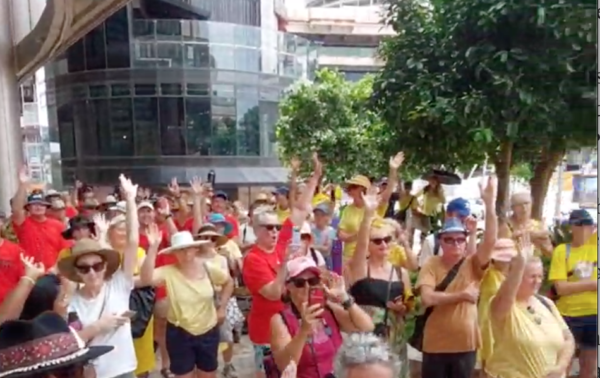 Wearing colours to represent their industries—yellow for teachers, red for firefighters, blue for police, green for ambulance officers, white for nurses, light blue for correctional services, and orange for the mining and resource sector—the group gathered to send the message to One William Street, the head offices of the Queensland state government, that "there's probably a lot more of us than what they would care to admit."
Helena said the various public service sector professionals formed a united front in a bid to avoid harmful anti-vaccination labels. They're a group comprised of a mix of those who don't want the COVID-19 vaccines and those who've been vaccinated but don't support mandates, she said.
"By uniting as one group, we are able to show who we are, and we're able to show that we are here and we are ready to work and that we are one great big support network," Helena said.
Senator Vows to Oppose All Government Bills Until 'Freedom is Restored'
Speaking at the rally, Queensland One Nation senator, Malcolm Roberts vowed that he and Sen. Pauline Hanson would vote against every piece of government legislation until all COVID-19 mandates were lifted.
"We will continue to support you, Pauline and I. We will continue to support you. We will oppose all government legislation in the federal Parliament until freedom is restored," Roberts said at the rally.
Roberts urged the crowd to remember what he said were the federal and state governments' "hypocrisy," contradictions of facts, lies, and corruption when they go to vote.
"There is no pandemic of deaths. This is about coercion and control, and it's about money for big companies. So what we need to do is, everyone here, including me, is responsible for this because we have voted either Liberal or Labor forever," he said.
"They take us for granted, and Parliaments these days do not hold governments accountable. They don't serve the people. They work for the parties and their power brokers, and their major sponsors and donors. So at the next election, state or federal, think about that. Put the majors last, put the minor parties first."
Teachers Allegedly Bullied By Coworkers
The rally was also attended by Red Union, which has represented teachers, nurses, professional drivers, medical professionals, police, and independent workers who have lost their jobs due to the vaccine mandates.
Tracy Tully, secretary for the Teachers Professional Association of Queensland (TPAQ), a Red Union member, previously told The Epoch Times their members were experiencing high levels of anxiety as a result of the state Department of Education's handling of the vaccination process.
"Teachers are experiencing debilitating emails daily, with evidence pouring into the TPAQ by the hundreds every day. A regular feature for teachers is the endless emails advising they're suspended, reinstated the next day, only to be suspended yet again the following day on so on," Tully said.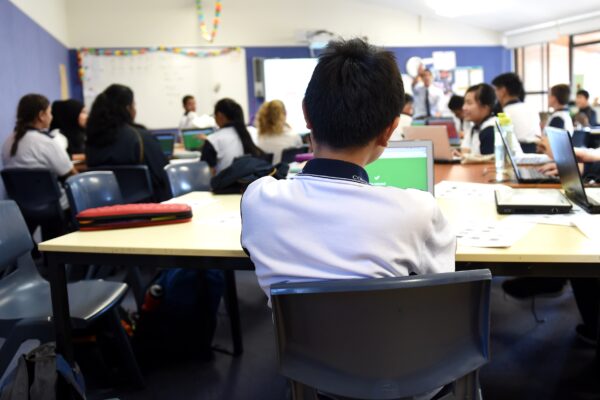 Tully said there had been a pattern of emails and "never-ending phone calls" going on for 10 days that left school staff "utterly overwhelmed, drained, and confused."
She said that teachers and principals who were supportive of the vaccine mandates had allegedly been bullying staff members prior to the end of the 2021 school year.
"Add to the mix workplace bullying at heightened levels with taunts from fellow teachers and principals last year openly laughing at and ridiculing their peers about how they'll lose their jobs for not getting vaccinated. In one case, a principal erected a DO NOT ENTER sign above a teacher's classroom door," Tully said.
"There's no telling what effect that action had on the young and vulnerable students inside the room being taught by the teacher. This is simply not good enough; we have transgressed back to the early 1900s with alarming behaviours."
Union Says Teachers Feeling Suicidal
Red Union has been holding regular Zoom conferences to provide support to teachers and school staff as they navigate the difficult terrain of being suspended, first with pay, then later without pay, due to the vaccine mandates.
"Employees have felt coerced into being vaccinated to keep their careers and even their marriages have disintegrated under the burden," Tully said.
The union secretary is concerned about the well-being of those teachers who got vaccinated to save their marriages and jobs and the flow-on effect it might have on students in the classroom.
"I hear daily that [Queensland Department of Education] staff affected in this way have become severely depressed, and some have expressed suicide ideation," she said. "These teachers will now stand in front of children with diminished mental and emotional well-being."
A spokesperson for the Department of Education previously told The Epoch Times that it took the well-being of its employees seriously and was providing free, confidential counselling to staff through its Employee Assistance Program.
"Queensland students and school staff have shown incredible strength and resilience throughout this pandemic, and they will continue to do so," the spokesperson said.
State Denies Vaccine Mandate Staff Shortage Despite Heavily Recruiting
The Queensland government has denied that the vaccine mandates led to a staff shortage that contributed to the delay of the start of the 2022 school year despite publicly advertising that there is a "high demand" for school and early childhood education staff.
Instead, the state cited the surging COVID-19 case numbers, caused by the Omicron variant of the novel coronavirus, when it announced the new school year would be delayed by two weeks until Feb. 7, when the peak of the wave was predicted to have passed.
According to Tully, the education department has been desperate to recruit overseas teachers and even students still studying to fill workforce gaps.
"[The Department of Education] is desperately seeking to supply a reserve force of qualified and registered teachers to replace those suspended due to vaccine mandates by recruiting from other states and overseas," Tully said.
"Our members in management have advised us they're appointing first, second-, and third-year student teachers from universities 'promoted to trainees' without any thought to the necessity for qualified supervision and the time and numbers required to ensure that this strategy is not just a band-aid to a problem that has been around for decades and growing swiftly at an alarming rate."
A Queensland government website seems to support Tully's claim, stating: "There is high demand for teachers and educators in a range of education specialisations and in our rural and remote communities across Queensland."
"Whether you are an experienced career changer looking for a rewarding change or an eager school leaver up for a rural or remote adventure, there are a range of exciting benefits on offer. You could be one of the people our young people need," the website states.
The government website further states that the early childhood education sector was "expanding" and people "willing to get the right qualification" to work at services "while they study" were "in demand."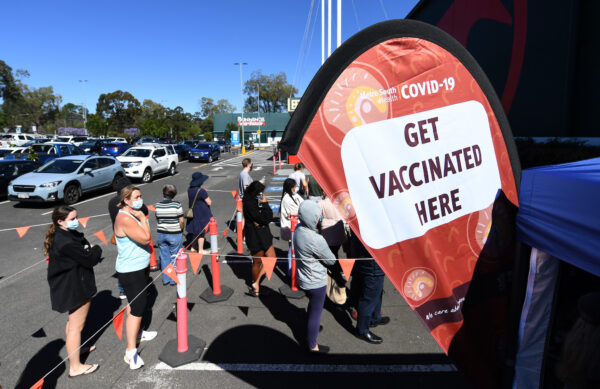 Meanwhile, a spokesperson for the Department of Education previously told The Epoch Times there was a high rate of vaccination amongst its school-based staff and that the state had enough of a reserve workforce to ensure continuity of education in Queensland schools.
"The Department is very pleased at the high vaccination rate among those impacted by the health direction. State-wide, around 98 percent of state school teachers have indicated that they are fully vaccinated. The Department is continuing to work with remaining staff to confirm their vaccination status," the spokesperson went on to say.
"State-wide, the department has access to approximately 5,000 fully vaccinated relief teachers, who are ready to work in state schools if required."
However, Tully said that principals have informed the union that many teachers and teacher aides with specialised training to work with special needs students who need help to use the bathroom, to eat, or to take medication have also been suspended.
"In the absence of these expert support staff, these students will be required to remain at home," she said.
The United Services Front plans to hold another rally in Brisbane on Feb. 23.