Texas Bill Enables Prosecutors to Hand Down Murder Charges for Producing, Selling Fentanyl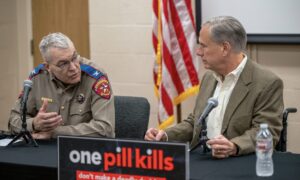 The Texas Senate voted unanimously on March 15 to pass a bill that would increase the penalties for the manufacturing or distribution of fentanyl, including tougher penalties when an individual overdoses and dies.
Senate Bill 645 was introduced by state Sen. Joan Huffman, a Republican, as part of the state's tough-on-drugs approach amid the opioid epidemic.
Under the bill, the penalty for manufacturing or delivering less than one gram of fentanyl would increase from a state jail felony to a third-degree felony.
In cases where an individual overdoses and dies from fentanyl, the penalty would be enhanced to a second-degree felony, a move designed to address the "one-pill scenario," in which individuals die after taking just one of the lethal pills.
Additionally, the bill includes possession of fentanyl with intent to deliver in the organized criminal activity statute and clarifies penalty levels for drug offenses to ensure more efficient prosecution of these crimes.
Death certificates must also include the term "fentanyl poisoning" if a toxicology examination finds that an amount of the drug sufficient enough to be considered lethal is present in the body, or autopsy findings are consistent with an opioid overdose as the cause of death, meaning prosecutors could effectively weigh murder charges.
Fentanyl is a potent synthetic opioid that was first approved by the Food and Drug Administration to treat acute pain. It is 50 times stronger than heroin and 100 times more potent than morphine. It is also extremely addictive.
'Texas Is Fighting Back'
As little as two milligrams of fentanyl can be lethal, according to the U.S. Drug Enforcement Agency, which notes that around 42 percent of pills tested for fentanyl contained at least two milligrams of the drug, considered a potentially lethal dose.
According to the Centers for Disease Control and Prevention, an estimated 107,689 people in the United States died of drug overdoses and drug poisonings in the 12-month period ending in October 2022.
Texas officials have said the growing border crisis and the influx of illegal immigrants have worsened the issue in the state, which has designated Mexican cartels as terrorist organizations.
Mexican cartels are known to import fentanyl from China before pressing it into pills or mixing it into other counterfeit pills made to look like Xanax, Adderall, or oxycodone, and selling them to unaware buyers who then accidentally overdose.
Cartels have also reportedly been using xylazine, a central nervous system depressant used to tranquilize animals, as a cutting agent for fentanyl.
In a statement introducing her bill in January, Huffman noted that Gov. Greg Abbott's "Operation Lone Star" working with the Texas Department of Public Safety, has seized over 353 million lethal doses of fentanyl, which is enough to kill nearly every person in the United States.
"Senate Bill 645 sends a clear message to those manufacturing and peddling this lethal poison that the State of Texas is fighting back," said Huffman.
Border Crisis Impacting Texas Drug Sales
"Every day, Texans are losing their lives to fentanyl," Huffman said. "Because of our proximity to the border, we must pass legislation like SB 645 that will severely punish those who are flooding our communities with the most lethal street drug we have ever seen as a society."
Huffman's bill would increase penalties for manufacturing, delivering, or possessing larger quantities of fentanyl.
Under the bill, having 200 grams or more but less than 400 grams would be considered a first-degree felony, and come with a possible 10 years or life behind bars and a fine of up to $100,000.
Possessing more than 400 grams would also be a first-degree felony punishable by at least 15 years in prison or a life sentence and a fine of up to $250,000.
However, the bill may still face challenges among opponents, such as the nonprofit Network for Public Health Law, which argues that increasing penalties for those who possess and sell fentanyl do not work in improving or saving the lives of drug users, and instead serve to worsen the current epidemic.
Instead, the nonprofit, along with some Democrat lawmakers, argue that harm reduction measures such as drug-checking equipment and increased distribution of naloxone, which is used to treat a narcotic overdose in emergency situations, are more effective.
The drug may also face problems when it comes to actually proving whether the individual selling or distributing the drug knew that it contained fentanyl.
Abbott praised the bill's passing on Twitter, declaring: "You kill Texans with fentanyl. You get charged with murder."