The Texas Department of Public Safety (DPS) has stopped enforcing a state law that made it illegal for 18- to 20-year-olds to carry handguns in public.
A recent memo to DPS officers alerted them to the enforcement change.
The enforcement change comes after U.S. District Judge Mark Pittman in Fort Worth struck down the law barring young adults from carrying handguns citing the age limits were in violation of the Second Amendment. (pdf) Under Texas Penal Code 46.02, adults under 21 are barred from carrying handguns in public unless they are under a protective order or they are in the military.
Pittman, who has served the Northern District of Texas since 2019, was appointed by former President Donald Trump.
DPS Director Steven McCraw had filed an appeal to the court's decision, but in late December, the agency withdrew its appeal, allowing the judge's order to stand. (pdf) The state gave no explanation for the withdrawal. (pdf)
The legal battle started in November 2021 when the Firearms Policy Coalition Inc. of California filed a lawsuit on behalf of two plaintiffs whose ages fell within that range. The suit stated that the law prohibited the pair from traveling between three counties in North Texas where they lived, worked, and attended school.
The suit was filed about two months after the state's Constitutional Carry law went into effect, allowing legal gun owners to carry a handgun without a license.
'Victory' for Constitutional Rights
The Firearms Policy Coalition declared Pittman's ruling a "victory" for Constitutional rights.
"We applaud Texas for doing the right thing and accepting the district court's ruling against the law prohibiting 18- to 20-year-old adults from carrying firearms in public," said Cody Wisniewski, FPC senior attorney. "Not only do young adults have the same constitutionally protected right to bear arms as all other adults, they are also among the reasons we have a Second Amendment, Constitution, and Country in the first place."
It's unclear whether other law enforcement agencies will follow Pittman's ruling.
The Dallas County and Harris County Sherriff's Offices did not respond to requests for comment.
Democrats Seeking Stricter Gun Laws
Meanwhile, Texas Democrats are urging lawmakers to consider numerous bills that would impose stricter gun laws in the state. The 88th Legislative session convened earlier this month.
Some of the bills are in response to the horrific mass shooting at Robb Elementary, which left 19 students and two teachers dead.
The gunman had turned 18 just days before he went on the deadly rampage, and he purchased his firearms legally. He was eventually killed by police.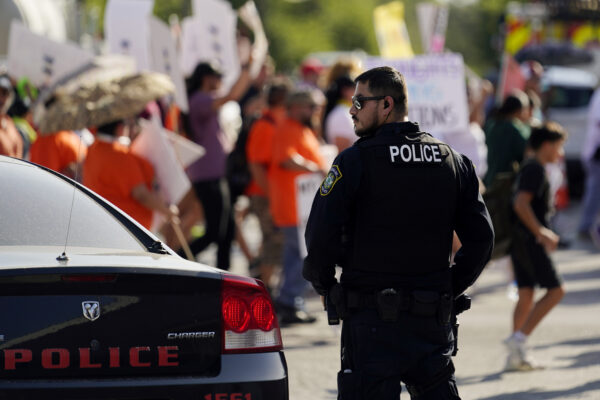 On Tuesday, state Sen. Roland Gutierrez of San Antonio, whose district includes Uvalde, introduced four bills he says would reduce gun violence, increase support for the families of victims of school violence, and provide more accountability for law enforcement.
One of his bills, SB 145, would raise the age to purchase certain weapons, including firearms, clubs, or a location-restricted knife, from 18 to 21. A location-restricted knife is a knife with a blade over 5 ½ inches. (pdf)
"It has to be the session where we do something on gun safety," Gutierrez said during a press conference at the Texas Capitol in Austin. He was accompanied by family members who lost loved ones in the Uvalde massacre on May 24.
"We're not asking for the moon and stars; we're asking for commonsense solutions. These families are broken," he continued. "They're mad as hell, they're angry, and there's not one damn thing that anybody's going to be able to do that is going to bring their children back, but under no certain terms should we allow their deaths to be in vain."
Marissa Lozano, the younger sister of teacher Irma Garcia who was killed at Robb Elementary, also spoke out, urging lawmakers to pass the bill to raise the age to purchase firearms. Garcia's husband died of a heart attack two days after his wife, leaving four children behind.
"You say raising the age limit would not prevent these atrocities from happening because criminals don't follow the law," Lozano said. "Well, this shooter did."
Gov. Greg Abbott's office also did not respond to a request for comment.