Texas School District Approves Guardian Program to Protect Students in Active Shooter Situations
A large North Texas school district is moving forward with its plan to allow armed staff members to protect students in the event of an active shooter situation.
On Monday night, the board of trustees for the Keller Independent School District (KISD) approved the decision in a 4–3 vote. The district, which serves more than 35,000 students, is set to become the largest in North Texas to implement a guardian program.
The new policy would be on a volunteer basis with a high degree of oversight. The program would require a rigorous selection process. Participants would undergo a law enforcement psychological exam, a physical, and firearm testing with requalification twice a year.
"We are not considering any option that would allow all employees to be armed," Superintendent Charles Westfall said before opening a discussion with board members. "Nor would we have a program that allows just any employees be armed without undergoing a thorough selection process."
Guardians would train alongside law enforcement in hand-to-hand combat, crisis intervention, and management of hostage situations, board trustee Chris Roof explained. District officials would also hold the discretion to remove an employee's authorization to carry a firearm at any time.
A survey sent to parents and teachers received 1,081 community responses and 584 teacher responses. Trustee Ruthie Keyes said the responses were overwhelmingly against the policy, while other board members argued the results were unclear. The full results were not made public.
'Students Have Brought Firearms'
Board President Charles Randklev said the district's primary responsibility is to ensure the safety of students and staff and that KISD is not immune to acts of violence.
"In the last six months, we've had several instances where students have brought firearms on campus. We've had non-district personnel attempt to gain access to our facilities," he added. "I share these examples as a reminder that we must remain vigilant."
Since the Robb Elementary School massacre in Uvalde, Texas, the district has hired additional school resource officers (SROs). It currently has 16 SROs stationed across the district at intermediate and secondary campuses. KISD encompasses 51 square miles and is home to 42 campuses.
One board member who opposed the plan said she would be hesitant to act in a violent situation.
"I've taught many, many years, and I guarantee you that if I had a gun in my hand, and one of my former students walked in that door, and they had a gun, and they were the active shooter, it would be very difficult for me to shoot that child," Keyes said.
"Now, my first instinct was I, you know, I had him as a fourth-grader, I can talk to him. So, I would approach him probably, and I would let all that training I did go behind, because that's what teachers do," she continued.
Others argued that police response time could take two minutes or up to 15 minutes, providing opportunities for someone to make their way into a school building.
"How long are we willing to wait?" trustee Micah Young asked, adding that a child was killed every two seconds at Sandy Hook Elementary School in Newtown, Connecticut, on Dec. 14, 2012. The shooter killed 20 students and six staff members.
Campus guardians would be anonymous to staff and parents.
"At what point do we put the opportunity in our favor?" he continued. "At what point do we create the opportunity to stop the violence?"
Other Districts Allowing Armed Staff
Hundreds of school districts statewide have approved the guardian program.
"As of October 20, the number of districts that have voluntarily shared with us that their school board has authorized policy for the guardian plan is 445," the Texas Association of School Boards told The Epoch Times in a statement
Young said the program worked as designed during a recent incident in another district.
"Within the last few weeks, an incident at a school where the guardians had to go into action, and I am happy to report did what they needed to do and did what they were trained to do," Young said. "The great thing about it is that nobody knew who those guardians were. The surprise and the anonymity of it is what allows good quality people to do the job."
Community members, teachers, and students also had an opportunity to share their thoughts before the school board members voted.
Some believe the plan could pose more harm than good.
"An increase in guns only means an increase in the likelihood of incidents," parent Jillian Boggs said. "It's not safe. It's just not."
Others agreed.
"There isn't any research out there that says this has been successful," former substitute teacher Diane Ossenkop told The Epoch Times. "In fact, the research to the opposite is true, that more guns in a situation will allow more violence."
She alleged that some trained guardians have been irresponsible with their firearms.
"We already know situations where teachers have left a gun in the bathroom, you know, the teachers that are under this guardian program," she continued.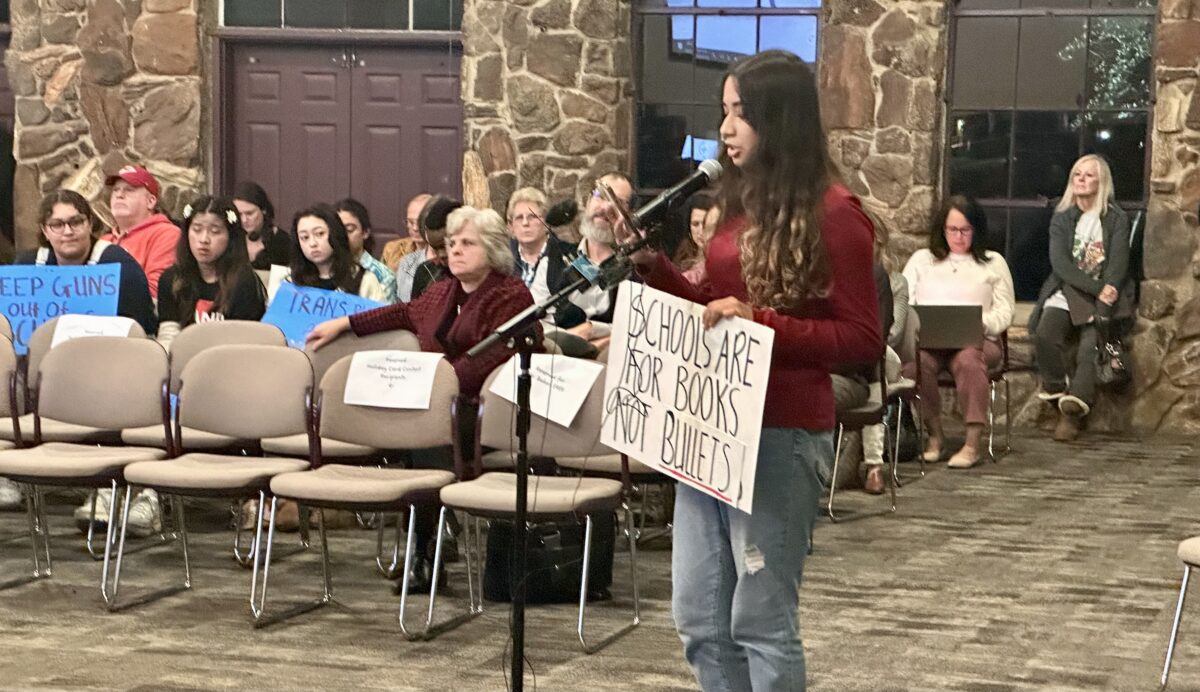 One community member and grandfather believes armed employees would be an asset to the district in a crisis situation.
Doug Hinds, a community member whose grandchildren attend KISD, said he is in favor of the "common sense" program allowing "well-trained staff on school property to protect the kids."
"The horror of what happened in Uvalde is a great example of why this policy is needed," Doug Hinds told the trustees. "As President Randklev and trustee Young said, how many minutes of response time is acceptable to stop an armed killer on our campuses?"
A mother with young children said there's a security gap at the elementary school level, adding that some teachers plan to leave the district if the plan is implemented.
"I hear teachers say, 'Well, if they put this program in, we're gonna leave,' and my answer is, 'Bye,'" Bren Zillinger told The Epoch Times. "That makes a lot of room for a lot of better teachers willing to do what it takes to protect your kids."
The program's details and implementation plan will be worked out in the coming months, Westfall said.