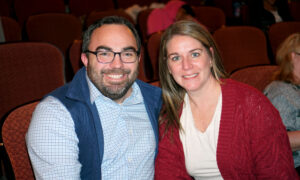 PITTSBURGH—Rebecca Reese, artistic director, owner, and dance instructor of her own dance academy, and her husband Charlie, who works in finance, attended this year's Shen Yun Performing Arts for the first time at the Benedum Center for the Performing Arts on Saturday, Jan. 14.
This was her first introduction to traditional Chinese culture and she was glad "to know a little bit more about that culture and to understand a little better."
Mrs. Reese loved the visual spectacle: "I can't wait to get back to the studio and share this experience with my students."
Based in New York, Shen Yun was founded by leading Chinese artists, who made it their mission to revive traditional Chinese culture through classical Chinese dance and music.
According to the Shen Yun website, China was once known as the "Land of the Divine" and, although it was deeply spiritual, Chinese culture was suppressed by the atheist communist party that took power in 1949.
With her 25 years of experience in dance, Rebecca could relate to the dancers' efforts.
"But it's also the beautiful fluidity through the movement and things like that, and they're very talented performers," she said.
Her words for the performers: "Oh, thank you, and thank you for inspiring us, and [doing a] beautiful job with your arts. Thank you."
"All in all, it's a great cultural experience. It just really brings the Chinese culture to life for us."
Reported by Lily Sun and Yvonne Marcotte.
The Epoch Times is a proud sponsor of Shen Yun Performing Arts. We have covered audience reactions since Shen Yun's inception in 2006.