The Dolomites: An Otherworldly Alpine Paradise
We were looking to explore the best of the Alps on our European holiday, and we had heard about the Dolomites in the eastern section of the northern Italian Alps. The Dolomites are a highly distinctive mountain range with dramatic Alpine landscapes that are heralded for their exceptional natural beauty. This is where you'll discover otherworldly clusters of jagged gray limestone rock formations that were shaped approximately 200 million years ago — a geological treasure that's in a league of its own.
Our family had the pleasure of spending two glorious days in Cortina d'Ampezzo, a small and relaxing resort town that's situated two hours north of Venice in the center of Ampezzo Valley, encircled by the majestic Dolomites. Cortina is a can't-miss outdoor destination, thanks to its impressive array of recreational activities, unique Ladin culture and awe-inspiring vistas. Additionally, Cortina is home to bountiful museums, art galleries and wellness escapes, including the Mario Rimoldi Modern Art Museum and Mucciaccia Gallery
Known as "The Queen of the Dolomites," Cortina is one of the two Italian resorts designated in the renowned Best of the Alps collection, thanks to the Dolomites' magnificent panoramas. Moreover, the Dolomites became a UNESCO World Heritage Site in 2009 — a testament to the region's sheer beauty. This sports-lover's playground has been the ideal filming location for action and adventure sequences because of myriad Olympic and sports venues to which it is home along with its world-class natural wonder.
We stayed at the Park Hotel Victoria, which was conveniently located in the beginning of the pedestrian region and looked out onto the town from our room's balcony. Steeped in history, this quaint hotel has belonged to the same family since 1892. From the hotel's friendly staff and cozy, welcoming atmosphere to the breakfast pastry treats that came fresh out of the oven daily, we couldn't have asked for more during our stay.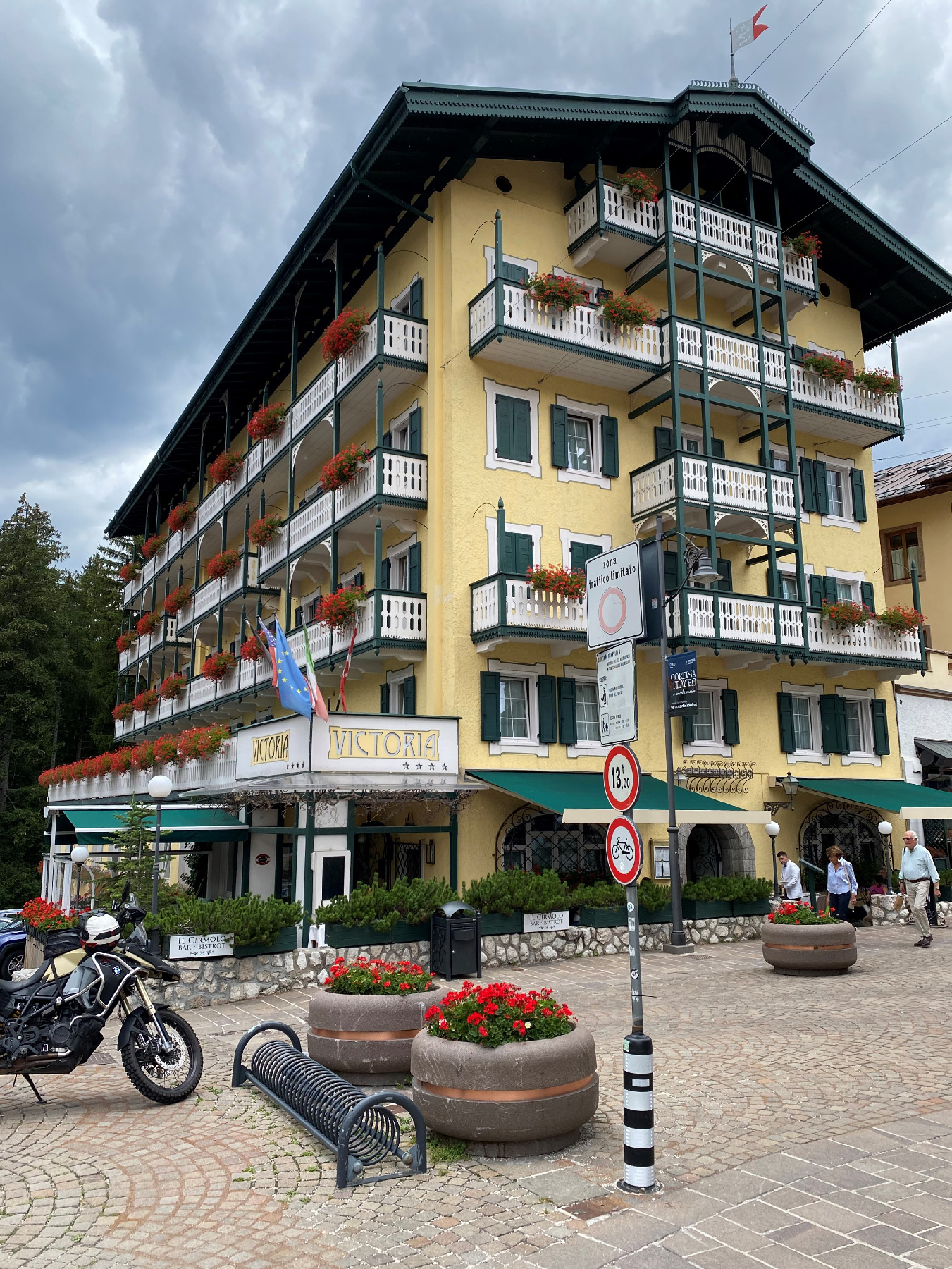 Our first night in Cortina, we enjoyed a traditional Ladin three-course dinner at Dolom'eats Aquila restaurant. Their menu changes daily but always features Italian classics and Dolomite dishes made with Grandma Teresa's recipes. All of the dishes were delectable: homemade tagliatelle, venison ragout, stuffed ravioli, grilled cheese and polenta. My favorite dish was their spinach dumplings — a big bowl of comfort food unlike any other. If you really want to understand the food of the region, this is the place to visit.
The next morning, we headed out for an epic hiking adventure up in the Dolomites along some via ferrata trails that boasted heavenly views at every turn. In the Dolomites dialect "via ferrata" means "Iron Path," which is apropos considering that these trails are equipped with iron cables. These protected climbing paths are suitable for all levels of expertise.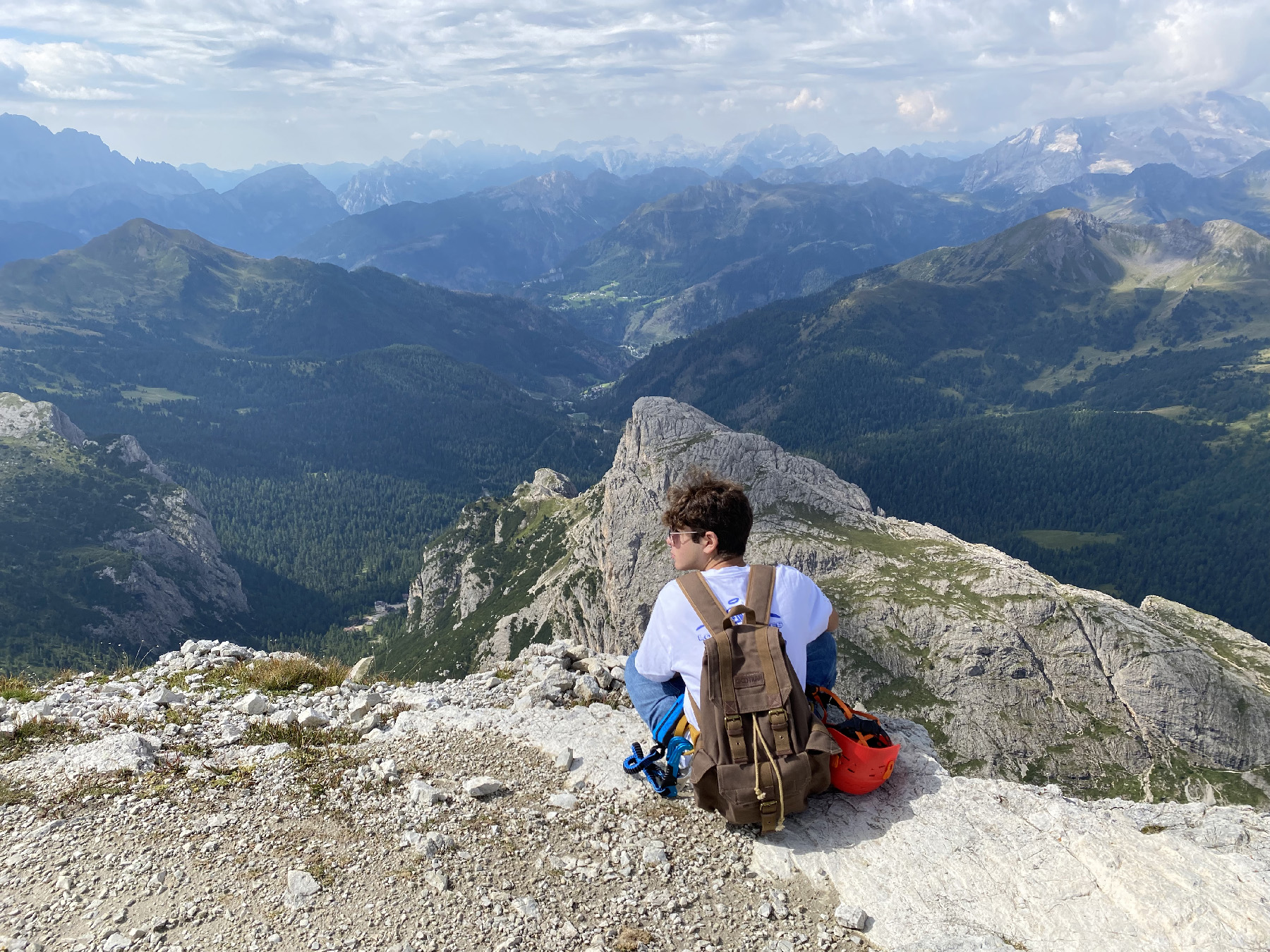 We opted to hike with a skillful guide, David, who is one of 30 members of the Gruppo Guide Alpine of Cortina. And while any family could easily hike these trails without a guide, I was immensely grateful to have one because he not only helped us to make the most out of our time but also ensured our safety.
One of the most interesting parts of our time up on the mountains was hiking the Lagazuoi Tunnels as it afforded us the opportunity to explore bunkers and tunnels from World War I. Interestingly, they were constructed to bring massive amounts of explosives under the subpeak of the mountain in order to blast away the Austrian troops. But what was once a war battlefield is now a mountain-lover's paradise that's in a category of beauty all by itself. To access the start of the via ferrata, you can ride the Lagazuoi cable car. More adventurous travelers can take a two-hour hike up to the cable car top station.
Ultimately, the Lagazuoi Tunnels trail provides the most sensational panoramic views of Cortina's entire valley — truly some of the most remarkably stunning vistas I've ever seen in the entire trajectory of our outdoor family travels. After our hike we stopped to grab some coffee and lunch at Cortina's mountain hut. We were on cloud nine, quite literally and figuratively elevated on top of the world, and I intuitively knew that it was the most breathtaking view I would ever enjoy a cup of coffee by in my life.
After hiking all day, we were craving some local comfort food. And we couldn't have asked for a more satisfying dinner than the one we had at Pizzeria Porto Rotondo. We ate outside as church bells rang. Inside, their walls feature tons of black-and-white photographs of iconic stars from the 1950s and '60s. I had a white mushroom truffle pizza that was out-of-this-world delicious. Having pizza while in Italy is a no-brainer, and this charming little restaurant is a definite must-stop during your time in Cortina.
After dinner we went back down to town for a little walk on the paseo and a nightcap at our hotel. It was a glorious finish to our magical time in Cortina, an Italian travel gem that will be etched in our hearts forever.
When You Go
Best of the Alps: www.bestofthealps.com/en/d/cortina-dampezzo
Cortina: www.dolomiti.org/en/cortina/discover-cortina/about-cortina
Park Hotel Victoria: www.dolomiti.org/en/cortina/accommodation/hotel/victoria-eng
Dolom'eatsAquila Restaurant: www.dolomiti.org/en/cortina/food/restaurants/restaurant-dolomeats-aquila
Pizzeria Porto Rotondo: www.dolomiti.org/en/cortina/food/restaurants/rist-pizzeria-porto-rotondo
Via Ferratas: www.dolomiti.org/en/cortina/experiences/vie-ferratearrampicate?type=equipped-trails-easy-via-ferratas
Lagazuoi Tunnels: www.dolomiti.org/en/cortina/experiences/vie-ferratearrampicate/galleria-eng