Families who lived in France during the Napoleonic era made strong and resilient homes in their country. Their homes were built, not of bricks and mortar, but of caring and love. This is evident in the skillful portrait sketches of Jean August Dominque Ingres (1780–1867) who presented the prosperous and loving middle-class families of this time.
Parent and Child
In many of his drawings, Ingres showed the strong bond of parent and child through their expressions. When he prepared to sketch, Ingres carefully observed the face of each sitter. He once said, "To really succeed in a portrait, first of all one has to be imbued with the face one wants to paint, to reflect on it for a long time, attentively, from all sides, and even to devote the first sitting to this."
In this sketch of Charles Hayard and his daughter Marguerite, we see the protective embrace a father gives his child, and the little girl rewards that care with a child's trust as she holds her father close to her. From the top hat on the chair, purposely placed in the composition, we assume Hayard has just returned, or he is just about to leave as he still wears his topcoat. His daughter greets him or, possibly, wishes him goodbye. The pose is immediate and casual.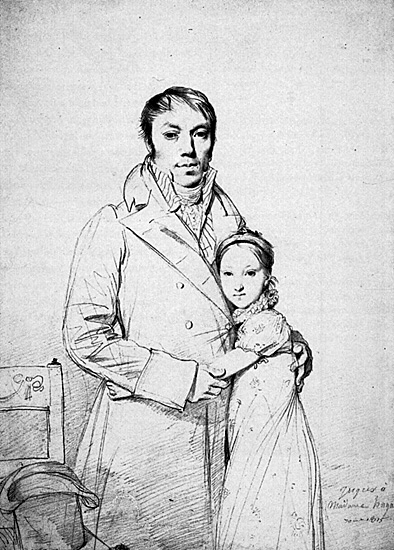 A Young Family
In Ingres's sketch of the Alexandre Lethière family, Alexandre takes a casual pose with his wife and baby daughter. Giving immediacy to the portrait as in the portrait of Charles Hayard and his daughter, Alexandre is wearing an overcoat as if he just came by to see his young wife and child. He carries a kind expression that shows his love for his family. His wife has a contented expression to show she is well taken care of.
Although this is only a pencil sketch, the artist's composition is superb. The baby, whose happy face reflects a happy home, is wrapped in her mother's arms while her father stands protectively over them both. Ingres puts slightly more pressure on his pencil for the faces to bring the viewer's attention there.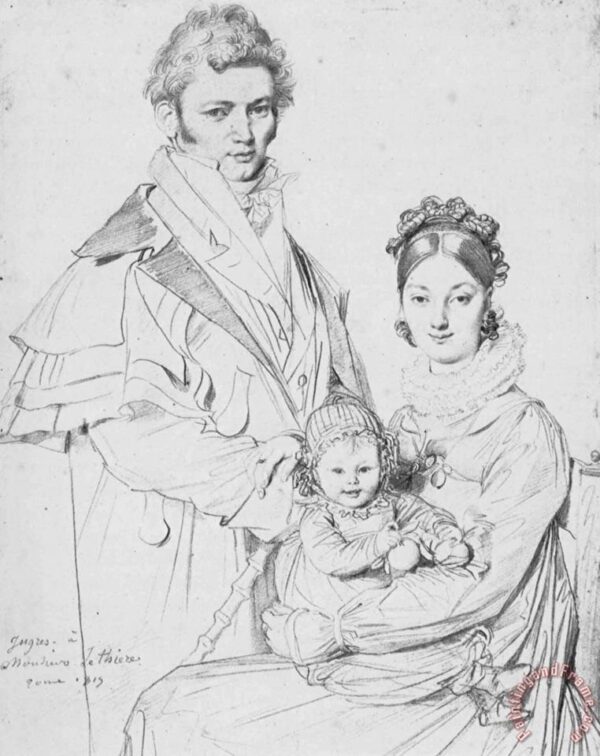 Wriggling as babies do, the baby's likeness in the Lethiere portrait requires drawing at a quick pace that realistically captures a baby's proportion and features.
Art reviewer for the New York Review of Books Sanford Schwartz notes that Ingres's drawings made the sitters come alive. "Ingres made sitters more physically tangible and psychologically present than they had perhaps ever been in the tradition of portraiture."
In the same article, historian Stephen Longstreet agrees: "The people are real. They breathe and exist solidly on earth. …"
Indeed, Ingres had a way of capturing the core personality of a sitter, and this spot-on accuracy came from careful observation.  "He even captures their self-consciousness in posing," noted the late Agnes Mongan, who directed the Fogg Art Museum at Harvard University, in Cambridge, Massachusetts, according to ArtistsNetwork.
A Composite Composition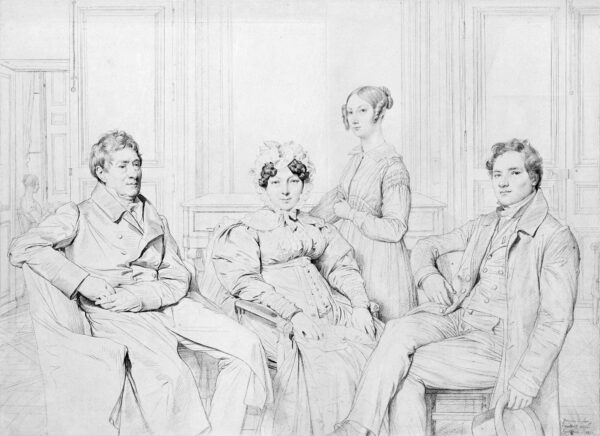 Ingres's most ambitious family portrait was the immediate family of his close friend Edouard Gatteaux, completed in 1850. The portrait was actually an imaginary family grouping. He placed figures together whose images were at different ages at the time the portrait was made. Gatteau's father, engraver and medalist Nicholas-Marie, and his mother Louise-Rosalie had passed away—Nicholas-Marie passed away 18 years before, and Louise-Rosalie had passed away 3 years before the drawing. Gatteaux, who appears as a young man, would have been 62 at the time of the portrait.
To design the drawing, Ingres used three individual lithographs of Gatteaux's parents and Edouard made by Claude Marie Francois Dien after Ingres's own drawings. The prints were destroyed during the chaos of the Paris Commune in 1871. Ingres cut out the figures from the prints and placed them compositionally on a larger sheet. He completed the background in pencil, as well as the other figures of the elder Gatteaux's granddaughter, Paméla de Gardanne, who stands behind the main group, while in the far left of the background is a profile of Edouard's cousin, Mme. Anfrye. The artist also reworked the lower half of Edouard in pencil.
The Blended Family
Families sometimes change; new children come into them, and unrelated people are brought together by circumstance. During Ingres's time, even Napoleon's powerful extended family had its challenges to work out.
Napoleon had four brothers who were given titles and governance in the empire. Ingres's portrait of the Lucien Bonaparte's family presents the Napoleonic ideal of a blended family. The youngest Bonaparte, Lucien, married a second time, and his second wife, Alexandrine, wanted a portrait by the artist. Ingres made a lively portrait sketch of Lucien's family with music playing a central role.
Alexandrine, seated in the center, has her children surrounding her: Charles leans next to his mother's chair, little Louis-Lucien is at her knee, and Paul-Marie sits on floor.
Anna Jouberthon, a daughter from Alexandrine's first marriage, holds a lyre on the far left. One of Lucien's daughters from his first marriage plays on a spinet, and another, Christine Egypte, sits on a stool with a flower basket. Lucien's other daughters, Giovanna and Laetitia, stand in the near background.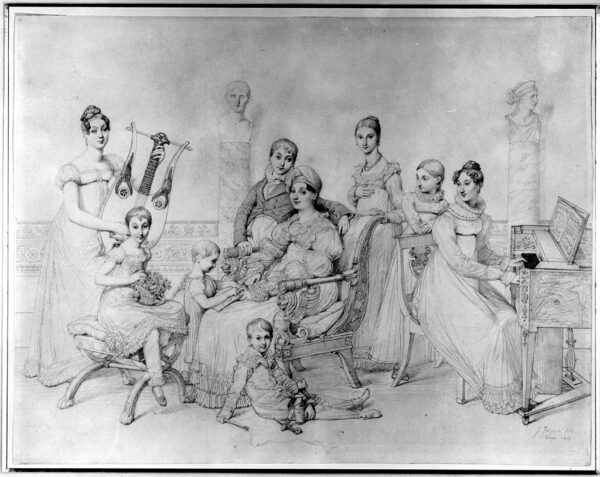 Musical instruments play an important role in this drawing. Ingres himself played the violin.
Technique of a Master
The sketches above show a confidence and skill born of practice. Frank Wright, painter and art history professor at George Washington University, states that "Ingres was a miraculous technician. He was one of the most remarkably assured draftsmen who ever lived. When he put a line on, he did it with such certainty. How did he draw with such authority? It's one of the things you can't teach about Ingres, but you can be aware of."
Ingres's life was embedded in art. "I was raised in red chalk," Ingres once stated.  As such, he kept his graphite drawing tool ready to draw. "He always drew with a sharp point, sometimes even in a 'chisel-shaped point,' which enabled him to vary the thickness of the line and to shift from sharp to broad," wrote printmaker and art historian Avigdor Arikha in a catalogue for a recent exhibition. 
Ingres learned by copying his father's drawings and the work of the great masters. The drawings of Renaissance master Raphael had a great influence on the artist, but he also learned from his renowned contemporaries. He apprenticed with Jacques Louis David.
With over 4,000 drawings, Ingres perfected the contour line. Today art instructors teach two styles of drawing: the open form and the closed form. Open form means a drawn figure would open out to the background and not enclosed within a drawn outline.
Ingres perfected the closed form, as the figures were enclosed within masterfully drawn lines. "With a graphite line that is constantly and finely adjusted—now narrow, now thick, pressing firmly or more swiftly—he defines contours with a remarkable range of modulations. Form is described above all by such calibrations of contour as well as by direction of a line," Mongan said.
Artist and painting instructor Phillip Wade said, "His drawings are distinguished by their careful containment of form, perfect lines, and subtle shadings. "I've never seen anyone who could do outlines as well as he could."
A Teacher of Harmony
In 1801, the artist won France's prestigious Prix de Rome, which sent him to Rome where he was later appointed director of the French Academy there. In Rome, he carried on the tradition of teaching the younger generation: He "… set about giving his students a solid base in technical drawing in order to continue Renaissance traditions and also provide a good starting point from which their careers could develop," according to the History of Art website.
When teaching his art, Ingres was said to use musical metaphors: "If I could make musicians of you all, you would thereby profit as painters. Everything in nature is harmony; a little too much, or else too little, disturbs the scale and makes a false note. One must teach the point of singing true with the pencil or with brush quite as much as with the voice; rightness of forms is like rightness of sounds."
Thus, Ingres's masterful art was put to use to create harmony, especially in his drawings of families of his time. In a blended family group, Ingres's portraits show each member engaging in a different activity but together living harmoniously. Other portraits show care and protection of a parent for a child or spouse. Harmony is what makes a family strong in any age. Ingres's lively and insightful portrait sketches of the families of the Napoleonic era are now recognized as his greatest legacy.