The Left's Guilt Narrative Is Holding Australia Back, Says Indigenous Leader Warren Mundine
Left-leaning governments tend to adopt a negative approach toward Indigenous issues, which perpetuates a sense of guilt and could hinder Australia's effort to move forward, says an Indigenous community leader.
The comment comes amid controversy surrounding Greens leader Adam Bandt who had the Australian flag pushed aside but kept the Aboriginal and Torres Strait Islander flags in the centre in his press conference. Bandt argued on Monday that the flag represented "the lingering pains of colonisation."
The sentiment was echoed by Victorian Greens senator Lidia Thorpe, an Indigenous woman, who on Wednesday said she would "sacrifice swearing allegiance to the coloniser" to get the media and the parliament to question Australia about its colonial past.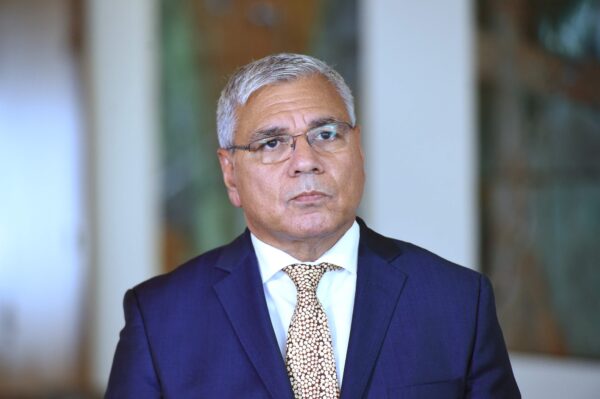 However, prominent Indigenous leader and former Labor Party National President Warren Mundine told The Epoch Times that addressing Indigenous issues "shouldn't be just negative stuff all the time" because Australia is "one of the most successful countries" when it comes to improving the lives of Indigenous people.
"I don't know any nation in the world that had a very good birth. They all had wars and conflicts," he said, adding that it's about "what we've achieved from here."
"There's no law that is discriminatory against Aboriginals anymore."
The Indigenous leader also gave credit to the High Court for giving the Mabo decision in 1992 to recognise Aboriginals' ownership of land, as well as the Menzies government in the 1960s for granting full voting rights to Aboriginal people. Mundine also said that Australia has offered "amazing funding and support" to Aboriginal people in regard to health, education, and jobs.
"Now we've been able to produce [Indigenous] surgeons and doctors and lawyers and accountants and academics and engineers. And getting Aboriginals through school and all that, and also very focused on improving the life expectancy and economic prosperity for Aboriginal people."
Victimisation Won't Deliver Practice Outcomes
However, Mundine noted that such achievements are usually ignored by left-leaning governments, which tend to focus on "negative victimhood guilt-type programs" that don't "actually improve anything."
"It does seem to be a tendency coming from the left to take negative viewpoints of things like there's racism everywhere when it is not," he added. "There's some racism, but it's not everywhere; it's not institutionalised because we don't have any of those laws or structures anymore."
Mundine argued that such an approach is "not how you make people proud of who they are and how they're part of the Australian society and moving forward." Instead, he said people should "talk about the real history," recognising positive and negative events and "all striving to make Australia a better place."
"When you have negative things all the time, you get this victimhood. And that's what a lot of this stuff does, and we need to move away from that."
In a bid to push for Aboriginal representation in the parliament, the centre-left Labor government pledged it is "fully" committed to the Uluru Statement from the Heart. The statement called for an establishment of an Indigenous body in Parliament, which requires amendments to the constitution.
"The truth is Australia didn't begin in 1788. We should be proud of the fact that our continuous culture goes back at least 65,000 years," Prime Minister Anthony Albanese said on Wednesday.
On Thursday, Indigenous figures gave a speech in Victoria's lower house to advocate for an independent treaty authority, which will operate outside the usual state bureaucracy with the ability to hire staff and receive funding.