The Mar-a-Lago Raid Docs; Forcing Their Release; and the Iranian Fatwa on Salman Rushdie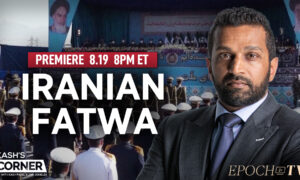 This episode will premiere on Friday, Aug. 9, at 8 p.m. ET.
In this episode of Kash's Corner, Kash Patel addresses the Iranian fatwa on Salman Rushdie, possible U.S. reentry into the nuclear deal, and recent developments surrounding the Mar-a-Lago raid.
"There is no way on planet earth that the Department of Justice did not tell the White House Counsel's Office of this raid," claims Kash.
Kash Patel discusses details that have been omitted from media coverage of the raid and demands the release of concealed documents relating to Mar-a-Lago and Russiagate.
"And the attorney general made it abundantly clear when he came out to the podium and spoke to the American public: 'I personally authorized the search.' Okay. Who did you and your team talk to?" asks Kash.
Kash Patel also explains how Congress can compel intelligence agencies to hand over unreleased documents.
"When you call the DOJ and FBI and you place a hold … on the distribution of taxpayer dollars to fund those agencies, they will overnight provide you with thousands of documents."
Subscribe to the American Thought Leaders newsletter so you never miss an episode.
* Click the "Save" button below the video to access it later on "My List."
Follow EpochTV on social media:
Twitter: https://twitter.com/EpochTVus
Rumble: https://rumble.com/c/EpochTV
Truth Social: https://truthsocial.com/@EpochTV
Gettr: https://gettr.com/user/epochtv
Facebook: https://www.facebook.com/EpochTVus
Gab: https://gab.com/EpochTV
Telegram: https://t.me/EpochTV