From basic carpenter's and mason's levels, to magnetic ones and high-tech laser versions, meet your new best friend
Levels are one of the most important instruments used in the construction industry; carpenters, masons, bricklayers, metalworkers, and handymen couldn't do their job without one. Some photographers swear by them, too (the best tripods include a bubble level).
There are many to choose from, and you may need to add more than one to your workshop. In a pinch, you can use a measuring cup filled with water to level a shelf that you are hanging, but let's try to avoid that.

The Must-Have(s)
No workshop is complete without a standard, two-foot carpenter's level. A member of the bubble-level family, it utilizes a design that has worked for centuries: a simple but accurate sealed tube containing a solution that moves a bubble to the center of the instrument to let you know when you're spot on. It can be commonly found in four-foot and six-foot lengths, but the two-foot one is the size you'll probably use most.
In a pinch, it can be turned into a longer level by laying it on a six-, eight-, or even a 10-foot flat (not warped in any way!) two-by-four piece of wood, that is then laid on the area you are measuring. The bubble levels are located in the center, and at both ends, to allow for quick checking of level (horizontal) and plumb (vertical). They are the tool you need to hang pictures or shelves, build furniture, and many other home and construction projects.
A torpedo level (also called a canoe level because of its tapered shape) is sized at nine inches long and one inch wide to fit easily in a toolbox. It has similar features to the carpenter's level, as well as a 45-degree bubble level for angles. It is well-suited for small, awkward spaces. Some models have magnets to keep your hands free for the rest of your task.
At the other end of the size spectrum, a mason's level has the basic center and end bubble levels in a burlier package, starting at four feet, with longer lengths offered, making it a go-to choice for heavy-duty job sites and large projects such as hanging cabinets.
1 or 2 Pictures
The first step to getting accurate results when using any form of bubble level—whether you are hanging a picture or adding an addition to the house—is the level's position. Whether using it horizontally or vertically, it must be pressed (or set) firmly at the center of the object being aligned, because holding it loosely or off-center can result in an unwanted tilt.
Pictures are easy. The trick is to lay the frame face-down on a soft surface. Measure the center of the frame and the height placement of the hanger on the back (how far down is it from the stop). Then, figure out your desired wall placement, hammer in a picture hanger, and hang it. Place a carpenter's or a torpedo level on top; align it; and use bumpers, Velcro, or Silly Putty on the bottom corners to help hold the bottom of the picture slightly away from the wall for a more professional look. Take a look at what's already hanging on the walls—aligning existing photos and art is a quick way to give a room a face-lift.
Straightforward Shelf
Bracket shelves are simple, sturdy, and classic. Start by taking your carpenter's level and drawing a thin pencil line on the wall at the desired height. Set the first bracket into position, using the level vertically to make sure it is plumb. Mark the screw holes, drill, and install. (Don't toss out the wall anchors that came with it; they are provided for a reason.) Repeat with the second bracket. Set the top wood or glass in place. Double-check with your level, and then pat yourself on the back.
Note: If the shelves are going to be bearing any amount of weight beyond very light, decorative items, you'll want to locate the studs with a stud finder (it beeps when slid over a stud) and screw into them directly, or upgrade the weight-bearing capacity of the wall anchors.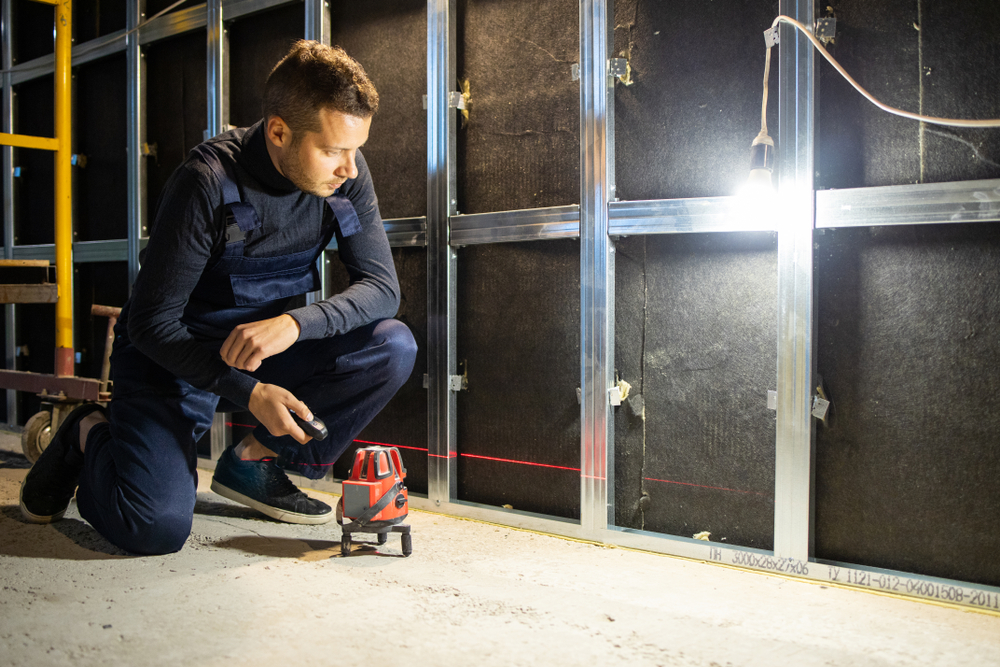 Enter the Laser
While hanging multiple pictures and floating shelves can be accomplished with a bubble level, you may want to upgrade to a laser level. They've come down a lot in price in the past few years. The least expensive is a simple torpedo that shoots a straight line, which may be all you need for a row or three of photos on a picture wall or a floating shelf.
The next step up is a cross-line laser, which gives both vertical and horizontal lines for level and plumb at once. This makes creating a picture wall or multiple floating shelves in a pattern easy by helping you create a guiding laser pattern or "map" on the wall as you go. Rotary lasers and optical lasers offer the ability to mark multiple walls and with higher precision, but are costly and complex to use. All units have an attachment point on the bottom for connection to a tripod for hands-free efficiency.
High-Tech Hacks
Don't put your laser level away just yet; there are a lot of uses for these handy devices beyond pictures and shelves.
Straight Lines Everywhere
Whether you're cutting a length of heavy fabric, making a quilt, adding privacy film to the lower half of a window, or even decorating icing on a cake, a temporary, visual guideline will make things easier and more accurate.
Designer Ideas
Draw perfect paint lines, stripes, and other patterns on your wall with ScotchBlue Tape guided by your laser level. Install a flawless chair rail or wainscoting. Hang curtain rods quicker and straighter than ever.
The Great Outdoors
Level the ground, lay a path of paver stones, or plant a pristine hedge line—laser levels provide an extremely accurate second set of eyes that don't give you any sass. Can't see the beam in daylight? Grab a pair of tinted laser goggles. They may have already come with your kit.