The Whimsical, Wonderful, Unexpected Art of Davenport, Iowa
It is one of the most famous and easily recognizable paintings of the 19th century: Georges Seurat's "A Sunday Afternoon on the Island of La Grande Jatte." Painted between 1884 and 1886, it depicts a panoramic portrait of Parisian life. What a surprise, then, to encounter Seurat's characters (along with their pets) enjoying a leisurely afternoon, not in Paris but on the banks of the Mississippi River in East Davenport, Iowa, just 175 miles from where the painting hangs at the Art Institute of Chicago.
Cast in fiberglass and adorned with colors that match the painting, these 12 life-size figures were created in 2000 by a trio of Davenport artists: Ted McElhiney, Thom Gleich and Ben Sunday. Vandalized over time, they were saved, beautifully restored and reinstalled in 2022 in their new location, East Lindsay Park. They're as whimsical and wonderful as they are unexpected, qualities that also apply to other art in Davenport.
At many of America's great museums the collections were initially gathered by men of fortune, and so it was on Oct. 12, 1925, when the doors of the first municipally owned art gallery in Iowa opened in a converted armory in Davenport. The campaign for its creation had been led by Mayor Charles August Ficke, who donated 334 paintings from his collection to prime the pump. The Davenport Daily Times opined, "He who gives in the name of art is giving indeed."
A savvy collector, Ficke made his first significant acquisitions in 1901 during a trip to Mexico, where he purchased an important group of religious paintings from what is known as the "viceregal period" (1535-1821). Over time his collection of early Spanish and Mexican religious art and artifacts grew substantially, gradually expanding to include American and European landscapes.
Other significant collections were donated: Clara Brandt's and Nan Wood Graham's collections of American artists, particularly the American regionalist, Grant Wood, who was Graham's brother. A vast collection of Haitian art was donated by Walter Neiswanger and the significant purchase of the collection of photography amassed by New York gallery owner Brent Sikkema.
In 1987 the former armory gallery opened as the fully accredited Davenport Museum of Art. What was needed, though, was a significant new building that could provide ample gallery space for the collection and curated exhibits, signifying that Davenport had arrived as a major art-museum-worthy community.
The building campaign was spearheaded by local financier Kahl Figge, whose name is affixed to the gleaming glass-and-steel 100,000-square-foot structure designed by architect David Chipperfield that now showcases the collections. Construction began in September 2002, and the doors opened three years later.
Chipperfield's design consists of a rectilinear block crowned by a solitary tower encased in panels of glass. Its apparent simplicity is offset by the constant play of light and the elements on its reflective surfaces that seem continuously to shift and change colors.
The substance of any significant museum is based on the depth of its permanent collections and the imagination behind its curated exhibitions.
Today it is equally important that a museum emphasizes inclusivity, diversity and concerted outreach to the community. In this regard the Figge is outstanding, particularly in the size of its educational outreach programs. A prime example of curatorial rethinking is the current display of Ficke's Baroque religious works that are juxtaposed with the most vibrant sculptures, paintings and elaborate Dia de los Muertos altars created by contemporary Hispanic artists. It is a way of presenting this art, its themes and historical context that is thought-provoking and visually a knockout.
Only a few blocks away from the glistening glass exterior of the Figge is a far more modest establishment called Hot Glass, Inc. Housed in a former industrial space and supported entirely by grants and donations, this hands-on, nonprofit studio is dedicated to "the instruction, presentation, interpretation, collection, documentation and preservation of the contemporary glass art movement with a special focus on team building for veterans and youth."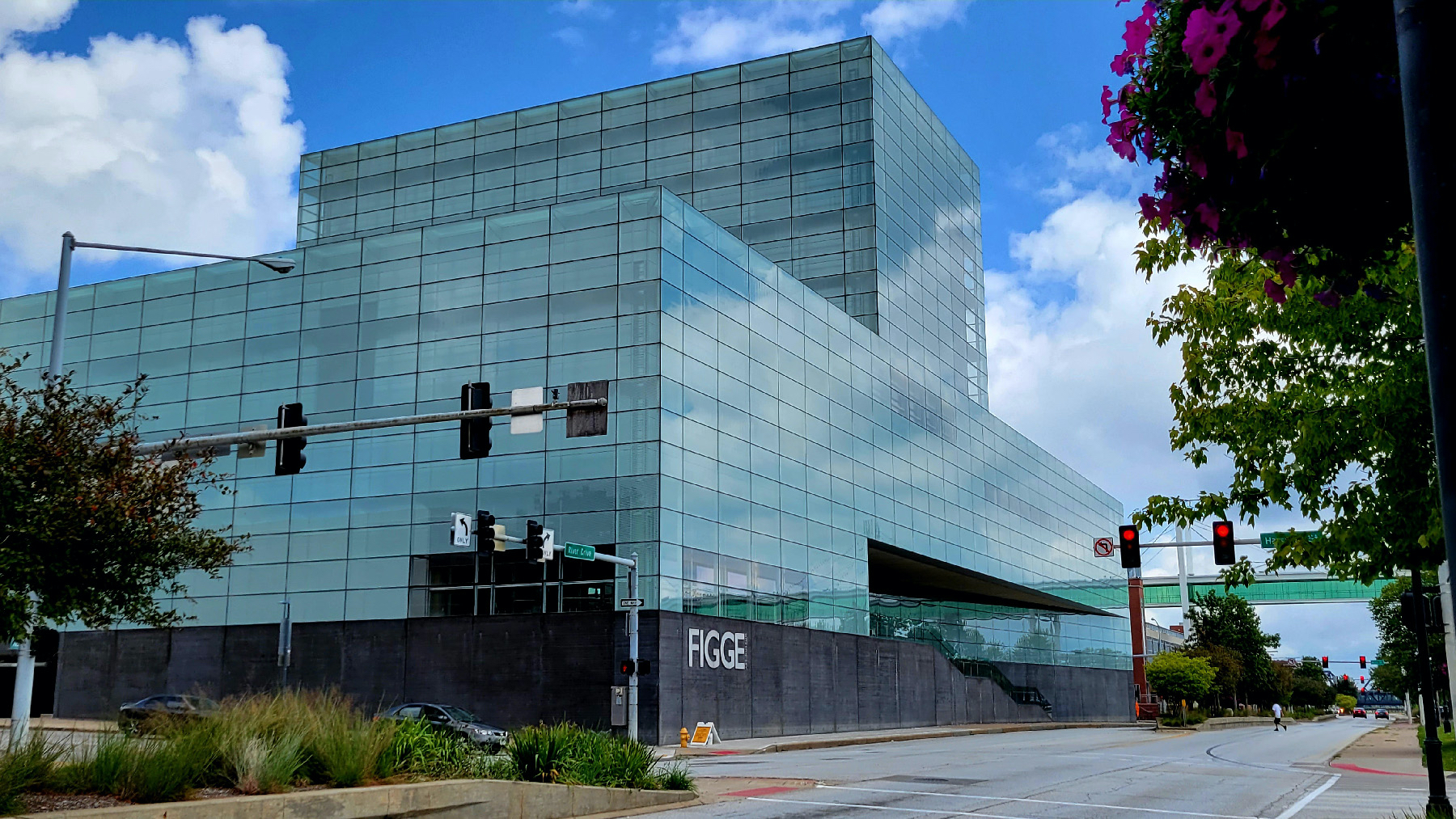 The driving force behind Hot Glass, which was founded in 2012, is former Moline High School football coach Joel Ryser. After retiring, Ryser paired his interest in learning the art of crafting glass with funding from a school grant program called "Lights on for Learning" that focused on helping at-risk kids. Ryser based his approach on a mentorship program in Tacoma, Washington, that was founded by the internationally recognized glass artist Dale Chihuly. The connection he saw immediately was that the process of making glass and scoring touchdowns both required teamwork.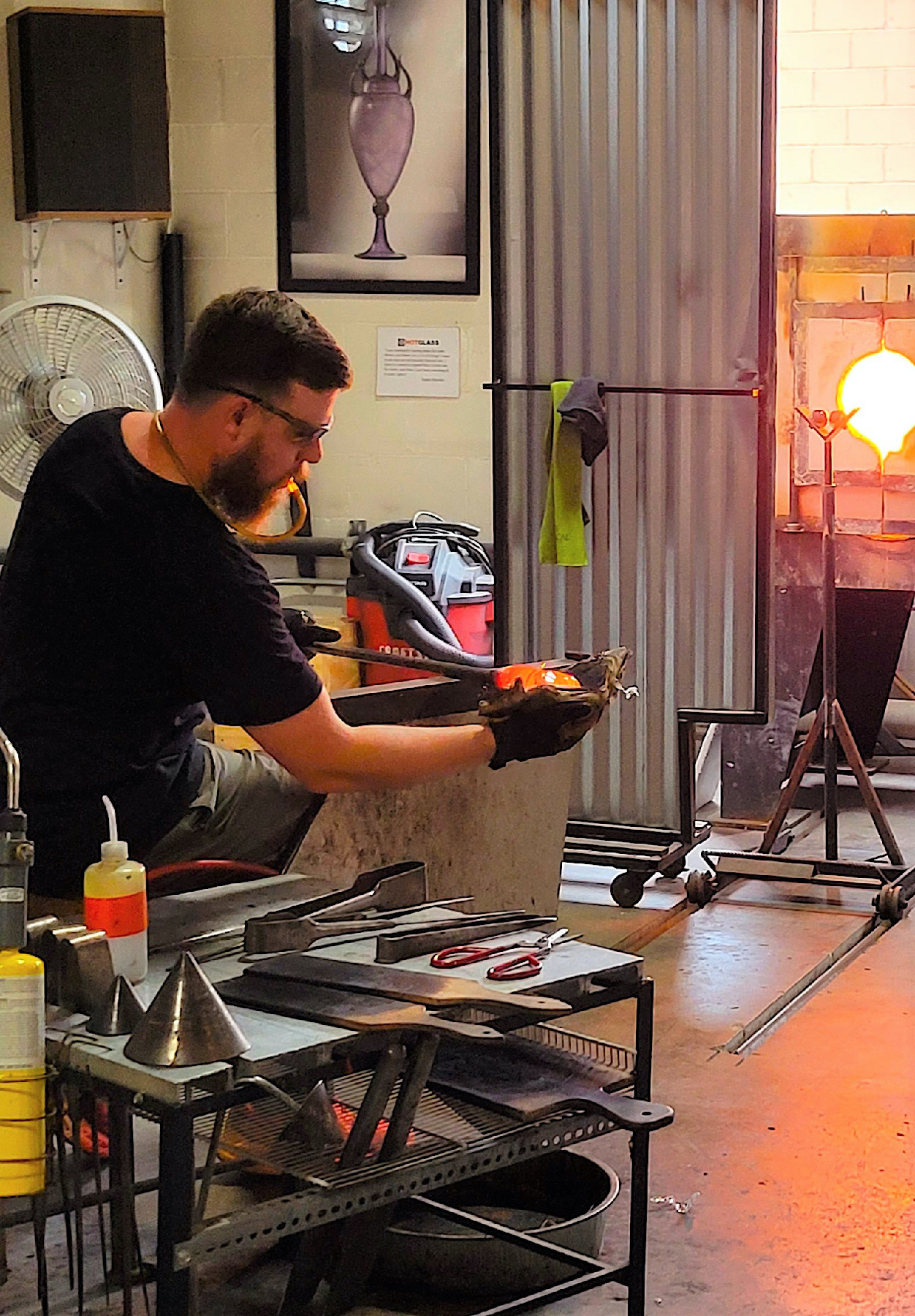 As the success of Hot Glass grew, its mission expanded to include veterans, especially those trying to work through issues of PTSD following combat deployments.
"It's a win-win for everybody," Ryser told me as we watched his son, Logan, and several vet members at the blast furnaces turning molten hunks of glass into works of art. The finished pieces are then sold to further support the organization.
If you stay in a hotel in Davenport, you may well see works produced by Hot Glass students and vets for sale in the lobby or in your room. It's a worthy cause.
When You Go
"Sunday in the Park" sculptures can be seen at Lower Lindsay Park, Village of East Davenport, Iowa. Parking is south of River Drive and east of Mound Street.
Figge Museum: www.figgeartmuseum.org
Hot Glass, Inc. for visits, classes and workshops: www.hotglassart.org