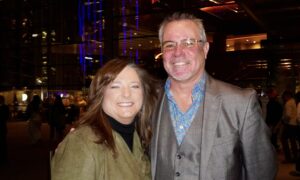 DALLAS—Jana and Hank Slaughter had tickets to see Shen Yun Performing Arts two years ago, but then it turned out they would need to be out of town the exact day the classical Chinese dance company would be in Dallas.
"I've been wanting to see this for the last three years," Mrs. Slaughter said. And on the evening of Jan. 14 at the Winspear Opera House in Dallas, she felt transported.
"I felt like I was there," she said. "What would have made it even better was if we were in China, watching this."
"Which sadly can't happen," Mr. Slaughter added.
During the performance, the audience learns that Shen Yun, which was formed in New York in 2006, cannot tour in China.
Shen Yun, which translates as "the beauty of divine beings dancing," aims to present the beauty and goodness of 5,000 years of Chinese civilization—or China before communism. The current communist regime, atheist in nature, stands opposed to traditional Chinese culture, which it has tried to stamp out through various campaigns during its decades in power.
For the Slaughters, Shen Yun lived up to its name and mission.
Everything they're doing is fantastic, spreading their culture and their heritage to other parts of the world.
— Hank Slaughter
"They look divine on stage," said Mr. Slaughter, actor, and veteran. "Everything they're doing is fantastic, spreading their culture and their heritage to other parts of the world. I mean, we're in Dallas, Texas. How are we going to get Chinese culture here?"
"I enjoyed the cultural experiences and learning the cultures of other countries in other parts of the world. It incorporated not just China, but also Mongolia and Manchuria, and those other areas, and showed their ethnic background as well," Mr. Slaughter said. China is home to some 50 ethnic minorities, and along with classical Chinese dance, Shen Yun includes several ethnic and folk dances in its program every year.
"It was beautiful, it was great to see, and even the orchestra—very international. I noticed the orchestra had Taiwanese and Chinese and Japanese, there's a Russian trumpet player. It was very international," he said. "It's very impressive that they do have live music for something like this … the other interesting bit was the incorporation of the video background—that is unique to Shen Yun. And it's patented and this is only way you're going to see that technology is to see this show. I thought that was very cool."
Mrs. Slaughter said, "I thought it was beautiful. The costumes were gorgeous, the music was fantastic, and I loved it."
Reporting by Sally Sun.
The Epoch Times is a proud sponsor of Shen Yun Performing Arts. We have covered audience reactions since Shen Yun's inception in 2006.