This Healthy Chilean Lentil Stew Is Hearty and Satisfying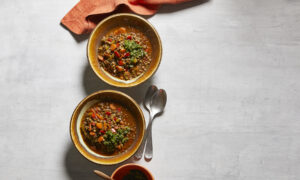 This stew will satisfy your stomach and your taste buds. Don't skip the parsley relish (salsa verde)—it's easy to make and lends a tangy accent that balances the flavors of the lentil stew. We prefer French green lentils for this stew, as they don't fall apart while cooking; regular brown lentils will also work.
Chilean Lentil Stew With Salsa Verde
Active Time: 30 minutes
Total Time: 40 minutes
Serves 4
1 tablespoon olive oil
1 1/4 cups finely chopped celery (4 to 6 stalks) or fennel (1 bulb)
3 small carrots, peeled and finely chopped (1/2 cup)
1/2 cup finely chopped red bell pepper
5 tablespoons finely chopped shallot (1 large), divided
2 large cloves garlic, minced
2 tablespoons tomato paste
1 1/2 cups French green lentils, sorted and rinsed
4 cups low-sodium chicken broth or vegetable broth, or water
3/4 teaspoon ground pepper, divided
1/2 teaspoon salt, divided
1 small bunch Italian parsley, finely chopped (about 3/4 cup)
2 tablespoons lime juice
2 tablespoons white-wine vinegar
Heat oil in a 4- to 6-quart pot over medium-high heat. Add celery (or fennel), carrots, bell pepper, 3 tablespoons shallot, and the garlic. Cook, stirring, until softened, about 3 minutes.
Add tomato paste; cook, stirring, for 30 seconds. Add lentils, broth (or water), 1/2 teaspoon pepper, and 1/4 teaspoon salt. Bring to a boil. Cover, reduce heat to low, and simmer until the lentils are tender, 35 to 40 minutes.
Meanwhile, combine parsley, lime juice, vinegar, and the remaining 2 tablespoons shallot and 1/4 teaspoon each pepper and salt in a small bowl; stir well.
To serve, divide the stew among 4 bowls and top each with a dollop of the salsa verde. Pass the remaining salsa verde separately.
Tasty Tips
To make ahead, prepare stew through Step 1.
Refrigerate for up to three days.
Reheat on the stovetop or in the microwave, adding water if necessary.
Recipe nutrition per serving: 321 Calories, Total Fat: 5 g, Saturated Fat: 0 g, Cholesterol: 0 mg, Carbohydrates: 53 g, Fiber: 13 g, Total Sugars: 6 g, Protein: 18 g, Sodium: 454 mg, Potassium: 1016 mg, Iron: 5 mg, Folate: 49 mcg, Calcium: 82 mg, Vitamin A: 8317 IU, Vitamin C: 46 mg
EatingWell is a magazine and website devoted to healthy eating as a way of life. Online at EatingWell.com. Copyright 2021 Eating Well, Inc. Distributed by Tribune Content Agency, LLC.