'Time for a New Generation of Leadership'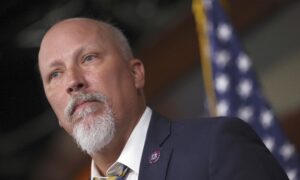 Rep. Chip Roy (R-Texas) has given Florida Gov. Ron DeSantis his endorsement for the presidency in 2024, one of the opening salvoes in the battle for the GOP nomination.
Roy said that it's "time for a new generation of leadership" in his endorsement of the popular Florida governor.
Republicans have increasingly buckled with the burgeoning dispute between DeSantis and President Donald Trump.
The two both fall into the populist camp, pushing for the protection of American families, industry, and the middle class and resisting left-wing ideology on controversial issues like race, sex, and gender.
In past comments, Trump has attacked DeSantis, dubbing him "Ron DeSanctimonious" or "Ron DeSanctis."
In a recent jab at his top rival for the nomination, Trump said, "Florida was doing great long before Ron DeSanctis came along."
Now, DeSantis has won the endorsement of a House Republican in a chamber where Republicans tend heavily in Trump's favor.
"The next President of the United States must be a vibrant and energetic leader with the faith, vision, and courage to chart a new course," Roy said in an email announcing the endorsement. "America needs a leader who will truly defend her and empower the people against the destructive force of unrestrained government and corporate excess, profligate spending, and woke cultural indoctrination."
That leader, Roy said, is DeSantis.
DeSantis, the Texas Republican continued, is "a man of conviction" who "loves America unapologetically but loves freedom and the rule of law even more, with the courage to fight for both."
Roy pointed to DeSantis' track record as governor of Florida, which Roy said has been made "stronger and freer" by DeSantis' leadership.
He cited DeSantis' "firm rejection of the devastating COVID mandates foisted upon us by foolishly empowered Washington bureaucrats."
"He stared down woke corporate America and higher education.  And he stood with Texas in defense of our border—sending a message to elites in Martha's Vineyard that they cannot ignore the human and economic toll of open borders," Roy continued, referencing DeSantis' decision to send a busload of illegal aliens to Martha's Vineyard, a highly opulent New England community.
Roy closed the letter, "America has been built upon and defined by the sacrifices of one generation for the next."
While he said he will support any nominee over Biden, Roy emphasized the need for "a new generation of leadership."
"It's time for younger, but proven, leadership to offer America eight solid years of transformational change," Roy concluded. "It's time for Ron DeSantis to be President of the United States."