Tornadoes Leave Trail of Destruction in Louisiana; Paul Pelosi Attacker Trial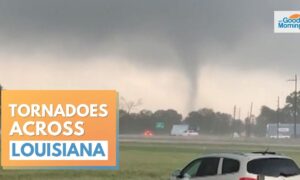 Storms in the Southern U.S. leave a trail of destruction. At least three people are dead and multiple injured after Tornadoes tore across Louisiana.
Prosecutors played police body cam video of the hammer attack on Paul Pelosi in court on Dec. 14. The accused attacker, David DePape, appeared in court in an orange jumpsuit. According to officer interviews, he allegedly had 3 additional targets.
A suspected stalker jumps on the hood of a car carrying Elon Musk's son "X" in Los Angeles. Meanwhile, the Twitter C-E-O says accounts revealing people's real-time location will face suspension.
Topics in this episode include:
1. Tornadoes Leave Trail of Destruction in Louisiana
2. Paul Pelosi Attack Updates, Court Hearing
3. Car With Elon Musk's Son Encounters Stalker
4. Video of Hearing Goes Viral
5. Chinese Student in Boston Charged With Stalking
6. Climate Activists Block Traffic in Germany, Venice
7. Climate Protesters Obstruct and Vandalize Globally
8. French Fans Celebrate World Cup Victory Over Morocco
9. Organization Brings Joy to Thousands of Foster Kids
* Click the "Save" button below the video to access it later on "My List."
Follow EpochTV on social media:
Twitter: https://twitter.com/EpochTVus
Rumble: https://rumble.com/c/EpochTV
Truth Social: https://truthsocial.com/@EpochTV
Gettr: https://gettr.com/user/epochtv
Facebook: https://www.facebook.com/EpochTVus
Gab: https://gab.com/EpochTV
Telegram: https://t.me/EpochTV