Towering Great Dane 'Zeus' Claims Record for 'World's Tallest Dog Living,' Guinness Confirms
Zeus, king of the pantheon of Greek gods, was said to reign atop Mount Olympus, according to myth.
Now, that name also belongs to a Great Dane, who's claimed the record for the "tallest dog living (male)" in the world.
The 2-year-old gray and brown American Great Dane from Bedford, Texas, stands at a whopping 1.046 meters (3 foot, 5.18 inches), according to Guinness World Records, who published the gentle giant's colossal feat on May 4.
The enormous pooch is owned by Brittany Davis and her family. She says Zeus is "very laid back" and "loves everybody," adding that he's also "very stubborn" and "doesn't do anything unless he wants to."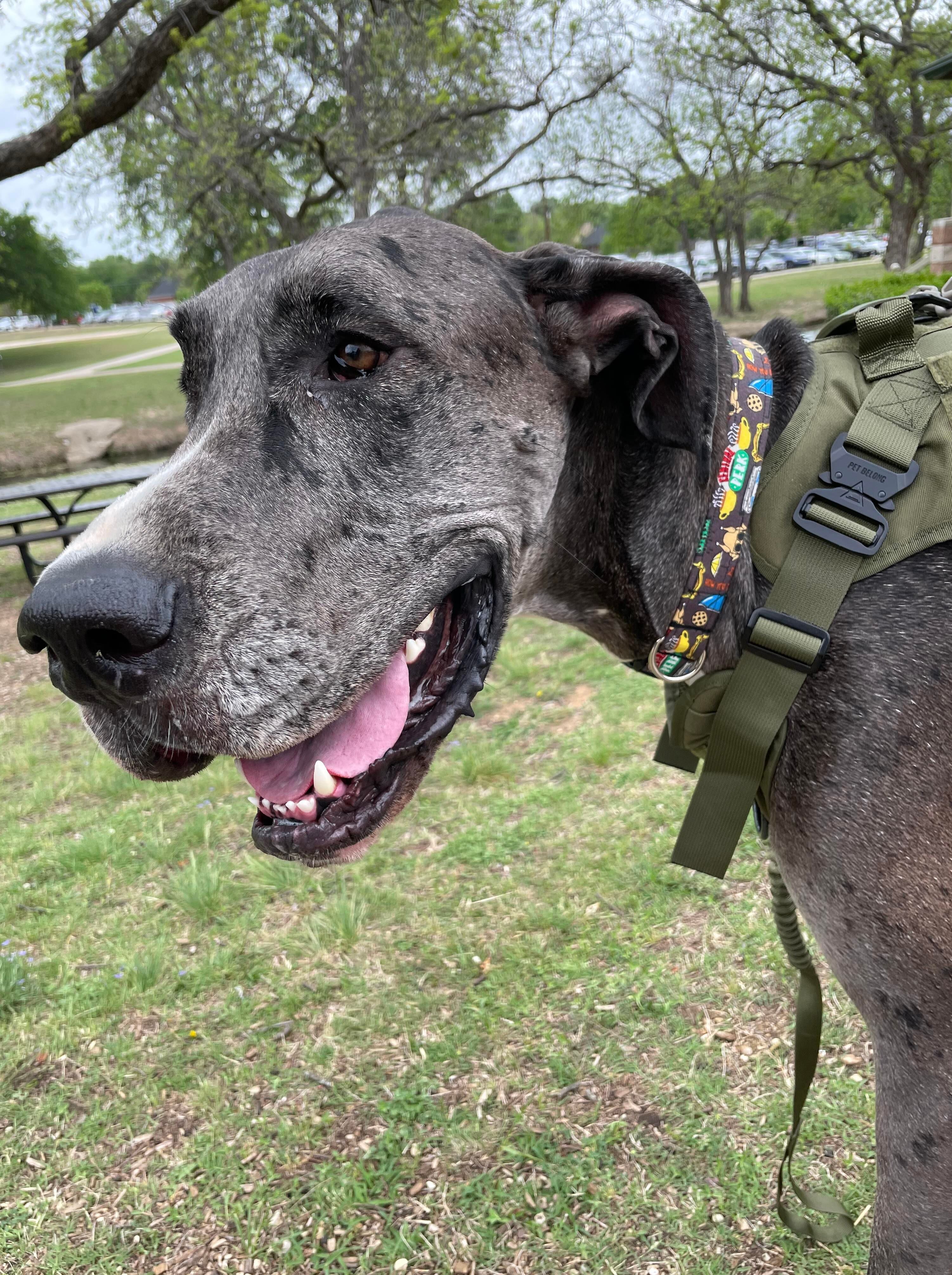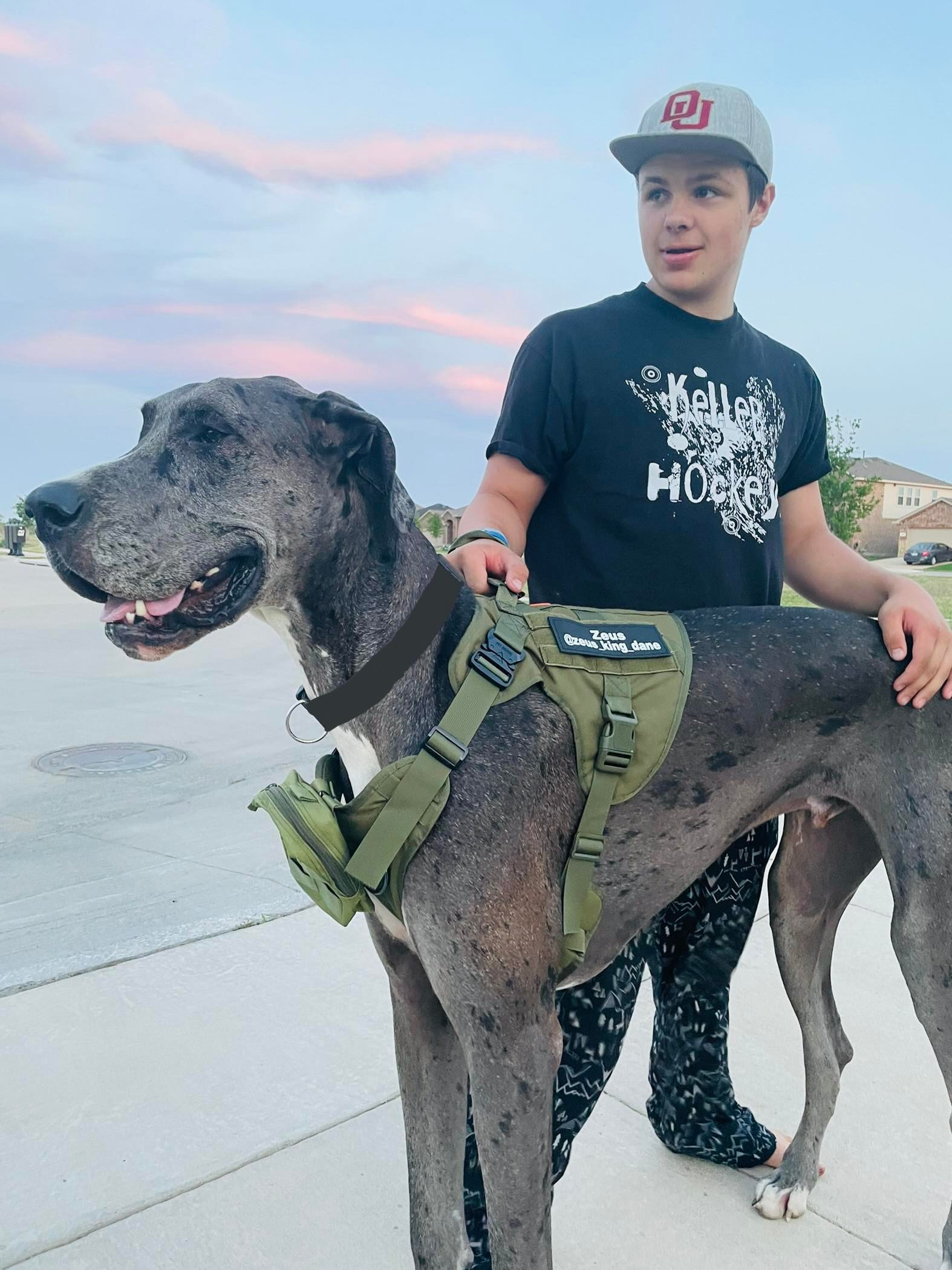 Brittany has always had an affinity for Great Danes. Luckily, a colleague of her brother Garrett breeds them; he gave her the largest pup in a litter of five when he was 8 weeks old.
"He's been a big dog since we got him, even for a puppy. He had huge paws," Brittany recalled.
Zeus grew, and grew, and grew.
The family soon began to wonder if he might be the biggest dog in the world. On measuring him, their suspicions were sufficiently stoked and they called Guinness to make it official.
The dog has become particularly close with Brittany's teenage son.
"You won't find one without the other," said Brittany. "They love being together."
The ginormous canine consumes six cups of Gentle Giants large-breed dogfood in the morning and another six cups in the afternoon, which fuels his bursts of rambunctious behavior.
"When he gets the zoomies, he runs around for 30 seconds and jumps up on his chair once he gets tired," the mom said.
Zeus also loves fried eggs and ice cubes — his favorite treat.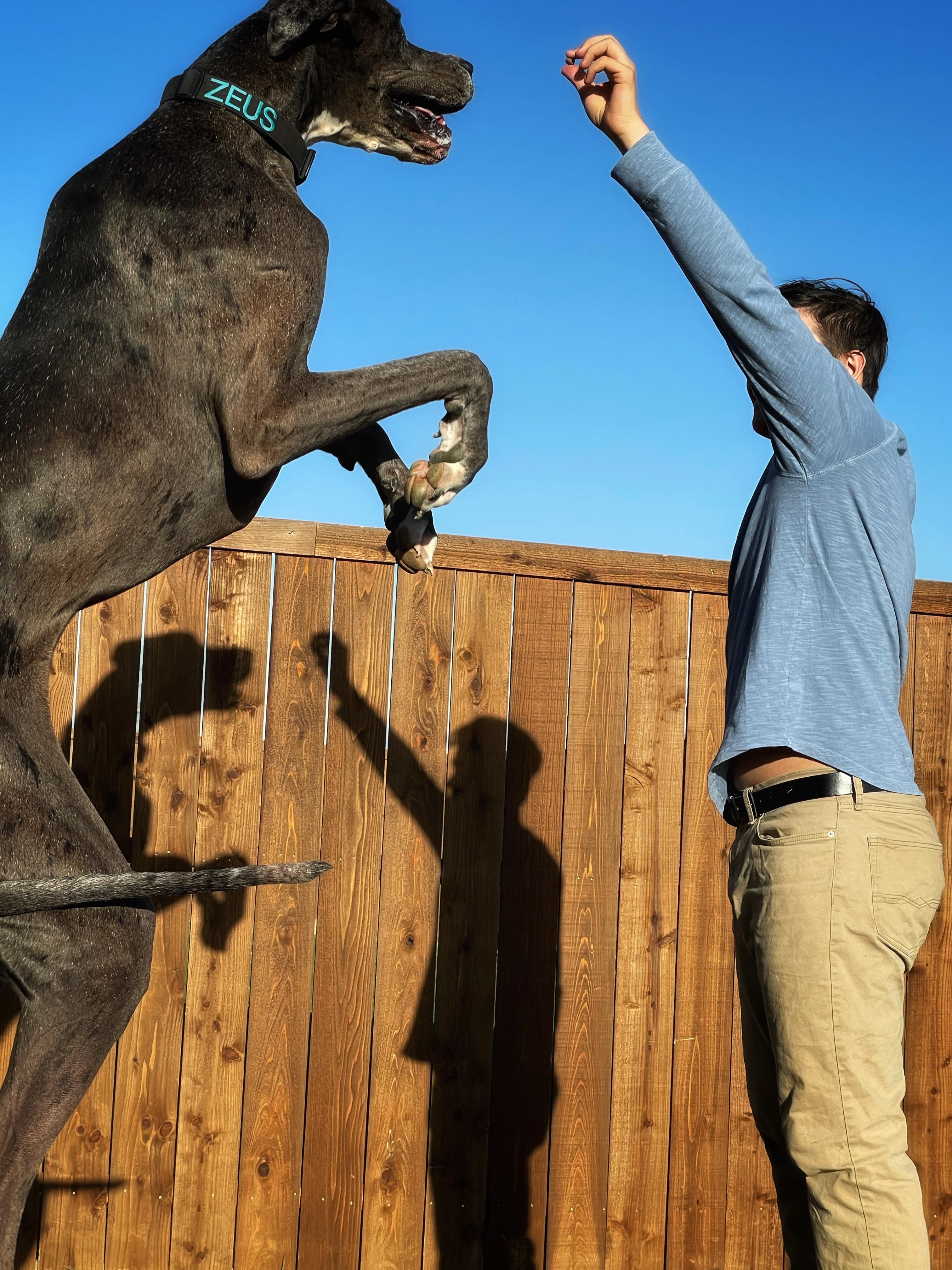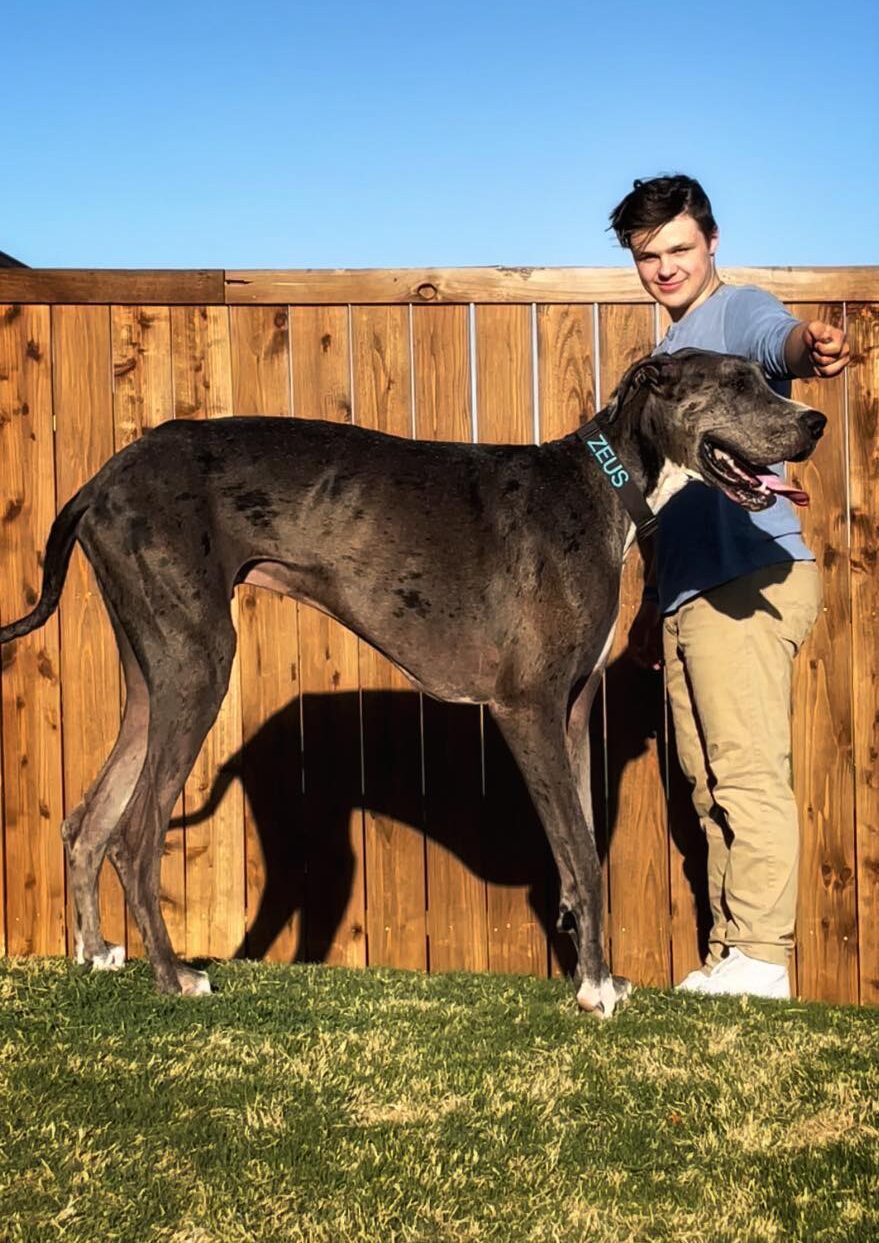 His other habits include drinking from the sink, which is his "bowl"; naughtily snatching food off the counters; and stealing the baby's pacifier. He also loves to jump onto the fence to "talk to the neighbor's dogs next door," Brittany said.
In addition, Zeus loves trips to the Dallas Farmer's Market, where "everyone knows him, and the vendors all know him," Brittany said. "He gets extra treats and lots of attention."
The towering Great Dane is used to being the center of attention; his huge size has also garnered much curiosity and many comments.
"The comment that we hear most often is 'Wow, that's a horse!' 'Can I ride him?' or 'Does he have a saddle?'" Britney said.
Of course, her answer is always "no."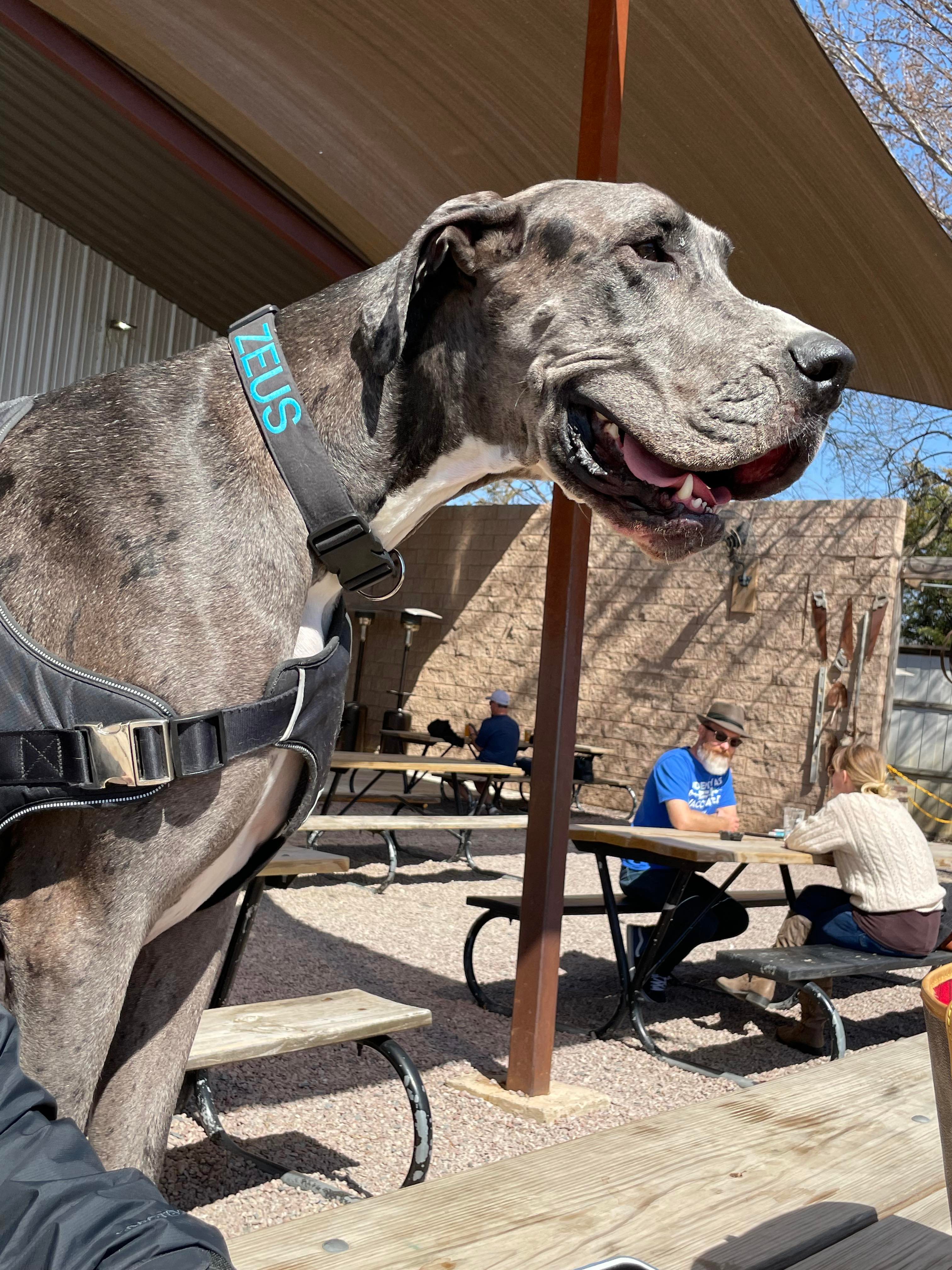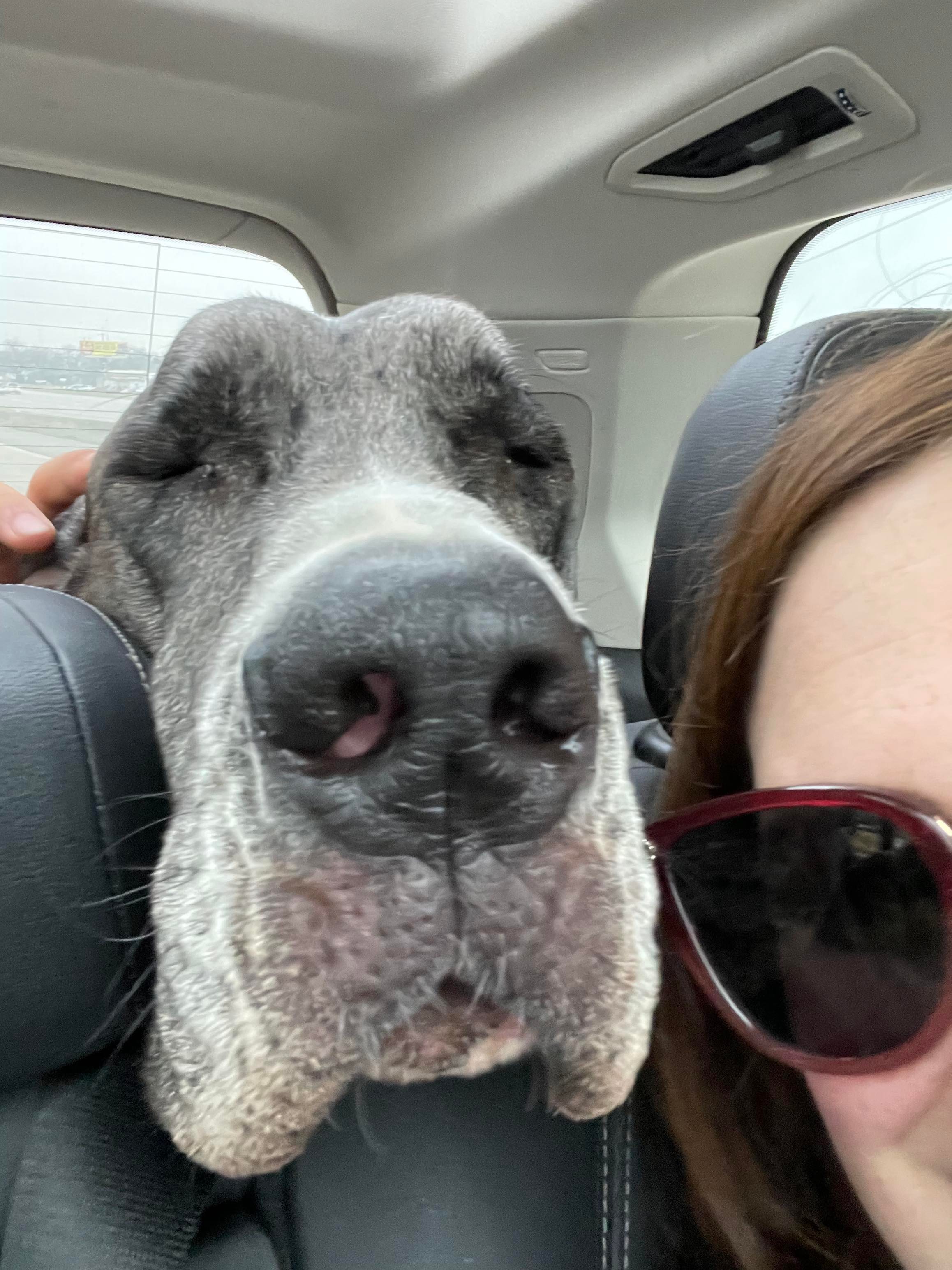 In addition, the giant dog lives with three miniature Australian shepherd siblings, among whom his favorite is brother Zeb; they love wrestling together.
Zeus also has a feline sister, Penelope, who runs the house, but the two don't necessarily get on so cozily. "He and the cat have a mutual agreement to stay away from each other," Brittany said.
Although the family do not treat their dog any differently because of his newfound fame, his world record title now gives Brittany bragging rights.
"We get a lot of comments like 'Wow, that's the tallest dog I've ever seen,' so it's cool to now be able to say 'Yes, it's definitely the tallest dog you've ever seen!'" Brittany said. "That always shocks people and it's fun to be able to say that."
The previous record holder for the tallest dog living, from Otsego, Michigan, also happened to be named Zeus, who stood 111.8 cm (44 inches), on his hind legs towering 7 feet, 4 inches tall. Sadly, he passed away at the age of 5 in 2014, but holds the record for the tallest dog ever.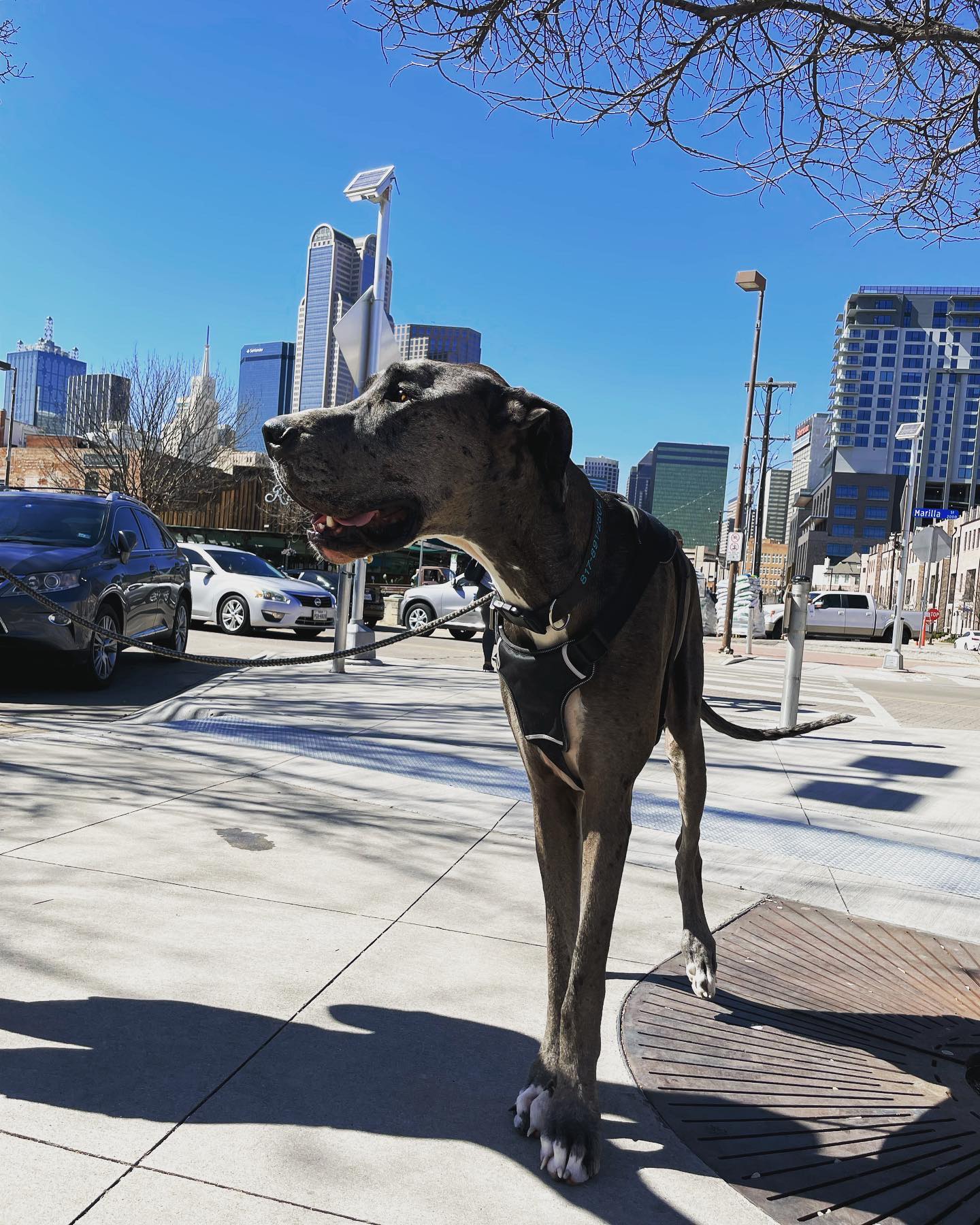 Share your stories with us at emg.inspired@epochtimes.com, and continue to get your daily dose of inspiration by signing up for the Inspired newsletter at TheEpochTimes.com/newsletter