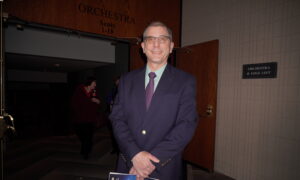 COLORADO SPRINGS, Colo.—Brent Epps, vice president of a transportation company, attended Shen Yun Performing Arts at the Pikes Peak Center for the Performing Arts on the afternoon of March 18, and said, "It was a beautiful show. We loved it very much."
Mr. Epps especially liked the Mongolian dance. "It was inspiring. It was lovely. It's a warmth and you can feel peace in the performance."
He said the female dancers performed very well. "The dancer skills are amazing. My daughter is a ballet dancer, so I was impressed with the dancers' skills very much."
"I enjoyed seeing the portrayal of China before communism. It was nice to see the peacefulness and the beauty of the scenery and the backdrops and the dancers. It was interesting to see how they portrayed that life before communism in China compared to nowadays with the persecution that they go through," Mr. Epps said.
Based in New York, Shen Yun was founded in 2006 by leading Chinese artists and quickly became the world's premier classical Chinese dance and music company. Shen Yun's mission is to revive traditional Chinese culture.
Mr. Epps said he and his family enjoyed Shen Yun very much and would recommend it. "I would tell other people that they need to see it."
Retired Bank Executive the Stories of Historic China
Retired bank executive vice president Dale Petersen and his wife Linda, a retired mortgage lender officer, attended the matinee performance of Shen Yun.
Mr. Petersen said he had never seen anything like it. "Very different, not seen anything like this before. The talent is amazing. Costumes are beautiful. The dance and the stories very inspirational." He was inspired by "the stories of historic China, some of the myths, some of the history, and the persecution that is going on today."
"I love the artists depicting all of the movements and everything," Mrs. Petersen said. "It's beautiful."
Mr. Petersen noted the fusion of Eastern and Western instruments in the orchestra. "Just beautiful music, and so many different pieces that they play. Just so good."
"It sounds recorded," Mrs. Petersen said. "It is just beautiful."
About the performers, Mr. Petersen said: "Just an unbelievable talent. I really appreciate your using your talents to entertain us."
Reporting by Sherry Dong.
The Epoch Times is a proud sponsor of Shen Yun Performing Arts. We have covered audience reactions since Shen Yun's inception in 2006.