Treasury Department Investigating DeSantis Illegal Immigrant Flights to Martha's Vineyard
The Biden administration opened an investigation into Florida Gov. Ron DeSantis's flight of illegal immigrants from the U.S.-Mexico border to Martha's Vineyard, Massachusetts, last month.
The Treasury Department's inspector general confirmed it is evaluating whether DeSantis allegedly misused COVID-19 relief funds to send the illegal aliens to the wealthy liberal hotspot, said Sen. Ed Markey (D-Mass.) on Wednesday.
A Treasury Department inspector general letter (pdf), dated Oct. 7 and posted by the senator's office Wednesday, told Markey and other members of Congress that it will evaluate Florida's COVID-19-related spending. That probe was part of a broader investigation into how states used billions of dollars sent to them under the American Rescue Plan.
Richard K. Delmar, the deputy inspector general for the Treasury Department, said it would "review the allowability" of COVID-19 aid to states "related to immigration generally, and will specifically confirm whether interest earned on [the] funds was utilized by Florida related to immigration activities, and if so, what conditions and limitations apply to such use."
"As part of its oversight responsibility for the [State and Local Fiscal Recovery Fund], Treasury Office of Inspector General has audit work planned on recipients' compliance with eligible use guidance," the letter said. "In addition, as part of our oversight work of the Coronavirus Relief Fund established by the CARES Act, we have already sought information from Florida about appropriate use of that fund."
Flight
That letter came in response to Markey and five House members, who wrote to the inspector general's office in September to demand an investigation into DeSantis's plan. About 50 illegal immigrants from Venezuela were shipped to Martha's Vineyard, and the Florida Republican government took credit for it.
Hours after the illegal aliens were sent to the island, the Massachusetts governor's office deployed the National Guard before sending the illegal immigrants to a military base on Cape Cod.
In mid-September, the Florida governor suggested he would send more to Martha's Vineyard and other areas.
"There's a whole bunch of other places," Desantis said. "But I would say that all we're trying to do is offer transport to sanctuary jurisdictions" that are "free to the to the alien but certainly not mandatory."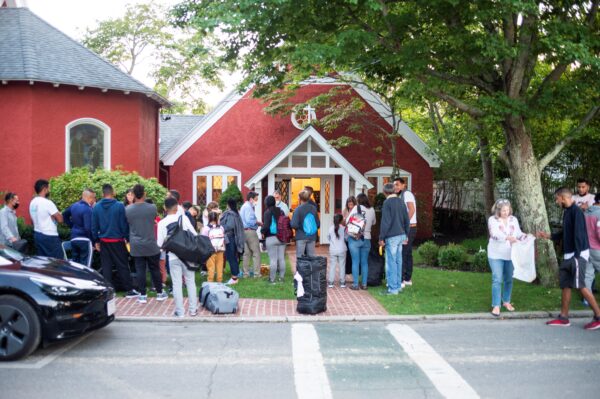 Emergency
Govs. Greg Abbott of Texas and Doug Ducey of Arizona have been busing illegal immigrants to Democrat-controlled areas in protest of what they said is President Joe Biden's inadequate policing of the U.S.-Mexico border. The City of El Paso, Texas, has also sent thousands to New York City in recent weeks.
New York City Mayor Eric Adams, a Democrat, declared an emergency on Oct. 7 due to the surge of illegal aliens. Abbott has said that places like New York City are "sanctuary cities" and should be able to take them in.
"New Yorkers are angry," said Adams in a news conference. "I am angry too. We have not asked for this. There was never any agreement to take on the job of supporting thousands of asylum seekers."
A spokeswoman for Abbott dismissed Adams's declaration when it was issued.
"The true emergency is on our nation's southern border where small Texas border towns are overrun and overwhelmed by hundreds of migrants every single day as the Biden administration dumps them in their communities," Renae Eze, the spokeswoman, said in a statement.
The Epoch Times has contacted DeSantis's office for comment.