Former President Donald Trump on Friday urged Republicans in Congress not to cut Social Security or Medicare as some GOP lawmakers have signaled they would use the looming debt ceiling battle as leverage to push for more spending cuts.
"Under no circumstances should Republicans vote to cut a single penny from Medicare or Social Security," Trump said in a campaign-style video posted on Truth Social. Instead, Trump said that they should focus on cuts to funding to "corrupt foreign countries," "climate extremism," "left-wing gender programs from our military," and "waste" and "abuse" in the government.
Trump said that while Republicans should cut the Biden administration's spending agenda, they should not penalize seniors and retirees who rely on Social Security payments and Medicare. The former president has made similar statements on the issue, although some Republicans ahead of the midterms suggested cutting funding for both programs.
"The pain should be borne by Washington bureaucrats, not by hard-working American families and American seniors," Trump said in a video, which appeared to be a warning to fellow party members. "The seniors are being absolutely destroyed in the last two years."
Amid the debt ceiling battle, the former president said: "Cut waste, fraud and abuse everywhere that we can find it and there is plenty there's plenty of it. But do not cut the benefits our seniors worked for and paid for their entire lives. Save Social Security, don't destroy it."
With Trump's statement, he's putting more pressure on some GOP lawmakers who have openly discussed using the debt ceiling to issue spending cuts, including Senate Minority Whip John Thune (R-S.D.), who in January said the debt limit may "present an opportunity" to do so. Neither Senate Minority Leader Mitch McConnell (R-Ky.) nor House Speaker Kevin McCarthy (R-Calif.) have signaled they would back such a move.
Trump's recent comments on the two social programs are in line with the White House's messaging. President Joe Biden and other administration officials have warned Republicans not to try and cut those programs and would veto any such efforts amid the debt ceiling fight.
Rep. Michael Waltz (R-Fla.) last week told Fox News that in reference to Social Security and Medicare, "if we really want to talk about the debt and spending, it's the entitlements program." On Twitter, White House chief of staff Ron Klain used his statement to criticize Republicans.
When Trump took office after the 2016 election, he battled with then-House Speaker Paul Ryan (R-Wis.), who said he had wanted to cut Medicare and Social Security under the Trump administration. "He and I fought about Medicare and entitlement reform all the time," Ryan, now a Fox News executive, said of Trump last year. "It became clear to me there was no way he wanted to embrace that."
Trump's statement on Friday is among several videos that the former president has released online in recent days, coming two months after he announced his third presidential bid. Next week, Trump is scheduled to be at an event in South Carolina to make announcements regarding his campaign staffers.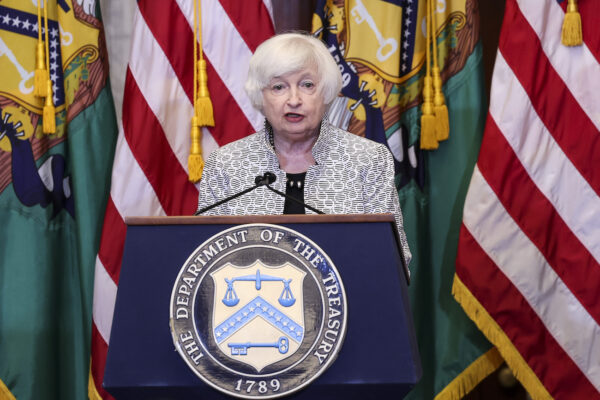 Debt Ceiling
On Thursday, meanwhile, the United States reached the debt ceiling, according to the Treasury Department. Last week, Treasury Secretary Janet Yellen warned her agency would have to take "extraordinary measures" and suggested the U.S. could face a default in June.
Corporate leaders and at least one credit ratings agency warned a long standoff could rattle markets and unsettle an already shaky global economy. Yellen warned that the June date was subject to "considerable uncertainty" due to the challenge of forecasting payments and government revenues months into the future.
"I respectfully urge Congress to act promptly to protect the full faith and credit of the United States," Yellen told congressional leaders in a letter Thursday.
Republicans are trying to use their narrow House majority and the debt ceiling to force cuts to government programs, and argue that the Treasury could avoid default during a standoff by prioritizing debt payments. This idea has been explored in past standoffs, but financial experts have questioned its feasibility, but the White House is rejecting the idea out of hand.
"There will be no negotiations over the debt ceiling," White House deputy press secretary Olivia Dalton reiterated Thursday aboard Air Force One. "Congress must address this without conditions as they did three times under  Donald Trump,"
Reuters contributed to this report.