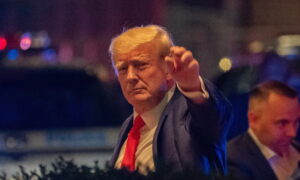 Former President Donald Trump vowed Saturday that he will stay in the 2024 presidential race even if he is criminally indicted.
"Oh, absolutely, I won't even think about leaving," Trump told reporters at the Conservative Political Action Conference (CPAC) in Maryland on Saturday when he was asked about staying in the race if he's charged. "Probably, it'll enhance my numbers, but it's a very bad thing for America. It's very bad for the country."
Trump faces several investigations, including a consolidated Department of Justice probe into whether he allegedly mishandled classified documents that resulted in an FBI raid targeting his Mar-a-Lago resort last year. In Georgia, officials are investigating his activity after the 2020 election.
On Saturday, Trump made reference to controversial comments made in interviews last month by the Georgia grand jury forewoman, Emily Kohrs, who had given indications that Trump may face charges. The forewoman's appearances drew condemnation from Trump's legal team, who told the Atlanta Journal-Constitution that they were considering filing motions after she elaborated on the grand jury's work.
"Jury foreman, a rather bizarre young woman is going around doing media interviews and saying exactly what's going on, one of many grand juries," Trump said Saturday, referring to Kohrs' comments. The former president told reporters that his opponents will "do anything they can to hurt me politically because they're afraid of me and they're afraid of you, that's what it is."
During his CPAC speech on Saturday, Trump also said the GOP needs to change its thinking on mail-in and early voting after Republican losses in both 2020 and 2022. For years, the former president has criticized both voting policies, saying that they are fraught with fraud.
"Change only happens if we plow fearlessly ahead and declare with one voice that the era of woke and weaponized government is over. That is our task, that is our mission. And this is the turning point and the time for that decision," Trump said in a 90-minute speech at the Gaylord National Resort & Convention Center in Maryland.
While Trump criticized the Biden administration's policies, Trump also included other Republicans in his crosshairs. This time around, Trump indicated he would purge longtime family dynasties in both the Republican and Democrat parties.
"We had a Republican party that was ruled by freaks, neocons, globalists, open borders zealots, and fools but we are never going back to the party of Paul Ryan, Karl Rove, and Jeb Bush," he said.
And the former commander-in-chief added that four years ago, "I declared: I am your voice. Today, I add: I am your warrior. I am your justice. And for those who have been wronged and betrayed: I am your retribution. Not going to let this happen. … I will totally obliterate the deep state. I will fire the unelected bureaucrats and shadow forces who have weaponized our justice system like it has never been weaponized before. And I will put the people back in charge of this country again."
Also in the speech, Trump also framed his 2024 bid as the "final battle." He launched his 2024 presidential campaign in mid-November, becoming the first major GOP candidate to do so.
"This is the final battle, they know it," Trump said. "I know it, you know it, and everybody knows it, this is it. Either they win or we win. And if they win, we no longer have a country."