Former President Trump congratulated Ronna McDaniel for winning another term as chair of the Republican National Committee (RNC) on Friday.
Trump has not publicly endorsed any candidate ahead of the vote, as some Republicans have said that McDaniel should be ousted following a poorer-than-anticipated midterm election for the GOP.
"Congratulations to Ronna McDaniel on her big WIN as RNC CHAIR. Now we have to STOP THE DEMOCRATS FROM CHEATING IN ELECTIONS!" Trump wrote on Truth Social after voting results showed McDaniel won.
Previously, Trump said that he liked both candidates, Harmeet Dhillon and McDaniel.
"I think they're both good. I like them both," Trump told Breitbart last month. "It's like when I asked Queen Elizabeth when we were together: 'Which president did you like the best?'" he continued. "She said: 'I liked them all.'"
In that interview, Trump noted that Dhillon has represented him in court cases.
"Harmeet is a lawyer for me, you know," he said. "Harmeet is my lawyer."
Friday's vote represented the most significant challenge to McDaniel, a member of the Romney political family and a niece of Sen. Mitt Romney (R-Utah.) McDaniel had faced two challengers: attorney Harmeet Dhillon and MyPillow CEO Mike Lindell. McDaniel received 111 votes, Dhillon received 51 votes, and Lindell got four.
"The work to make Joe Biden a one-term president is already underway: it is time for our party to unite and re-dedicate ourselves to electing Republicans up and down the ballot," McDaniel said after her reelection. "I look forward to working alongside conservative leaders, including Harmeet and Mike, from across our party to deliver on our promises to the American people."
A handful of prominent conservatives had backed Dhillon. Charlie Kirk, who founded Turning Point USA, had publicly urged RNC members to oppose McDaniel's vid.
Speaking to Politico on Friday, Kirk called her victory "a direct insult to the grassroots people that they send 10 emails a day to, begging for money." "I think the RNC is going to have a lot of trouble raising small-dollar donations, a lot of trouble rebuilding trust."
"Going into 2024," he added, "the apparatus that should be a machine and clicking on all cylinders and firing on all cylinders is going to be in a trust deficit."
McDaniel's victory suggests that "a majority of the members of the RNC have contempt for the people that put them there," Kirk told Fox News on Friday.  "I cannot in good faith tell our audience … to keep giving money to the RNC. In fact I tell them not to."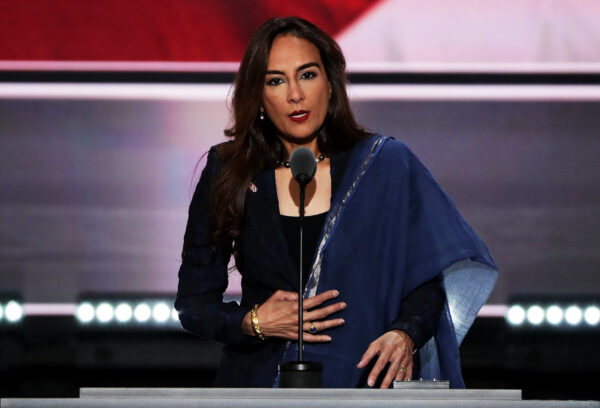 DeSantis Support
Dhillon, notably, drew support from Florida Gov. Ron DeSantis, a possible 2024 candidate, earlier this week.
"I think we need to get some new blood in the RNC," DeSantis told Kirk in a Thursday interview. "I like what Harmeet Dhillon has said about getting the RNC out of D.C. Why would you want to have your headquarters in the most Democrat city in America? It's more Democrat than San Francisco is," he said.
DeSantis cited what he described as poor GOP performances during the past three elections.
"We've had three substandard election cycles in a row: '18, '20 and '22. And I would say of all three of those, '22 was probably the worst. Given the political environment of a very unpopular president in Biden, huge majorities of the people think the country is going in the wrong direction—that is an environment that's tailor-made to make big gains in the House and the Senate and in state houses all across the country. And yet that didn't happen," DeSantis said.
Dhillon's and Lindell's Responses
After her loss Friday, Dhillon issued a statement saying the GOP "will be better for the tough conversations that were desperately needed about how to reform the RNC to win elections and earn the trust of our voters, activists, and donors."
"After a hard-fought effort, we unfortunately came up short," Dhillon, a California-based attorney, added in her statement. "However, the RNC will be better for the tough conversations that were desperately needed about how to reform the RNC to win elections and earn the trust of our voters, activists, and donors."
Dhillon said she would work with grassroots organizers and the RNC as the 2024 election approaches.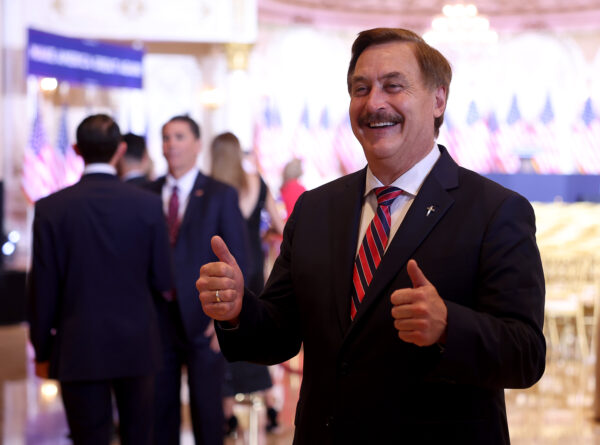 "It is critical for our chances in 2024 that those who supported my campaign rally around our party and its candidates so we can win elections and deliver badly-needed results," she added.
As for Lindell, the MyPillow founder conceded that he lost the RNC election.
"Yes," he told a Semafor reporter when asked about whether he lost fairly. "There were no machines."