UK Inflation Dips but Soaring Prices Keep Pressure on Households
The UK's inflation rate dropped in November but British households remain under pressure from soaring prices, the latest official data show.
According to data from the Office for National Statistics (ONS), the Consumer Prices Index (CPI) inflation fell to 10.7 percent in November.
It marks a welcome drop from the eye-watering 11.1 percent seen in October, when soaring energy bills sent inflation to its highest level since October 1981, but the figure remains high by recent standards.
Food inflation was still surging last month, hitting a 45-year high of 16.4 percent, while power costs remain high despite government support limiting the annual average bill to around £2,500 ($3,100) since October.
On a monthly basis, CPI rose by 0.4 percent in November 2022, compared with a rise of 0.7 percent in November 2021.
ONS Chief Economist Grant Fitzner said: "Although still at historically high levels, annual inflation eased slightly in November. Prices are still rising, but by less than this time last year, with the most notable example of this being motor fuels.
"Tobacco and clothing prices also rose, but again by less than we saw this time last year. This was partially offset by prices in restaurants, cafes, and pubs, which went up this year compared to falling a year ago."
Samuel Tombs at Pantheon Macroeconomics said the November data "suggests that the peak rate now lies firmly in the past." He believes CPI will drop to around 8 percent next April and 3 percent by the end of 2023.
But consumer markets expert Lisa Hooker at PwC said the inflation slowdown "will be of little consolation to households contending with record cost-of-living increases in so many areas of essential spending."
"They can only hope that the New Year brings respite after three years of disruption from pandemic lockdowns, virus variants, and cost-of-living woes, although forecasts of a continued real decline in wages are already putting a cloud on 2023," she said.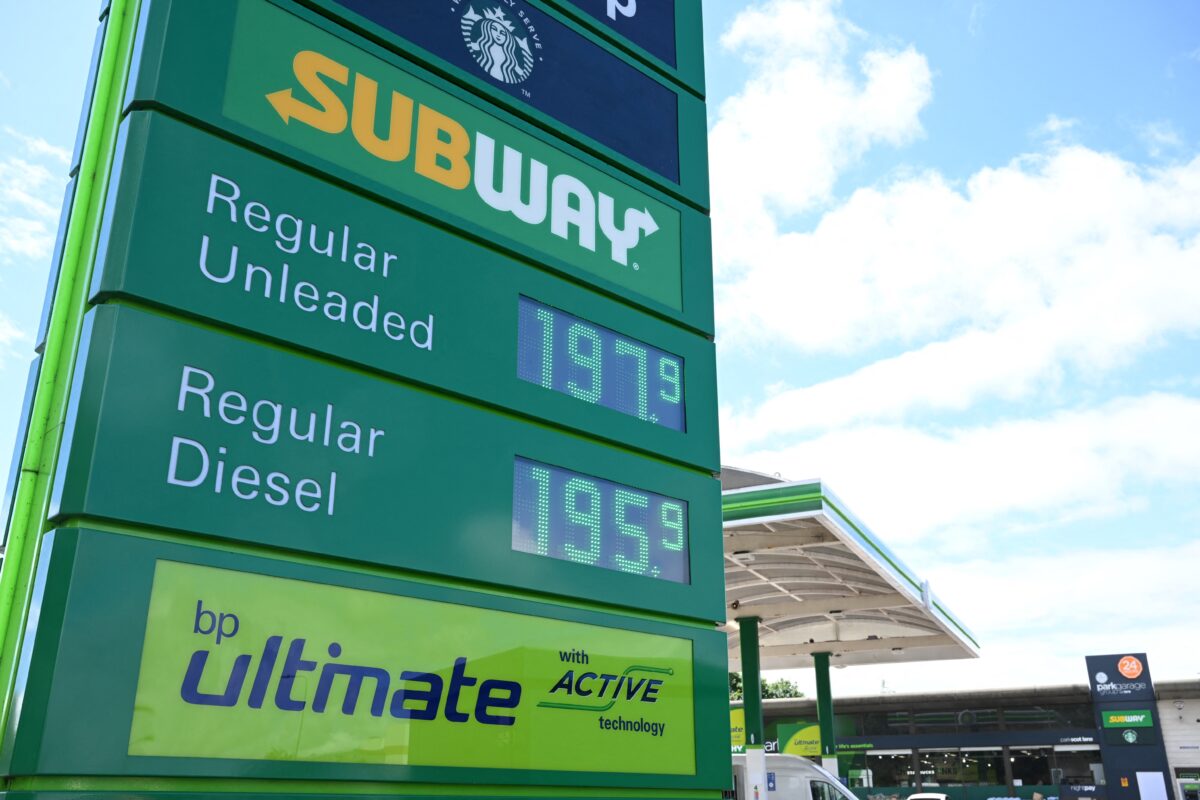 Inflation 'Number One Enemy'
Commenting on the latest figures, Chancellor Jeremy Hunt said inflation was "the number one enemy" and blamed the ongoing crisis on the COVID-19 pandemic and Russian President Vladimir Putin's invasion of Ukraine.
He said: "The aftershocks of COVID-19 and Putin's weaponisation of gas mean high inflation is plaguing economies across Europe and I know families and businesses are struggling here in the UK.
"Getting inflation down so people's wages go further is my top priority, which is why we are holding down energy bills this winter through our energy price guarantee scheme and implementing a plan to help halve inflation next year.
"I know it is tough for many right now but it is vital that we take the tough decisions needed to tackle inflation—the number one enemy that makes everyone poorer. If we make the wrong choices now, high prices will persist and prolong the pain for millions."
But the main opposition Labour Party insisted that the Conservative government is partly responsible for the current situation.
Labour's shadow chancellor Rachel Reeves told broadcasters: "Just in the lead-up to Christmas, which is supposed to be a special time for families, I know that many mums and dads are going to be worrying about how they can heat their homes, whether they can afford the Christmas presents, the Christmas dinner, that they hoped to for their families.
"The chancellor will say this is all about global issues but the truth is the UK is uniquely exposed, whether it's on inflation or economic growth after 12 years of Tory stagnation."
The Liberal Democrats called the government's record on tackling the cost of living "a disgrace."
The party's Treasury spokeswoman Sarah Olney said: "Inflation is wreaking havoc on our country as bills continue to skyrocket out of control. Under the Conservative government double-digit inflation has become the grim norm.
"Every Conservative chancellor in post this year has done nothing to stop sky-high prices hitting struggling families and pensioners. Their track record on the cost-of-living crisis has been nothing short of a disgrace, especially as their latest budget hiked taxes on Britain's hardworking middle.
"Enough is enough, this economic chaos needs to end now."
Confidence Damaged
David Bharier, head of research at the British Chambers of Commerce, said though inflation may have "passed the peak," the damage to business confidence has been "significant," especially for small and medium enterprises (SMEs).
"With their margins left razor-thin, very few SMEs are planning to increase investment as they deal with a wall of higher energy bills, input costs, interest rates, and taxation. Over half of SMEs tell us they will struggle to pay their electricity and gas bills after April."
Bharier said the small businesses will be "nervously awaiting" the government's expected announcement on the future shape and extent of any energy costs support, which will also impact inflation.
"Firms also need to see concrete action on infrastructure, skills, trade, and green tech to create the right environment to invest," he said.
PA Media contributed to this report.