UK Vows to Press Ahead With Plan to Send Illegal Immigrants to Rwanda Despite Legal Battles
The UK government has vowed to press ahead with its plan to send illegal immigrants to Rwanda after the first planned flight was halted by a ruling from the European Court of Human Rights (ECHR).
Prime Minister Boris Johnson announced on April 14 that people who enter the UK illegally, including those who cross the English Channel in small boats, may end up being relocated to the African country of Rwanda. The UK government said the move is necessary to deter human smuggling.
Pro-immigration activists have argued that the policy is inhumane and unlawful, but the UK courts rejected a request for an interim injunction to stop the Rwanda flight, which was due to take off on Tuesday night.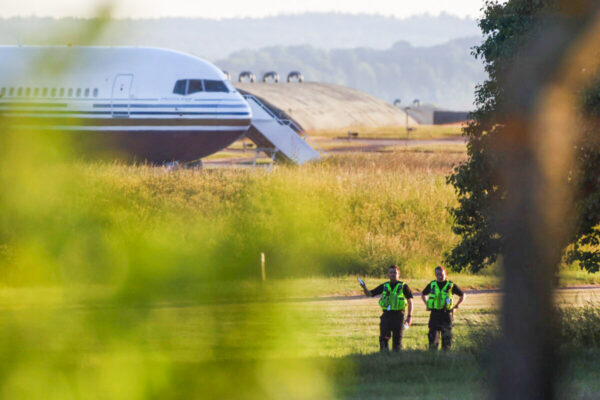 But the flight was grounded after the ECHR said it had granted an urgent interim measure in regards to an Iraqi national who was due to be on the flight.
Addressing the House of Commons on Wednesday, Home Secretary Priti Patel said the ECHR intervention was "disappointing and surprising" but the government remains "committed to this policy."
She said the government "will not be deterred from doing the right thing" and "will not be put off by the inevitable last-minute legal challenges."
"We believe that we are fully compliant with our domestic and international obligations, and preparations for our future flights and the next flights have already begun," she told MPs.
Downing Street said the government will do "whatever it takes" to ensure deportation flights to Rwanda go ahead.
The prime minister's official spokesman said the government would consider the ECHR ruling but that "all options are on the table."
Asked if the government could withdraw from the ECHR, the spokesman said: "We are keeping all options on the table including any further legal reforms that may be necessary. We will look at all of the legislation and processes in this round."
Asked if a flight could go ahead before legal proceedings in the UK are complete, the spokesman said, "That is my understanding."
The main opposition Labour Party is opposed to the government's Rwanda plan.
Shadow home secretary Yvette Cooper told the Commons that the situation is "a shambles and it is shameful and the home secretary has no one but herself to blame."
PA Media contributed to this report.