UK's Sunak 'Sad' About Strike Disruptions but Insists No Talks on Public Sector Pay
British Prime Minister Rishi Sunak has said he is "sad" and "disappointed" about widespread disruptions caused by strikes, but has insisted that refusing to negotiate on public sector pay is the "right thing" to do.
Speaking to broadcasters during a visit to a homeless shelter in London, Sunak said: "I am really sad and I am disappointed about the disruption that is being caused to so many people's lives, particularly at Christmas time."
"When it comes to the difficult question of setting public pay, the government has acted fairly and reasonably in accepting all the recommendations of the public sector pay review bodies," he added.
The prime minister insisted that not negotiating on pay with striking workers is the "right thing for the whole country."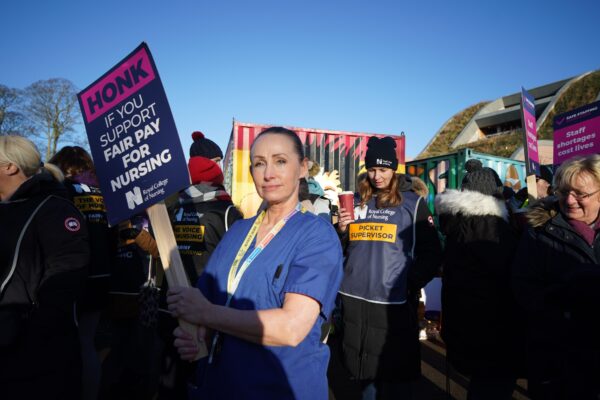 He said: "We all know the major economic challenge we all face now is inflation, it's inflation eating into everyone's pay packets."
He added: "I want to make sure we reduce inflation, part of that is being responsible when it comes to setting public sector pay. That's why we have an independent process.
"I know things are difficult but it's right there's an independent body that makes recommendations to the government and the government accepted those. It increased its offer, matched all those recommendations. I think that's the reasonable thing to do. And in the long term it's the right thing for the whole country that we beat inflation."
Border Staff on Strike
It comes as around 1,000 members of the Public and Commercial Services (PCS) union employed by the Home Office to operate passport booths walked out on Friday at Heathrow, Birmingham, Cardiff, Gatwick, Glasgow, and Manchester airports, as well as the port of Newhaven in East Sussex.
Military personnel have been deployed at the ports to check passports during the Border Force strikes, which will take place every day for the rest of the year, except Dec. 27.
Travellers were warned by Border Force bosses to expect delays amid fears long queues at passport control could lead to people being held on planes, disrupting subsequent departures. But the airports appear to have been functioning as normal on Friday.
A Heathrow spokeswoman said: "The morning arrivals peak has started well. Immigration halls are free-flowing at Heathrow with Border Force and the military contingency providing a good service."
But PCS general secretary Mark Serwotka threatened to escalate the industrial action unless the government comes forward with an improved pay offer.
"We think that the action at the borders is going to be very effective. We hope that the Government will therefore do the right thing and get around the negotiating table and put some money upfront," he told BBC Radio 4's Today programme.
He added: "If not, we are raising money. We have a strike fund that means we can sustain this action. Our strike mandate lasts right up until May. We will be supporting this action up to May and we would re-ballot again if we have to.
"I think in January what you will see is a huge escalation of this action in the civil service and across the rest of our economy unless the government get around the negotiating table."
Hospital Disruptions
This follows two days of strikes by staff at the National Health Service (NHS), with thousands of nurses walking out on Tuesday and ambulance workers joining picket lines on Wednesday.
On Friday, the Royal College of Nursing (RCN) announced two more days of industrial action in England on Jan. 18 and 19.
RCN general secretary Pat Cullen said the union has been left with "no choice" but to act.
"The government had the opportunity to end this dispute before Christmas but instead they have chosen to push nursing staff out into the cold again in January," she said, adding: "The public support has been heart-warming and I am more convinced than ever that this is the right thing to do for patients and the future of the NHS."
Meanwhile, a planned post-Christmas strike by ambulance workers in the GMB union has been suspended.
GMB national secretary Rachel Harrison said the union is suspending the strike because it was "overwhelmed by Wednesday's amazing public support for our paramedics and ambulance staff."
She said: "We know the public will appreciate being able to enjoy Christmas without any additional anxiety. They support us and we support them."
But she added: "The workforce crisis in our NHS is so severe and our commitment to getting ambulance staff the proper pay they deserve is stronger than ever, so we are scheduling a further date for action on Jan. 11, 2023."
She urged the government to "do what ambulance workers and the public want—get round the table and talk pay now."
Multiple Sectors Affected
The UK has been hit by industrial action in multiple sectors.
National Highways workers responsible for motorways and major A-roads in London and the South East, also represented by the PCS union, are continuing their four-day walkout, which started on Thursday.
Postal workers represented by the Communication Workers Union walked out for their fifth day of December action in a move Royal Mail criticised as "a cynical attempt to hold Christmas to ransom."
The company said it will be doing all it can to deliver Christmas mail, saying the industrial action has cost it £100 million ($120 million).
Railway workers in the RMT union will stage another strike from 6 p.m. on Christmas Eve, which could prevent people from making it home for Christmas.
PA Media contributed to this report.