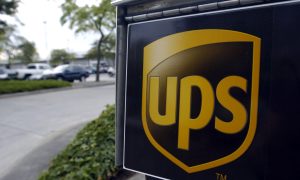 UPS and the International Brotherhood of Teamsters, which represents some 330,000 UPS delivery drivers and warehouse logistics workers, are back at the negotiation table.
The teamsters had warned this that UPS needed to "exchange its last, best, and final offer no later than June 30″ or the drivers would walk away from negotiations.
UPS returned with a new contract, the Teamsters have confirmed.
"UPS came back with real movement, but it isn't enough," said Teamsters General Secretary-Treasurer Fred Zuckerman in a statement on July 1.
The counterproposal had "significant movement on wages and other economic language," according to the Teamsters.
UPS has pledged to reach a deal no later than July 5, and the Teamsters have agreed.
"We have repeatedly told UPS that a new contract must be in place by August 1. The Teamsters will not work one minute beyond the expiration of our current agreement. UPS did not want to make progress on economics, but they conceded today that they will reach a deal by July 5 because they have no choice," said Teamsters General President Sean M. O'Brien in the statement.
The union's current contract ends on Aug. 1.
The Teamsters are demanding increased pay that eliminates a two-tier wage system, more full-time jobs, certain health and safety measures, and protections against managerial harassment.
UPS also issued a statement: "We are encouraged the Teamsters are ready to continue negotiations and discuss our most recent proposal. Productive discussions are critical at this stage of the process. We look forward to the union's input so we can reach a timely agreement and provide certainty for our employees, our customers and the U.S. economy."
According to UPS, the company made 24.3 million package deliveries per day last year, adding up to 6.2 billion packages worldwide, with $100 billion in revenue.
Earlier this week, negotiations continued late into Tuesday night. The Teamsters stated in a release that towards the end, UPS sought "concessionary language" instead. When both parties returned on Wednesday, UPS presented the same proposal that the Teamsters have rejected, leading the Teamsters to threaten a strike if a better offer was not made by June 30.