US Embassy Condemns CCP Coercion to Change Cross-Strait Status Quo
Recently, the U.S. Embassy and Consulates in China (Embassy) tweeted a series of comments stressing the need to follow the conventions in the Indo-Pacific region. The Taiwan Strait separates Taiwan from China and the median line (the midway point between Taiwan and the mainland) has been respected for many years despite China not officially recognizing it.
The tweets came after the Chinese regime launched large-scale military exercises in the Taiwan Strait, with ships crossing the median line numerous times, fired missiles into Japan's exclusive economic zone, and imposed sanctions on Pelosi and some Taiwanese politicians, with the excuse that U.S. House Speaker Nancy Pelosi (D-Calif.) visited Taiwan despite Beijing's warning not to.
For decades, the Chinese Communist Party (CCP) claimed Taiwan as its inseparable territory, whereas Taiwan has retained its independence and democracy as the sovereignty of the Republic of China.
The Condemnation
On Aug. 17, the official twitter account of the Embassy, US MissionCN, retweeted a series of posts from the U.S. Department of State's Asia Pacific Media Hub (Pacific Media Hub). The posts were also translated into Chinese.
The first post read, "There is one side, there is one party that seeks to change the status quo, the cross-strait status quo that has been at the center of stability and security across the Taiwan Strait for some 40 years now. It is not the United States. It is not Taiwan."
The second post said, "It is the PRC that is challenging the status quo […] and then even with its recent provocative and totally unnecessary response to the congressional delegation that visited Taiwan earlier this month has again demonstrated its willingness to challenge that status quo."
The third post confirmed, "Our response to the PRC's provocations has been measured […] We made clear that we did not intend to escalate & that there was no reason for a crisis, but we also made clear that we won't be deterred from flying, sailing, operating in the region in accordance with intnl law."
The next day, the Embassy retweeted another post of Pacific Media Hub, "China fired missiles into Japan's exclusive economic zone; The point that we have made is that our commitment to the defense of our allies in the Indo-Pacific and around the world is ironclad. We will be unwavering in standing with our Japanese allies."
Also on Aug. 17, at a press briefing, U.S. Department of State spokesperson Ned Price said "…any response to a peaceful visit by members of Congress – any response that entails bellicose rhetoric or military maneuvers or provocative actions is totally unnecessary and an absolute overreaction."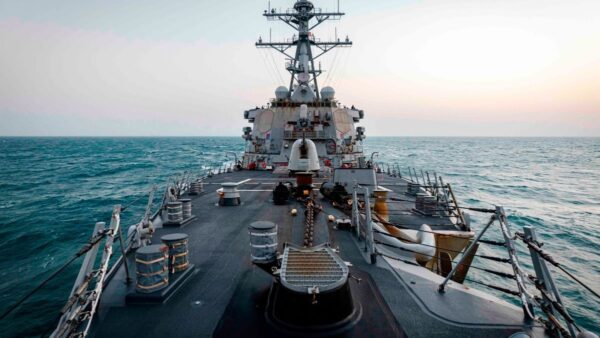 Safeguard the Regional Peace
Price said, "Members of Congress, congressional delegations, have gone to Taiwan for decades and they will continue to do so."
He stressed, "The central fact is that these are peaceful visits by members of Congress who are traveling there to show their support for the people on Taiwan."
On Aug. 18, Daniel Kritenbrink, the assistant secretary of state for the Bureau of East Asian and Pacific Affairs, also said China's pressure campaign to coerce and undermine Taiwan risk miscalculation will likely continue, Reuters reported.
Earlier, on Aug. 15, Senator Edward J. Markey (D-Mass.) led a bipartisan delegation to Taiwan and reaffirmed the importance of peace and partnership.
The delegation had an opportunity to exchange views with Taiwanese counterparts on issues "including support for peace and stability in Taiwan as they face growing authoritarian pressure from Beijing," according to the press release.
Britain's House of Commons foreign affairs committee is planning a visit to Taiwan later this year, while lawmakers from Japan are planning a trip to visit Taiwan in the coming week.
The U.S. Vice Admiral Karl Thomas, who commands the Seventh Fleet, argued for pushback against Chinese military drills that would soon create a new status quo around Taiwan when Beijing threatened busy commercial shipping lanes around Taiwan, Newsweek reported.
Likewise, the Times reported that Lt General Sir Jim Hockenhull, Chief of Defence Intelligence, UK, accused China of "spectacularly unhelpful escalatory action" towards Taiwan as he warned that Beijing's aggressive behavior in the region could be the "new normal."
"It's important for us to continue to monitor Chinese activity from an intelligence perspective," Hockenhull said.
Xu Jian contributed to this report.