US Leads in World Cup Qualifier After 2–0 Victory Over Mexico
Christian Pulisic, considered the top USMNT player, entered the game in the 69th minute to provide the game-winning header over Mexico in front of a loud and ecstatic U.S. crowd of 26,000.
The game was played with high energy intensity even though it was a cold and rainy night at sold-out Cincinnati TQL Stadium, home of FC Cincinnati.
The win moves the United States (4–1–2) ahead of Mexico (4–1–2) in CONCACAF World Cup qualifying standings, as it completes the halfway mark of the 14-game tournament. The United States is ahead, having scored seven more goals than it has allowed, while Mexico is a plus-5.
Canada sits in a close third with 13 points, while Panama is in fourth with 11 points. The top three shall automatically qualify for the World Cup next year in Qatar. Fourth place has an outside chance with additional matches against similarly positioned qualifiers.
The first half was a battle that resulted in few legitimate opportunities for the United States, while turnovers gave Mexico two excellent chances at goal.
U.S. goalkeeper Zack Steffen was up to the task of keeping a clean sheet with two excellent saves. In the 18th minute, Steffen was forced to dive to his left to stop a low blast from Hirving Lozano on a precise Mexican counter-attack; a distraught Lozano reacted in disbelief to the save.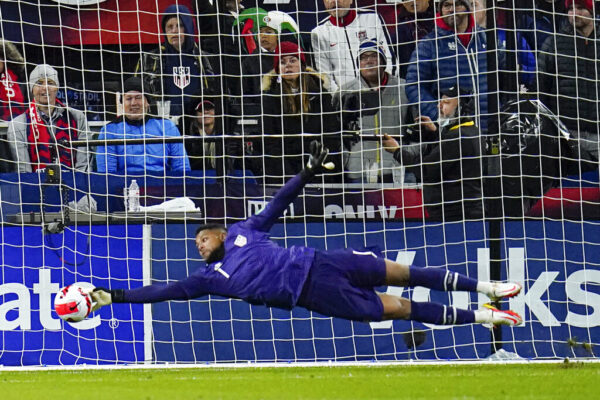 The Americans outshot Mexico 18–8 in total but had difficulty breaking through in the first half.
Similar to other games, this current U.S. squad's second-half performance was dramatically better, as they convincingly dominated while limiting turnovers in their passing game.
Pulisic's 74th-minute goal was assisted by Timothy Weah's cross from the right wing. Weah is the son of former Ballon d'Or winner George Weah of AC Milan, currently serving as the 24th president of Liberia.
Weah had provided a steady attack from the wing for much of the game, but wasn't able to connect with any teammates until Pulisic's entry.
Weah was able to send the excellent cross after creating space with some jukes along with cross-over dribbles.
"Confidence is through the roof," Weah said, "but the most important thing is to stay modest and stay humble because CONCACAF is hard."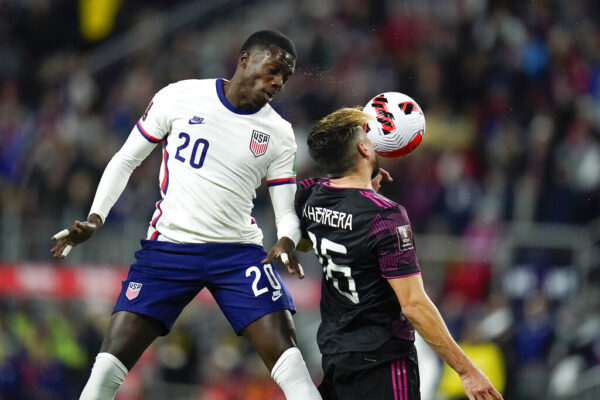 Pulisic made a fabulous well-timed run from left-center, beating his mark across the front of the goal-mouth and Mexico's goalkeeper, Guillermo Ochoa, with a header down to the left side of the goal.
Pulisic has been on a long road to recovery since a high ankle sprain injury that occurred on Sept. 8 against Honduras in CONCACAF play. He had recently returned to club play for Chelsea on Nov. 2, coming off the bench in a Champions League match.
Pulisic said, "USA and Mexico, you know what you're going to get. Intensity."
"It was a crazy game for sure but it's what we expected. It was tough to break them down. I'm happy I could come in and help us out. In the end, that's three huge points."
"It was incredible, and the fans made it all that much better," Pulisic said, "They really came out tonight. It was so loud in there. Moments like that are what we live for."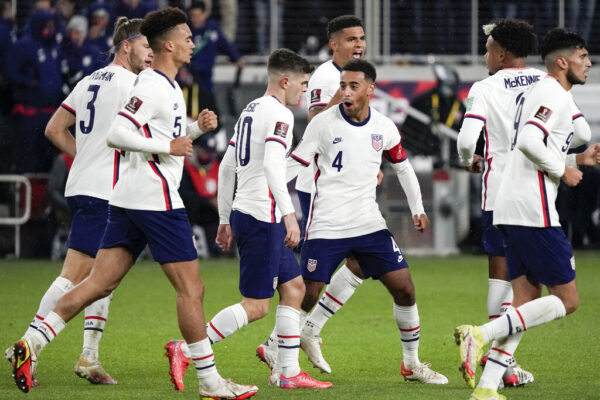 The second goal came from Weston McKennie in the 85th minute. He received a first touch pass from Jesus Ferreira following a centered pass from the right. McKennie tried to continue the combination one-touch pass, but a defender blocked the ball back into his path toward a goal. It set up perfectly for his low, left-corner shot into the side netting.
McKennie, the young star for Juventus, was suspended from the USMNT in the summer for breaking CCP (Chinese Communist Party) virus protocols.
Coach Gregg Berhalter had stated in an interview with ESPN that the team needed to be tolerant with these young players, and allowed for his return against Jamaica in October 2021.
"Dos a Cero," 2–0, continued to be chanted by American fans throughout the remainder of the game. The history of the chant originated from the United States winning four straight home qualifiers against Mexico prior to the last World Cup qualifiers, all by 2–0, in Columbus, Ohio.
In 24 meetings since 1999, the scoreline of 2–0 has occurred 8 times.
The sole home loss against Mexico during this period was 2–1, in November 2016, at the Columbus Crew Stadium, and ultimately kept the United States from qualifying for the last World Cup.
History was made, as it was the first time either team has won three games against the other since 1937. However, the United States had not been able to defeat Mexico since a friendly 2–0 in April 2015.
The rivalry, bitter at times, continues with much drama on and off of the field. Mexican goalkeeper Ochoa said, "Mexico is the mirror in which the United States wants to see itself."
Following Pulisic's goal, he celebrated along the end-line with teammates raising his shirt revealing "Man in the mirror" written on his undershirt.
U.S. coach Berhalter said Thursday that Ochoa's remarks showed "that we have a long way to go to get the respect of Mexico."
The rivalry became heated in the game and contributed to several yellow cards and an ejection for the Americans.
In the 66th minute, a scuffle occurred between the teams following a tackle near midfield by Luis Rodriguez on Brenden Aaronson. Aaronson tried to place the ball for a quick restart. Rodriguez prevented Aaronson by wrapping his arms around Aaronson, and seemingly clawing his face as Rodriguez pulled Aaronson away from the ball.
U.S. players ran over to protect Aaronson by shoving Rodriguez. The referee, Arcides Barton Cisneros, gave yellow cards to McKennie, Steffen, and Rodriguez.
McKennie will miss the next match at Jamaica, on Nov. 16, due to the accumulation of yellow cards. Miles Robinson will also be out for the next match; he received two yellow cards on professional fouls during the game that resulted in a late ejection.
Mexico shall face Canada away on Tuesday, Nov. 16.