US NHC Sees 60 Percent Chance of Storm in Gulf of Mexico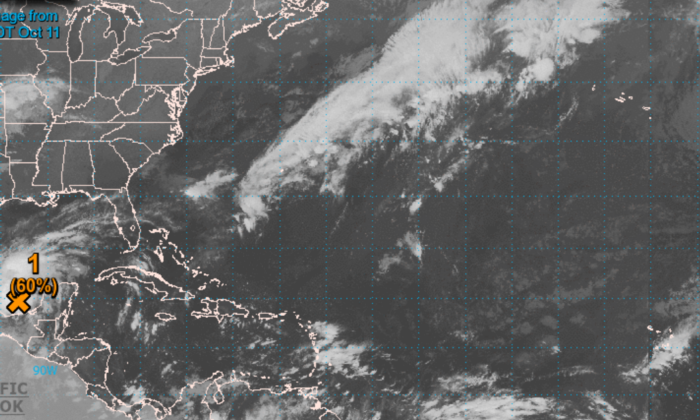 A screengrab shows a low-pressure system over the Bay of Campeche in the southern Gulf of Mexico that now has a 60 percent chance of becoming a storm in 48 hours, on Oct. 11, 2022. (Courtesy of U.S. National Hurricane Center (NHC)/Screenshot via The Epoch Times)
A low pressure system over the Bay of Campeche in the southern Gulf of Mexico now has a 60 percent chance of becoming a storm in 48 hours, and could strengthen into a tropical depression in a day or two, the U.S. National Hurricane Center said.
The system was expected to move slowly north-westward over the southwestern Gulf of Mexico and could bring heavy rainfall over portions of southern Mexico during the next couple of days, the Miami-based weather forecaster said.
But additional development was unlikely once it develops into a tropical depression, the NHC added.