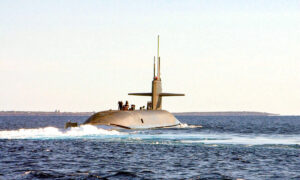 Highly trained U.S. submariners live in tight and tough conditions aboard their nuclear-powered vessels but they're immensely proud of the dangerous work they do deep below the surface of the sea.
Sailors from the USS  (United States Ship) Asheville this week gave politicians, Royal Australian Navy brass, diplomats and journalists a peek into their life aboard the stealthy attack vessel, as news of Australia's plan to buy its own nuclear-powered submarines was announced.
The Asheville's crew of 130 men share their 110 metre-long Los Angeles-class fast attack submarine with more than 20 torpedoes, Tomahawk missiles and a nuclear reactor-powered engine that takes up about half of the boat.
It's a similar vessel to the Virginia-class submarines Australian sailors will crew from 2033 under the $368 billion (US$246.8 billion) AUKUS deal with the U.S. and the U.K.
Chief Petty Officer Freddy Aguirre, who has been a submariner for almost half his life, says it can be difficult living and working on the Asheville in such a confined space for months at a time, but new shipmates soon adapt.
"It's definitely challenging being at sea, we have to be ready for everything," Aguirre told AAP in waters off the West Australian coast.
"I like the comradery, it makes the job. It's not about rank, it's about getting the job done right."
Every room, nook and cranny has been designed to serve multiple purposes and stow supplies and essential equipment.
Crew sleep, eat and socialise as others work around them in the windowless 10-metre-wide hull.
All reported being unphased by the lack of sunlight and the nuclear reactor that produces heat to power turbines that drive the submarine.
"A lot of people don't understand the technology. I think they're scared of it, but I think it's pretty magnificent, the engineering behind it," Aguirre said.
About half the crew, colloquially known as "nukes", are tasked with monitoring and maintaining the nuclear power plant and other essential systems.
They undergo a year and a half of intensive training at the U.S. Navy's nuclear power school in Charleston before they take up their roles.
The same facility is teaching Australian naval officers, as the Royal Australian Navy (RAN) prepares to commission its own nuclear-powered fleet.
The so-called nukes, along with the rest of the crew, also have to complete another 10 or so months of training on the job before they're fully fledged submariners.
Reactor controls technician Ethan McClellan said the training, which was described by some onboard as a rite of passage, is demanding and "definitely not for everybody".
"It's the biggest test you have as a submariner," McClellan said.
The seaman was upbeat about daily life on the Asheville, which is broken into three eight-hour segments, with equal time for work, relaxation and sleep.
"There's always lots to do onboard once you finish for the day. We have the latest games and movies," McClellan said.
The crew's tiny bunks with privacy curtains are spread throughout the vessel, including under the racks of six metre-long Mk48 ADCAP torpedoes.
Sonar technician Jazz Yu beamed with pride as he described his job on the Asheville.
"We listen to sounds in the water and analyse what it is and what's making it," Yu said.
"I've heard earthquakes and lightning striking the water from under the water."
The Florida native works in the Asheville's cramped and dimly lit control room with about a dozen other submariners, including navigators and weapons officers.
There are two periscopes in the centre and the walls are packed with computer screens, gauges and other controls in a scene straight out of a Hollywood war movie.
"Dive dive dive," sounded over the tannoy as the crew prepared to submerge to 500 feet (150 metres).
Two helmsmen took control and the vessel slipped beneath the waves as their steely-eyed skipper, Commander Thomas Dixon, watched on and other officers relayed vital data.
U.S. submarine group commander Rear Admiral Rick Seif told the tour group there were "no spectators" in a submarine crew and the U.S. navy was made up of men and women of action, who worked hard so the vessel could stay in action.
"A nuclear-powered attack submarine is one of the most complex machines that has ever put to sea, but what really makes it special is not all that technology, it's the sailors," Seif said
"They are our secret weapon."
The veteran submariner, who is soon to be promoted to a two-star admiral, likened life onboard the Asheville to living on a remote outback station, where everybody did their bit to help fix problems so the vessel could "stay in the fight".
It's based in Guam, in the Western Pacific region, with four other U.S. attack submarines that are expected to visit Australia for training, logistics support and maintenance with increasing frequency in the coming years.
"There will be a ramp-up not just in the number of visits but the pace of activity and what we do in those visits," Seif said.
"Business is good in the undersea warfare area so there is a lot for us to do."