Vancouver Realtors Celebrate Freedom Through Shen Yun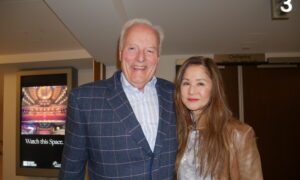 VANCOUVER—Infused with hope for freedom and faith, Shen Yun's performance on March 26 inspired Margaret Lim and her fiancé Martin Dash.
"It must be seen by everyone in the world!" exclaimed Ms. Lim. "It's a true story of the history of China. Its heavenly, it's divine, it's just amazing.
Based in New York, Shen Yun is presenting "China before communism" in its 2022 world tour.
"I'm very proud to be Chinese before communism," Ms. Lim said. "My grandparents migrated to the Philippines in the mid 40s to escape communism. As a child, I always hear my grandparents telling stories about how they escaped communism to give us freedom."
Both Ms. Lim and Mr. Dash are realtors. Mr. Dash grew up in England and served as a captain in the British and Canadian armies.
"So in a strange sort of way, Shen Yun reaffirms the values and the code that I stood for when I was a Canadian officer," Dash said.
Through song and dance, Shen Yun displays the essence of China's divinely inspired culture before the era of communism.
"God gives us liberty—we are supposed to be able to speak up and have freedom and practice our faith," Ms. Lim said. "We have to be godlike go back to how He created us to be."
Mr. Dash said he saw clearly the contrast between the Chinese people and the regime under which they currently live.
"The show I think did an amazing job portraying the traditional values of the Chinese people and the amazing influence they have had on the world, and it puts to shame the current regime in China and everything that it stands for which is wrong," he said.
"I find it very uplifting," he continued. "You could feel the energy flowing through you, like the holy spirit, and the resilience and support of the people of China who are under a terrible regime right now. I think that Shen Yun goes a long way to awakening people to whats going on."
Reporting by Sherry Dong
The Epoch Times is a proud sponsor of Shen Yun Performing Arts. We have covered audience reactions since Shen Yun's inception in 2006.