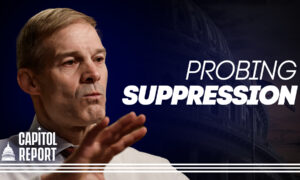 The "Twitter Files" hearings continue, probing the alleged weaponization of the federal government. Meanwhile, a House bill aims to prohibit the government from suppressing information.
President Joe Biden acknowledges former President Donald Trump's reelection bid while giving a speech on his new budget. What's in Biden's budget plan, and how did he react when asked by NTD about the timing of his 2024 announcement?
An expert joins us to discuss the financial consequences of illegal immigration. How does it affect the U.S. labor market, and what's the impact on local state budgets?
The Chinese Communist Party's (CCP) spy balloon was just the tip of the iceberg, according to lawmakers. A House Homeland Security subcommittee is probing other areas the CCP has targeted on U.S. soil.
Rep. Ronny Jackson (R-Texas) from the House Select Committee on the Coronavirus Pandemic joins us to discuss the virus. What could the United States do to hold the Chinese regime responsible?
NTD's Kelly Wright sits down with influential pastor A.R. Bernard, where they'll discuss the relevance of religion in society, government, and politics.