What to Watch for Oct. 28–Nov. 3
This week, we feature an epic biography of a man who transformed India and a World War II drama about soldiers on both sides of the conflict.
New Release
'A Chance Encounter'
Hal Flynn (Paul Petersen) is a struggling poet and Josie Day (Andrea von Kampen) is a folk musician who has already achieved a certain degree of success. The two cross paths in the Sicilian town of Taormina, Italy, and begin to inspire each other in their respective fields, eventually finding that a deeper bond may also exist.
Although not a particularly original storyline, the way this romantic tale unfolds feels earnest and organic. And, the Italian scenery is gorgeous and complements the chemistry between the two main leads nicely.
Music | Romance
Release Date: Oct. 28, 2022
Director: Alexander Jeffery
Starring: Andrea von Kampen, Paul Petersen, Jason Edwards
Runtime: 1 hour, 31 minutes
MPAA Rating: Not Rated
Where to Watch: Theaters
Rated: 3.5 stars out of 5
Indie Pick
'Night on Earth'
This quirky indie comedy follows the trials and tribulations of five cabbies and their respective passengers—each in different parts of the world. From gum-smacking, glib tomboy Corky (Winona Ryder) in Los Angeles, to Helmut (Armin Mueller-Stahl), an East German refugee in New York, there's a lot of variety here.
As with any film with multiple vignettes, viewers may be drawn to certain storylines and dislike others. Although the film's peppy pace kept me engaged, the hastily drawn, gimmicky characters sometimes felt contrived.
Comedy | Drama
Release Date: Dec. 12, 1991
Director: Jim Jarmusch
Starring: Winona Ryder, Gena Rowlands, Lisanne Falk
Running Time: 2 hours, 9 minutes
MPAA Rating: R
Where to Watch: HBO Max, Amazon
Rated: 3 stars out of 5
An Epic Biography of a Beloved Leader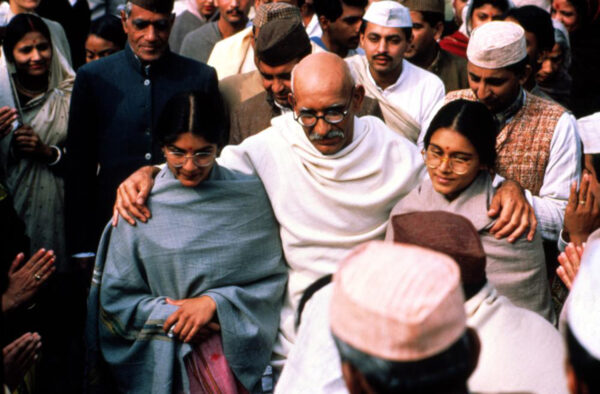 'Gandhi'
Ben Kingsley stars as Gandhi, a British-trained Indian lawyer turned legendary spiritual leader who defied the British rule of India. This movie showcases not only Gandhi's powerful concept of nonviolent resistance, but also his insistence on treating others with equality and tolerance.
This grand-scale film is not only Kingsley's greatest performance but also one of director Richard Attenborough's most incredible triumphs, with great acting performances, positive messages, and languid pacing.
Biography | Drama
Release Date: Feb. 25, 1983 (U.S.)
Director: Richard Attenborough
Starring: Ben Kingsley, John Gielgud, Rohini Hattangadi
Running Time: 3 hours, 11 minutes
MPAA Rating: PG
Where to Watch: DirecTV, Vudu, Redbox
Rated: 4.5 stars out of 5
A Powerful World War II Story
This masterful film follows the stories of three soldiers—one German (Marlon Brando) and two Americans (Montgomery Clift, Dean Martin)—as their lives are forged in the fires of World War II.
A rousing tale of emergent humanity, this is a fine example of American cinema that harkens back to its golden days, with incredible acting, cinematography, direction, and writing.
Action | Drama | War
Release Date: April 2, 1958
Director: Edward Dmytryk
Starring: Marlon Brando, Montgomery Clift, Dean Martin
Running Time: 2 hours, 47 minutes
Not Rated
Where to Watch: DirecTV, Apple TV, Vudu
Rated: 4.5 stars out of 5