'When I Hear Music Like That, It Really Moves Me,' Says Shen Yun Audience Member
BOSTON, Mass.—As Shen Yun Performing Arts continues its tour around the United States and the globe, it brought to the Boch Center Wang Theater in Boston a message of hope and of a bright future for its audience members.
Ron Jenkins, a lawyer who specializes in international law, attended the matinee session with his wife, Jennifer, and their children.
The performance opened with "Salvation at End Times," a dance that narrates a journey that begins in paradise. As Jennifer watched the dance, she felt tears in her eyes.
Shen Yun presents story dances through classical Chinese dance, accompanied by a live symphony orchestra comprised of Eastern and Western instruments.
"When I hear music like that, it really moves me," she said. "[Heavenly beings] are coming from the heavens down to Earth to give us a message. Maybe things aren't the way they should be …  but that there is hope."
Shen Yun's repertoire includes dances that depict heavenly beings and deities, legends, stories from literature, and historical events.
Ron thought Shen Yun was a first-class performance with a message that provoked optimism that was appropriate at this time in history.
Ron admired the beautiful performance and dance themes and said it had been "an uplifting experience."
For Ron, Shen Yun "[was] about the liberation of the human spirit—very encouraging, very hopeful," he said.
After watching Shen Yun, Jennifer questioned whether today's society had chosen to live by the right values or whether people should consider more traditional values on which to base their lives.
'Everything is Spectacular' in Shen Yun
Also in the audience were Peter and Susan Dow. Peter is a retiree but formerly owned a manufacturing business.
"We're thrilled and I can't wait to go and tell other people," said Susan after the performance.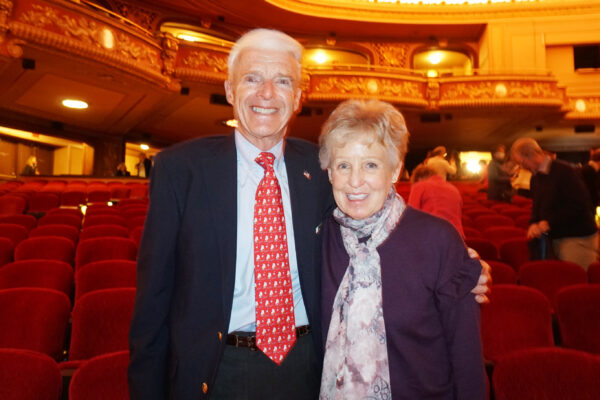 Shen Yun was just magnificent, Susan said.
She praised the spectacular costumes and the exquisite dancers adding that the dances were beautifully synchronized.
She illustrated her feelings with the "Plum Blossom in Spring" dance. "That was just beautiful flowers opening and closing in a different sequence. [Shen Yun] is just what I hoped it would be and I'm very happy we came."
Peter was equally effusive in his praise.
"The music is wonderful, the costumes, the scenery, the set, everything is spectacular. Way more than I expected," he said.
"[The music] is haunting and just beautiful to listen to. [The dances] were all splendid in their own way and the variety was just spectacular," Peter said.
Shen Yun's mission is to revive traditional Chinese culture and share it with the world through the universal languages of music and dance.
Peter and Susan had visited China in the past but commented that although they had watched some local performances, they did not see anything resembling Shen Yun.
"And now I understand why we didn't see anything like this when we were there. This has been an eyeopener for us," he said.
Reporting by Sherry Don, Yawen Hung, and Diane Cordemans.
The Epoch Times is a proud sponsor of Shen Yun Performing Arts. We have covered audience reactions since Shen Yun's inception in 2006.