Why the US and China Are Taking Opposite Approaches to Bitcoin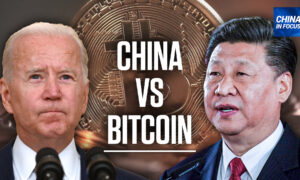 In this special episode, we sat down with two guests: researcher and journalist John Mac Ghlionn and Shone Anstey, CEO at LQwD fintech. They touch on the world of bitcoin—from the merits and the dangers to the different approaches the United States and China are taking; from embracing it to banning it; and how it'll play out going forward.
Mac Ghlionn said, "China has a big issue with Bitcoin because [9,950 or 9,960] of the other cryptocurrencies are dangerous, somewhat worthless, … they're in the shadow of Bitcoin and ethereum. So to get back to: why did China ban bitcoin? Ostensibly, it was because of environmental concerns and the energy costs with mining Bitcoin. But I really think the main reason that China opted to ban bitcoin is because it goes against everything that China is trying to implement with their digital RMB. So bitcoin is decentralized. It, again, ostensibly gives power to the people, and as we all know, that is not something that the Chinese government is interested in doing—empowering the people. So they have a very clear plan, and it involves rolling out their digital currency—what they're doing now, and not just domestically, but internationally. And this is the interesting thing, is that bitcoin's goal, and, well, the Bitcoin advocates, they would love nothing more than to have Bitcoin as maybe the global reserve currency. But of course, the Chinese Communist Party wants to make the digital RMB the global reserve currency, so there's a clash there between Bitcoin and the CCP's goal."
Anstey countered by saying, "I think China misunderstands that a lot of countries misunderstand it. And it's taking root in America and other open democratic countries because the technology being is being allowed to flourish. And at the end of the day, I think people don't understand that bitcoin is really just an extension and continuation of the revolution of the internet and it really represents a fundamental shift to how the Internet will work. And so China has made a geopolitical mistake by banning the miners. They've all fled to Texas and other places around the world, and the benefactors of that are Western democracies. The United States was effectively handed the win by China. And this will be very evident over the next five to 10 years, as Bitcoin continues to go mainstream and represent a bigger part of the digital economy."
Have other topics you want us to cover? Drop us a line: chinainfocus@ntdtv.org
And if you'd like to buy us a coffee: https://donorbox.org/china-in-focus
Subscribe to our YouTube channel for more first-hand news from China.
For more news and videos, please visit our website and Twitter.
Follow us:
EpochTV Facebook: https://www.facebook.com/EpochTVus
EpochTV Twitter: https://twitter.com/EpochTVus