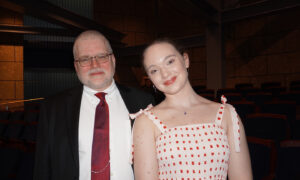 ORLANDO, Fla.—Letitia Prosser, an aspiring ballet dancer, has wanted to see Shen Yun Performing Arts for over 10 years, and finally, she and her father Bill Prosser, an architect, were able to attend the performance at Dr. Phillips Center for the Performing Arts in Orlando on March 17.
Ms. Prosser said she was amazed at the Shen Yun dancers' synchronization and "clarity of the movement."
"You can see the inner work of the artist," she said, "You can see the clarity of their thought and the clarity in themselves and their mind as they dance."
"That's a very important part of bringing something higher to people who watch you," she added. "You have to make them think of something bigger than themselves or it's not really art."
New York-based Shen Yun is the world's premier classical Chinese dance company. Presenting a culture that draws upon ancient China's Buddhist and Daoist philosophies, Shen Yun depicts story-based pieces that tell tales from ancient times to the modern-day.
In the past, artists looked to the divine for inspiration and cultivated virtue in order to create uplifting art. Today, Shen Yun's artists follow in this noble tradition, which is why audiences feel there is something different about Shen Yun, says the company's website.
"The tradition that they carry on is beautiful and it's very important," said Ms. Prosser. "I'm very passionate about that continuation of the human spirit and of freedom and discipline … and the artistic liberty to create beauty and to give it to people around us."
Since 2006, Shen Yun has performed at top theatres worldwide with a mission to revive China's 5,000-year-old traditional culture. Shen Yun says its performances demonstrate "China before communism," hence they are not allowed in China to perform.
To the artists of Shen Yun, Ms. Prosser wanted to commend them for their important artistry.
"Keep on the work because it's important and it's an insult to those who want you to stop," she said.
Reporting by Sally Sun and Jennifer Schneider.
The Epoch Times is a proud sponsor of Shen Yun Performing Arts. We have covered audience reactions since Shen Yun's inception in 2006.