A Message to Donald Trump: Beware of Chinese Hackers
Commentary
Donald Trump is back. On Feb. 20, Truth Social, his new social media platform, went live. Now, just a few days later, it's one of the most popular apps in the country.
Why is Truth Social important?
In short, Trump's new platform will directly compete with Big Tech tyrants, especially the likes of Twitter and Facebook.
Silicon Valley elites are watching Truth Social very carefully. You know who else is watching?
The Chinese Communist Party (CCP).
This is why Trump and his team must be on full alert. After all, if there's one thing the CCP loves doing, it's infiltrating influential platforms. Considering there's little love lost between Trump and the CCP, Truth Social could find itself targeted by Chinese hackers in the not-so-distant future.
To add fuel to the potential Beijing-initiated fire, Trump is also likely to seek reelection, according to a recent Axios report; yes, the former president is planning to run for office in 2024. With President Joe Biden's approval ratings at an all-time low, and Trump still very much favored among Republican voters, why wouldn't he run?
Furthermore, an increasing number of Americans are worried about China, and an increasing number of Americans think Biden is weak on China. Could Trump walk back into the White House? The answer appears to be yes.
With the reemergence of Trump, we should expect to hear some harsh words from Beijing. Not that long ago, lest we forget, the Trump administration was targeting China with some of the toughest economic sanctions in recent times. Last year, the CCP responded by sanctioning 28 former Trump administration officials. Trump and Chinese leader Xi Jinping have unfinished business. Because of this, genuine dangers exist.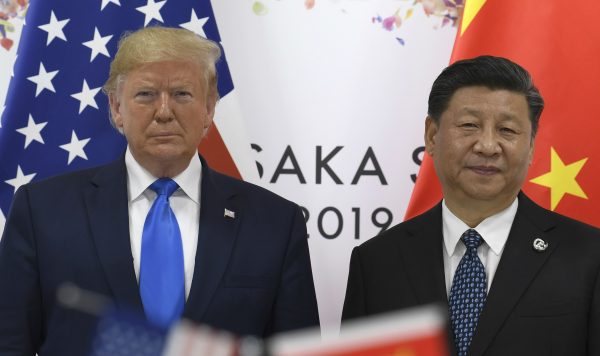 As China becomes a dominant player in all things cyber, including hacking, Trump needs to be on full alert. Truth Social will draw huge attention, both at home and abroad, including from bad actors based in China.
China's Considerable Cyberthreat
In this age of advanced warfare, China continues to recruit and train some of the world's best hackers. Over the last couple of years, the sheer number of CCP-linked hacks have been, for a lack of a better word, staggering. Not surprisingly, the United States has been targeted more than any other country.
In 2015, the U.S Office of Personnel Management (OPM) announced that it had been targeted by CCP-backed hackers; the data breach targeted the records of more than 21 million Americans. Since then, a number of reports have documented China's continued attacks on the U.S. Navy and its industrial partners.
In 2020, a U.S. federal grand jury charged four members of China's People's Liberation Army with orchestrating "one of the largest thefts of personally identifiable information by state-sponsored hackers ever recorded," involving "145 million Americans."
Social media platforms have also been targeted. In March 2021, Facebook accused Chinese hackers of using its platform for nefarious purposes.
Shortly after Facebook's accusation, Hafnium, a Chinese hacking group, carried out attacks on Microsoft exchange servers. At least 30,000 separate entities were affected, including U.S. government agencies and defense contractors.
More recently, it took Chinese hackers just 15 seconds to hack into an iPhone 13 Pro, one of the most sophisticated smartphones on the market.
It's clear to see that the threat from China is immense; there's ample reason to believe that such threats will become more significant in nature. As the journalist Michelle Quinn recently wrote, Chinese hacking groups are rapidly expanding their cyberespionage campaigns. The attacks, which "have been increasing over the past year," look to exploit "social, economic and political intelligence" from countries around the world.
These hacks are linked to "China's Ministry of State Security, the nation's civilian intelligence agency, which has taken the lead in Beijing's cyberespionage, consolidating efforts by the People's Liberation Army," according to Quinn.
When it comes to cyberespionage and elaborate hacks, China is leading the way.
Which brings us back to Trump and his new platform. Of course, Truth Social may never be targeted by CCP-backed hackers (or any hackers at all). Nevertheless, it's best to be prepared for the worst.
In July of last year, Gettr, a social media platform launched by Jason Miller, Trump's senior adviser, was hacked. Were Chinese hackers behind the attack? Honestly, we don't know. But China is home to some of the best hackers in the world.
Trump is no fan of the CCP, and the CCP is no fan of Trump. With the dawn of Truth Social, and with the likelihood of Trump running for reelection, expect Beijing to take action. Remember, cyberwarfare is not just a new type of warfare—it's now the dominant form of warfare.
Views expressed in this article are the opinions of the author and do not necessarily reflect the views of The Epoch Times.