Can Made in America Products Compete With Those Made in China?
Commentary
Nike, the company that encourages customers to "Believe in something. Even if it means sacrificing everything," is a company that leads by example. If a report by the Australian Strategic Policy Institute (ASPI) is anything to go by, then Nike believes in assisting the Chinese regime and sacrificing the rights of Uyghurs in Xinjiang.
By making a deal with the devil and catering to the whims of the Chinese Communist Party (CCP), Nike's claims of representing equality ring hollow. For years, the company's decision to basically sell its soul (and its sole) to China has paid off handsomely. But the times, as a famous singer once said, "are a-changin'." An increasing number of Chinese nationals are turning their backs on Nike. The question, though, is why?
According to a recent, rather intriguing Bloomberg piece, China's shoppers, all 800 million of them, were once seen as an unlimited, bottomless "gold mine for Western brands," with their "rising incomes" and voracious appetites for foreign goods. However, as China and the United States are currently engaged in a geopolitical tug-of-war, Chinese consumers "are increasingly acting as an extension of the government's political agenda—a worrying sign for global brands that have staked their futures on the $6 trillion market."
In the United States, we're told, politics is downstream from culture. In China, however, the opposite is true. Culture is very much downstream from politics. The message from the elites in Beijing is clear: To make China a global leader, consumers should purchase Chinese brands, not American ones. "Where politics goes," as the Bloomberg piece notes, "so does the Chinese consumer."
China's consumer diet is fast becoming a nationalistic one. This is bad news for Nike, a once dominant force in the China-based sneaker market. But one company's loss is another company's gain.
Chinese brands like Anta and Li Ning now dominate the domestic sneaker market. The former is a multinational corporation headquartered in Jinjiang; the latter is a sportswear and sports equipment company founded by former Olympic gymnast Li Ning. Sadly, Anta is endorsed by Klay Thompson, an American professional basketball player with the Golden State Warriors. Meanwhile, Dwyane Wade, the former Miami Heat player, recently signed a lucrative deal with Li Ning, all in the hope of bringing "more consistent launches to his US fanbase."
According to the aforementioned ASPI report, 27 factories throughout China have used Uyghur labor to make their products. The factories are "part of the supply chain of 83 well-known global brands." Two of the renowned global brands happen to be Anta and Li Ning. Another brand happens to be Nike.
"Between 2017 and 2019," according to ASPI, "at least 80,000 Uyghurs were transferred out of Xinjiang and assigned to factories through labour transfer programs under a central government policy known as 'Xinjiang Aid.'"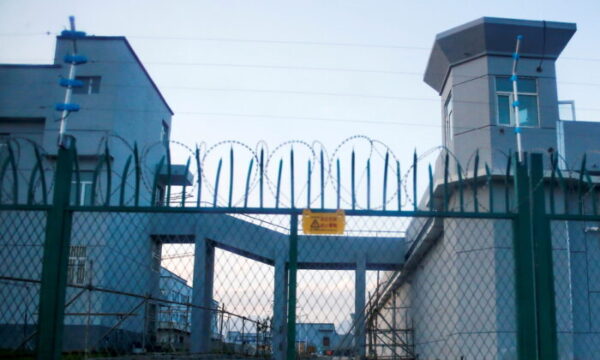 Nike isn't the only American brand that has benefitted from the use of slave labor. Abercrombie & Fitch, Amazon, Apple, Calvin Klein, Microsoft, and Victoria's Secret have also benefited, according to ASPI. Tesla, a company owned by Elon Musk, Time's "Person of the Year," recently opened a showroom in Xinjiang, where the CCP is committing genocide against Uyghurs.
Made in America
As Chinese nationals turn to products made at home, maybe it's time for more Americans to do something similar. If self-sufficiency is a key component of individual well-being, then the same is true for a country's well-being. After all, what is a country but a collection of individuals?
To MAGA or "Make America Great Again," the country requires a little more than red hats and catchy slogans. It requires average Americans to purchase more American-made products.
When it comes to sneakers, top brands like Nike, Adidas, Reebok, and New Balance dominate the market. These huge companies operate in the exact same manner, relying on cheap labor to create overpriced goods. Or so you might think. But this is not the case.
According to the authors at USA Lovelist, an excellent website dedicated to all things made in America, New Balance is very much an American sneaker. Manufactured on the outskirts of Boston, Massachusetts, New Balance is listed on Lovelist's "10 Things We Love, Made in Massachusetts." Reebok also has a line of "made in USA walking sneakers," according to the America-loving website.
Isn't it about time that the people of America bought more products from companies dedicated to manufacturing products at home rather than abroad?
When it comes to spending those hard-earned dollars, wouldn't you prefer to purchase from companies that stand for something other than self-serving, hypocritical narratives and forced labor?
This is not an advertisement for New Balance or Reebok. These companies are doing just fine; they don't need help from me nor any other author. This is an advertisement for companies that actually represent America.
As an increasing number of China's population turn toward domestic brands, it's time for more Americans to do the same.
Views expressed in this article are the opinions of the author and do not necessarily reflect the views of The Epoch Times.