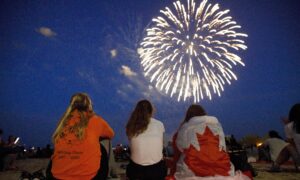 Commentary
The city of Calgary has reversed its decision to cancel the July 1 fireworks and effectively dismiss Canada Day with it.
Port of Vancouver has not retreated from its position of terminating the fireworks.
In both cases, the decisions to cancel were made not by elected officials but unelected bureaucrats who decided Canada Day had become a source of controversy and July 1 should become something else other than recognizing Canada's sovereignty, history, and heritage.
A country that is afraid to recognize that history and its founding has no business pretending to be a nation of free people.
Even the leftist mayor of Vancouver, Ken Sim, said he is "incredibly disappointed to see [the fireworks] cancelled this year."
"Fireworks have long been a part of Canada Day in Vancouver," he tweeted. "We will be reaching out to the Port Authority to discuss this further and hope to see a return of Canada Day fireworks in the coming years."
The Port Authority made the decision for the city and the people of Vancouver, pointing to the cost of fireworks but, more telling, noting that it wants to transform Canada Day into something it is not and take it "in a new direction."
"Following national conversations about how to best celebrate Canada Day in light of the tragic findings at residential schools," a statement reads, "the event was re-named Canada Together and is planned collaboratively with representatives from the Musqueam, Squamish, and Tsleil-Waututh Nations under the theme of 'weaving together the fabric of a nation.'"
What does this even mean? What national conversations? Are we not all Canadians, including indigenous peoples, or are we going to apply identity politics to the national character? This is nothing short of the Balkanization of Canada and an ill wind of division and rancour.
In Calgary, the city's arts and culture department made the dimwitted decision to cancel the fireworks. They also cited cultural sensitivities over Truth and Reconciliation and noted that July 1 is 100th the anniversary of the odious Chinese Immigration Act.
Does that mean we have to change the date that we celebrate the beginning of Canada's independence?
July 1 is also the anniversary of the first day of the Battle of the Somme in 1916 where Canadians heroically fought and died.
But that's not the kind of history these bureaucrats want to remember either.
Calgary reversed its decision after several prominent local politicians spoke up, including well-known Michelle Rempel-Garner, Conservative MP for Calgary Nose Hill, and several city councillors.
The people of Calgary made their voices heard as well, and this enclave of city employees did not get away with the theft of Canada Day.
But they're getting away with it in Vancouver and they're using completely specious arguments to push a cultural and political agenda that is toxic and suicidal.
Canada Day unites Canadians of all political persuasions and ethnic origins. It is poisonous to continually revisit the conflicts of the past and dwell on differences rather than emphasize the qualities of Canada that the vast majority of Canadians admire.
Canada has never been a perfect country—no country is—but it has much to be proud of. It is absurd to continually return to the assumption that Canada could have remained a landmass available only to First Nations that were often at war with each other. Canada evolved, it has embraced differences and allowed a degree of cultural freedom that is indeed unique in the world. And despite what the cultural elitists would have you believe, we get along fine together, regardless of race, religion, or creed.
The impulse to destroy Canada Day and to replace it with some vague, uncertain day of navel gazing is the same sort of self-loathing that has resulted in the desecration and/or removal of statues of great Canadians. Sir John A. Macdonald, Canada's first prime minister, has been particularly disparaged, just as a host of great American leaders have been cancelled in the United States because their policies were insufficiently woke to endear them to the vocal minority that dictates how progressive we should be.
To some, the only statues left standing and the only schools so named will be those honouring the work of those aligned with special interest groups' agenda.
Some in Canada are not content to destroy our history but wish to endanger our future by denying the citizens of this country the opportunity to celebrate the obvious successes of a nation that has overwhelmingly been on the side of right throughout its history: defeating Nazism, opposing totalitarian communism, and ensuring the dignity and freedom of the individual above the glorification of the state.
How dare these cultural dictators try to take that away from us. We must continue to oppose them at every turn and keep their hands off Canada Day.
Views expressed in this article are the opinions of the author and do not necessarily reflect the views of The Epoch Times.