A Heartfelt Reminder of How God Truly Works in Mysterious Ways.
PG | 1hr 38min | | Drama, Family | 2019
As the human population increases and we see people with more monetary-based wealth, many people have become more and more entranced with money and surrounding themselves with material objects. Sometimes folks tend to surround themselves with these material possessions since they are trying to fill a void within. There are a number of well-done Christian faith-based films that cover these elements and their relation to having/not having God in their lives.
When I'd first read the synopsis to 2019's "Tapestry," I thought it was reminiscent of another faith-based film I recently reviewed, "Journey to Hell," directed by Timothy A. Chey. They both follow male characters whose lives are filled with money and material security but have lost their faith in God somewhere along the way.
"Tapestry" follows the life of a man named Ryan (Stephen Baldwin) who lives in an upper-middle-class house with his wife, Grace (Kika Magalhaes), and their three children. One of the film's first scenes is telling—as the rest of his family, including his mother Rose (Tina Louise) and father Ian (Burt Young), reach out their hands to say a prayer before digging into their glorious-looking meal, Ryan snidely says "Are we gonna have a Bible study or are we gonna eat?"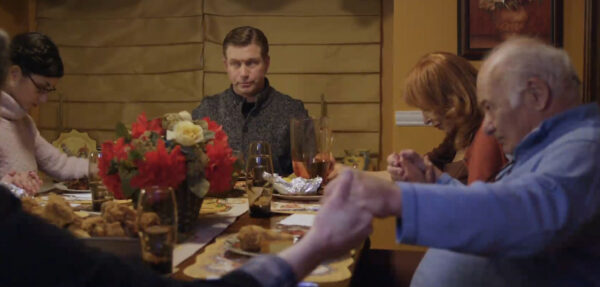 A little later, we find Ryan at his place of work as the sales manager of a bustling company. The generating of leads and closing of sales accounts, combined with the high-pressure sales environment, reminded me of scenes from drama, 1992's "Glengarry Glen Ross," which ironically starred Stephen Baldwin's older brother, Alec, in a similar role.
Some bigwigs, who are visiting Ryan's office, have noted discrepancies with some of the sales figures that Ryan's sales team is responsible for. In short order, Ryan is accused of lying and thievery—and promptly fired. Back at home, he tries to cover up the fact that he was fired from his wife but she finds out through a family friend. Unfortunately, she's not supportive of him and the two begin to become more distant.
Since Ryan has put a lot of pressure on himself to provide for his family (by working his butt off), he hasn't recently had the time to connect with them. So as his kids become more detached from him, his life begins to spiral out of control. The only two truly supportive people who remain in Ryan's life are his parents.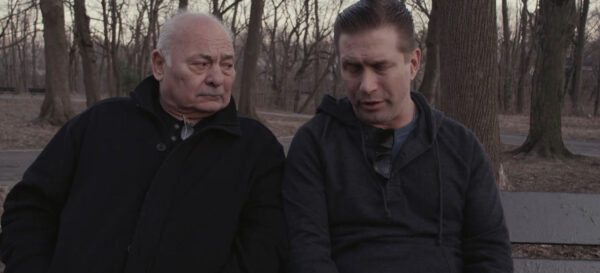 During one particularly heartfelt talk with his father Ian, Ryan reveals how the world seems to be closing in on him and everything seems like insurmountable obstacles. His father tries to break through to his son but Ryan doesn't seem to get any of the potentially useful metaphors that Ian dispenses.
To complicate things further, he learns that his mother has terminal cancer and his wife seems to be flirting with his supposedly best friend, Jay (Faron Salisbury). After a while, all Ryan can seem to muster is vague emotional pleas and sad-eyed stares into the distance.
But just when all seems lost, Ryan's life begins to turn around by what he considers a series of miraculous "coincidences." Soon, it becomes clearer to him that God is placing people in his life to give him a way back to a faith-based life, if only he'll just let the Good Lord into his heart and soul.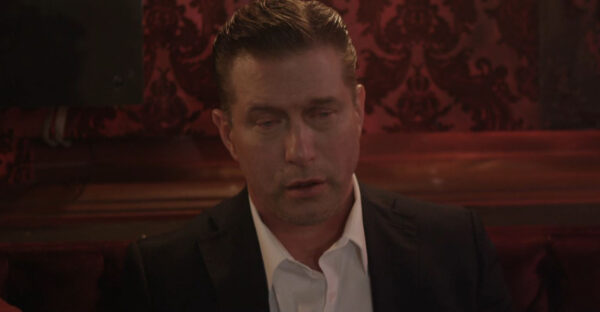 As Ryan sees a new and profound plan that God has for his life, we're reminded that we're all capable of relearning to rely on Him through the suffering that life can sometimes bring—new people and forces can weave into each other (and our lives) just like a divine tapestry from above.
'Tapestry'
Director: Ken Kushner

Starring: Stephen Baldwin, Tina Louise, Burt Young

Running Time: 1 hour, 38 minutes

MPAA Rating: PG

Release Date: 2019 
Rated: 4.5 stars out of 5
–
Follow EpochTV on social media:
Facebook: https://www.facebook.com/EpochTVus
Twitter: https://twitter.com/EpochTVus
Views expressed in this article are the opinions of the author and do not necessarily reflect the views of The Epoch Times.